4 modern shower screen designs to inspire your new home build
Your shower screen design can make or break the look and feel of your bathroom. The shower is one of the most comforting areas of your home — there's nothing quite like a long, steamy shower after a long day or even just when you need to think in the water.
A modern shower screen can add comfort and class to the space, turning a simple bathroom into a luxurious spa in your very own home.
At Montgomery Homes, we have multiple shower screen designs to choose from in our Diamond and Sapphire Collections because we know the little things make all the difference. So what kind of shower screen is right for your new bathroom?
This article explores different types of shower screens, including frameless, semi-framed, and semi-frameless shower screen designs and their individual benefits.
#1. Semi-framed shower screens
A semi-framed shower screen design has a continuous frame that provides superior strength, maximum durability and safety. This option is included within the Diamond and Sapphire Collections and offers a sophisticated design with less aluminium detailing around the glass screen.
#2. Semi-frameless showers
A semi-frameless shower screen design has both frameless and framed edges to the glass, offering the transparency of a frameless screen and the support of a traditional fully framed shower.
One of the major benefits of this trendy shower design is that it's also easier to clean than a fully framed shower. There are fewer edges to wipe down and fewer crevices to conquer, so cleaning your shower doesn't have to be a major chore.
Our semi-frameless shower screens come in chrome or black. As pictured above in our Avalon 220 display home, the shower is framed with chrome to complement the patterned white tiles and porcelain elements.
All in all, a semi-frameless shower can add some extra character and interesting linework to your bathroom design.
A frameless shower screen has no frame at all. It's made from thicker glass than most other modern shower screens, and it uses patch fittings to create a stunning shower that doesn't require a frame. 
Despite being almost 100% transparent glass, a frameless shower can completely change the look of your bathroom. They're contemporary, sleek, and at the same time subtle, adding a modern twist to your everyday bathroom.
One of the best things about frameless showers is that they look divine in every home. They're almost exclusively glass, so they will blend into any bathroom design, whether you have white, navy blue, earthy brown, or black walls and tiles.
As you can see in our stunning display home bathrooms, the only difference is the tapware, which you will be able to choose from our Diamond or Sapphire Collections. You will have the opportunity to work with our bathroom and shower screen specialists to choose colour palettes and tiling patterns, making the bathroom truly your own.
#4. Fixed-panel Shower Screens
If you're looking for something really chic, you'll love the look of the fixed-panel shower screens. Made up of one durable panel of glass, there's no need for shower doors or frames so that you can take a truly minimalist approach to your bathroom design. 
The remainder of your bathroom (like the toilet, basin, mirror, and linen) is protected by a singular glass panel. 
Featured in our Cayman 287 display home at HomeWorld Box Hill, you can get a feel for the simplistic and sleek look of our fixed panel shower screens. Matched with matte black tapware, you'll be showering in absolute luxury with a fixed-panel shower screen. 
At our Riviera 1 267 display home in Redbank, on the other hand, you'll find a designer shower screen with a matte black frame in stark contrast to the white walls. This complements the dark geometric tiles inside the shower and the stunning rose gold tapware.
Enhance your interior design with our Diamond Collection upgrade package. You can choose between a fixed blade panel or a frameless shower screen as part of our latest promotion, where you receive $50,000 worth of upgrades for just $5,000!
Need more bathroom and modern shower screen ideas?
If you're planning on building a brand new home, you're no doubt fantasising about all the design opportunities for the space, including the bathrooms! From intricate tile designs to minimalist shower screens, we've curated some of our favourite shower screen ideas in the mood board above.
You can find these modern showers and bathroom designs at the following locations (left to right, top to bottom).
Most of our display homes are open seven days a week, so drop in for a one-on-one tour with our team! We'll share brochures and answer all of your questions, from colour and theme options to pricing and more.
Create a stunning bathroom design in your new home with our selection of modern shower screens
At Montgomery Homes, we offer the latest shower screens to help local homeowners create stunning bathroom designs. Using frameless or semi-frameless screens, luxurious metal tapware, and unique tile designs, we can design a beautiful bathroom where you can relax for years to come. 
Download our Diamond and Sapphire Collection brochures to find out what's included in your new home build, and start planning your future home today!
Explore our other blog posts
All Articles
Styling & Inspiration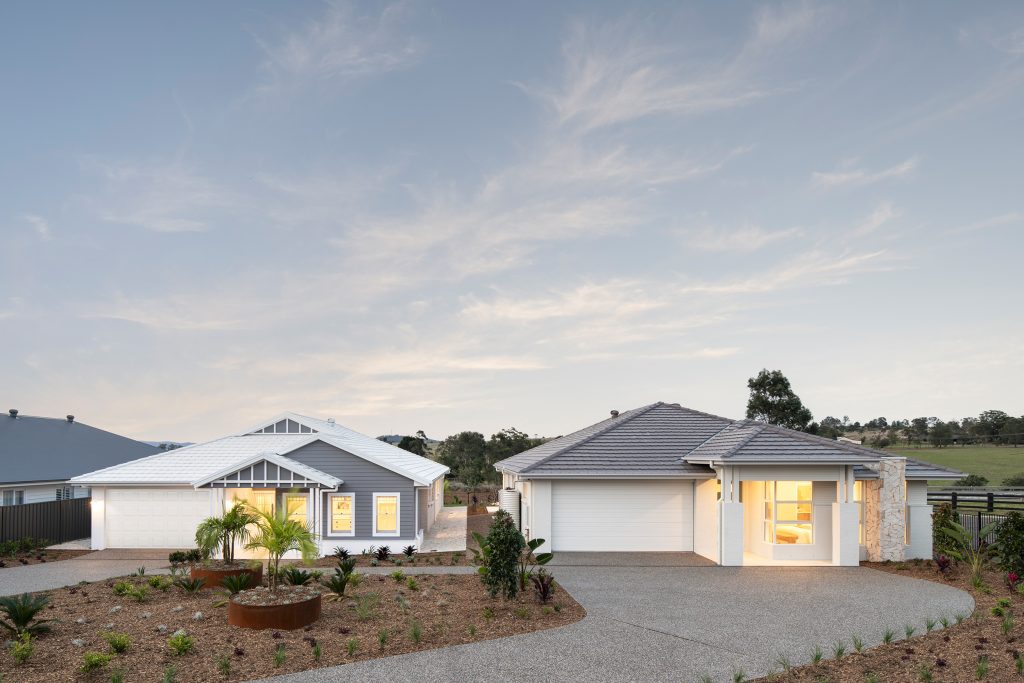 December 1, 2023
The Montgomery Homes team is excited to announce two beautiful new display homes at Hereford Hill in Lochinvar — the Airlie 222 and Avalon 2 249, styled by interior designer Shaynna Blaze! Learn more about these designs and visit us at Hereford Hill from Friday to Monday.
Join our newsletter to receive our latest promotions,
news and helpful building and design tips