Awaken your inner designer or draw inspiration from interior design concepts – all prepared by our professional in-house design team. Our Interior Designers have curated the latest colours, fixtures, and materials to guide your selections and help you create an enduringly beautiful and functional home.
Drawing from nature, the Coastal Scandi theme channels the same sense of calm you feel after a sunset stroll along the sand. With creamy whites, shades of blonde timber, and flourishes of ocean blue and soothing seashell pink, this scandi style is simple, fresh, and functional. We love seeing a coastal scandi theme paired with our Grande facade with gorgeous cultured stone.
Mod Luxe speaks to us through the tones precious metals, the shine of reflective surfaces, and rich velvet textures. Mod luxe interior style is elegant, sexy, with a bold colour palette and luxurious fabrics that create a sumptuous aesthetic. This style is influenced by the sophisticated Hollywood regency era and brings ornamentation back into homes in a completely modern way.
Classic Hamptons style calls for a neutral palette with accents of ocean-inspired blues in a nod to the seaside lifestyle of its namesake. Shaker-style cabinetry and white painted walls are warmed up by natural textures of jute, rattan, and linen. Add wainscoting or wall panelling with cosy throws and fresh flowers to complete this timeless coastal style.
This iconic style provides a playful yet effortless take on mid-century interior design. This style perfectly enhances natural light and airflow - it would be just as comfortable in the Palm Springs desert as in our Australian climate. This style provides laid-back elegance that is suited to indoor-outdoor lifestyles. The mid-century modern décor provides a gorgeous balance of glamour and fun where fresh white walls provide a canvas for bright accent colours to pop.
The modern industrial look takes cues from old barns, warehouses and industrial buildings. This style incorporates the use of raw elements such as distressed wood and exposed bricks to give the space an unfinished, lofty feel.
This theme encompasses natural elements with a classic colour palette, such as brown, grey, black, white and beige. A combination of clean lines and deliberate use of texture offer a sleek and fresh interior.
3D walkthrough video of Sydney Selections Gallery
Our selections gallery, Gallery One, invites you to see and feel the textures, tones, and colours of the inclusion and upgrade options you can select for your new home. Explore the gallery from the comfort of your home with our 3D walk-through online now, or with central locations in Sydney and Newcastle there is a Gallery One near you. Discover internal and external fittings and finishes for your home as well as complete bathrooms, kitchens, and wardrobe storage solutions created to scale to make your selections process a breeze.
All Articles
Styling & Inspiration
November 22, 2021
When it comes to choosing the colours, materials and finishes for your gorgeous new facade, it's important not to neglect the roofing materials — the roof takes up 40% to 50% of your facade and has a major impact on your overall street appeal! If you're weighing up the different roofing materials available on the market, we're here to help you decide between two key players — Colorbond Steel and traditional concrete tiles. Here, we compare Colorbond vs tile roofs based on aesthetic, maintenance, thermal efficiency and more.
October 19, 2021
The front door truly is the focal point of your facade — and Australia's top interior designer and our collaborative partner, Shaynna Blaze, agrees. "Your choice of door can really transform the design," Shaynna says. "Consider different materials like timber for an organic yet refined aesthetic, brushed aluminium for an industrial, contemporary look, or painted timber to showcase your unique style." With this in mind, we offer an extensive range of front door designs to make your house feel more like a home and enhance your street appeal tenfold. Here, we share three very different front door designs to inspire your facade!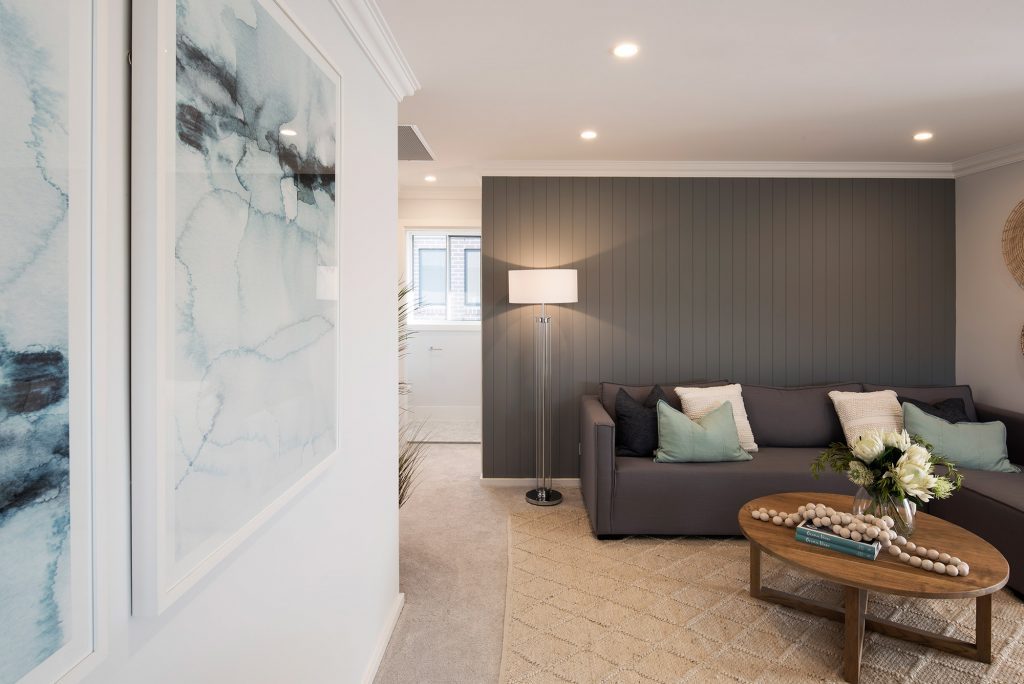 August 6, 2021
The humble home is all about togetherness… but every now and then it's nice to spend some time alone! The rumpus room is the perfect place to relax and unwind, whether you need a spot to have your morning coffee or the kids need somewhere to play after school. Create a comfy, cosy space for the whole family with these 4 gorgeous rumpus room ideas!