6 Benefits of Working With an Interior Designer
6 Benefits of Working With an Interior Designer
When it comes to building a new home, you need an expert interior designer to bring your space to life.
Often confused with interior decorators, interior designers are an integral part of the design process and can make any space a joy to live in. By considering the colour, size, materials, finishes and layout of your space, a quality interior designer can turn your house into a beautiful, practical home that will stand the test of time. 
So, what are the benefits of having an interior designer work on your home? 
In this blog, we'll show you why working with an interior designer should be an essential part of your next home build. Read on!
What is an interior designer?
Interior designers do much more than just decorate each room in your home. While decorating is part of an interior designer's role, there are also many other skills and responsibilities involved that make them an essential part of the building process, such as:
Colour

Size

Materials

Finishes

Furnishings

Natural and electric light

Building compliance

Practicality

Decor styling
Interior designers create functional, attractive and intuitive spaces based on the behaviour, habits and needs of their occupants. Every homeowner is different, so interior designers use their extensive technical and creative skills to create thoughtful spaces tailored to suit you. 
While decorators are responsible for the final aesthetic decisions of the space, interior designers handle the furnishing of your home as well as the planning and structural features of the space.
Interior designers will work with you throughout the design process and will consider a range of important criteria, including: 
What are the must-have features of your dream home? 

Are you interested in a particular style?

Are there any trends or decor styles that you'd like to avoid? 

How much natural light do you need? 

Do you prefer open or closed floor plans? 

Are you willing to explore the unexpected? 
Take a look at our top six benefits of working with an interior designer.
#1. They're across the entire project
Interior design is about more than just style — it's an integral part of the designing, building and finishing of your home. 
Interior designers know how to use light, space and colour in specific ways to shape the look and feel of your home. They also know that small changes such as using different materials or changing the size of a window can have a dramatic effect on each room. A skilled interior designer will consider every aspect of the design process in crafting your home, ensuring that the final product is exactly what you wanted from the start. 
#2. They understand the latest trends
A great interior designer will be across the latest design trends and innovations. They'll also know which trends are worth incorporating into your design and which trends should be avoided to get the best result. 
While there are always new materials, styling options and design hacks that can enhance your space, there are also plenty that are best left on the drawing board. An experienced designer should have a keen eye for which trends work and which don't.
#3. They can make smart use of small spaces
Every homeowner wishes they had a little extra space when it comes to building their dream home. Luckily, interior designers know how to make the most of big and small spaces. A quality designer can make even the smallest bathroom feel light and airy with a few smart design choices, making them a huge asset to anyone building on a narrow plot or sloping site. 
Plus, some simple tweaks to your decor can open up your space. Furniture placement, multi-purpose areas and lighting choices can make all the difference when it comes to your interior design.
#4. They have a network of resources
With an interior designer on your team, you won't have to worry about finding high-quality materials for a good price. 
Interior designers have connections with reliable companies, suppliers and builders to get the right materials, accessories and furniture for your design scheme of choice. This will save you time, effort and stress throughout the design process and can be a godsend if your dream materials are suddenly out of stock.
#5. Their expertise can increase your home's value
A house crafted by a qualified interior designer will age well, saving you time and money on costly renovations before you sell. 
Interior designers also know which types of materials, accessories and layouts add the most value to a space. A cohesive, well-considered home interior will stand the test of time for years without looking outdated.
#6. They'll get it right the first time
Nobody wants a small oversight to get in the way of their new home. Unfortunately, handling your own interior design creates unnecessary risks for your project. 
Interior designers know how to manage your build and keep an eye on small details to create the best possible final product. They can also keep you in the loop about any necessary tweaks or changes to your existing interior designs, ensuring your expectations are managed throughout the process. This will save you stress and can prevent disappointment down the track.
Choose Montgomery Homes for expert interior design and beautiful styling with every build
At Montgomery Homes, we offer a range of interior design themes crafted in collaboration with one of Australia's leading interior designers and style experts, Shaynna Blaze. 
With over 30 years of experience, Shaynna Blaze has become a household name thanks to her timeless, elegant taste and expert design principles. Shaynna has become one of Australia's most beloved designers and has shown her skills, creativity and her eye for style on The Block, Buying Blind and Selling Houses Australia. 
At Montgomery Homes, we're proud to feature six gorgeous display homes designed with Shaynna's stunning Signature Collection themes. Whether you're looking for a Relaxed Bohemian touch or a sleek, striking Modernist design, each style adds a sophisticated, luxurious and practical feel to your new build — at a great price! 
Get in touch with our team and find your forever home with Montgomery Homes today!
Book a consultation with our team and find the perfect build for your new home
Explore our other blog posts
All Articles
Styling & Inspiration
Building Process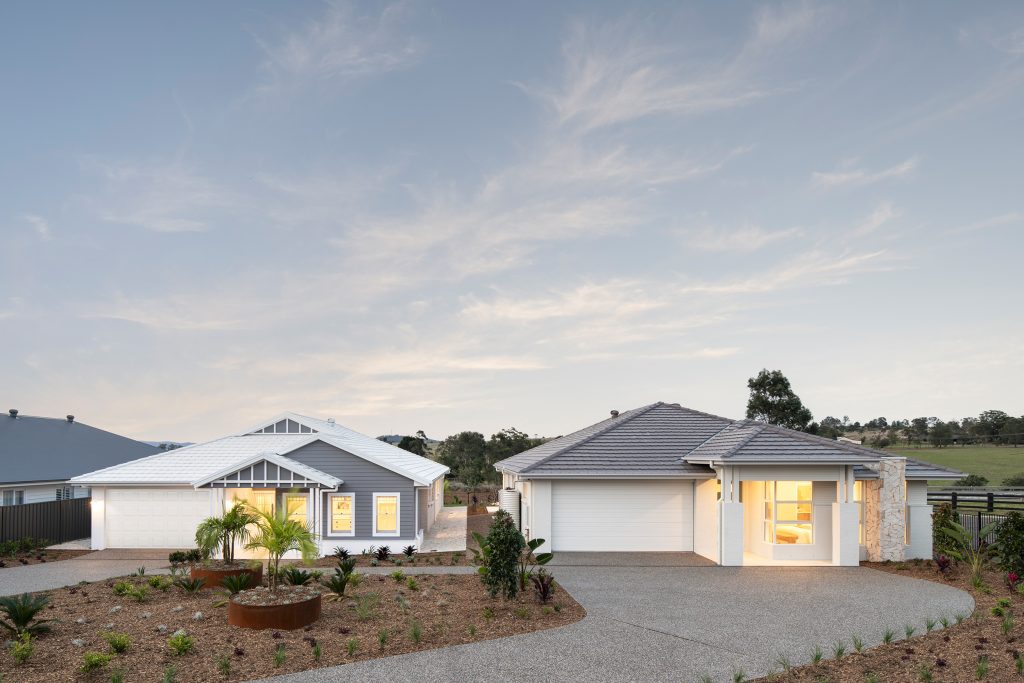 1 December, 2023
The Montgomery Homes team is excited to announce two beautiful new display homes at Hereford Hill in Lochinvar — the Airlie 222 and Avalon 2 249, styled by interior designer Shaynna Blaze! Learn more about these designs and visit us at Hereford Hill from Friday to Monday.
Join our newsletter to receive our latest promotions,
news and helpful building and design tips