Over 35+ 5 Bedroom House Designs
Your home is a place to create blissful connections — it truly tells the story about who you are. As your family grows and evolves you may crave additional spacious retreat zones, or you may need additional bedrooms — at Montgomery Homes, we want to bring your dream home vision to life.
The Montgomery Homes range of 5 bedroom house plans include home designs for level, sloping and acreage blocks. With stylish facade options and practical and modern finishings and features, our range of 5 bedroom house plans have been thoughtfully crafted to include multiple living spaces and entertaining zones for the modern, growing family. Balancing beauty with functionality, a Montgomery Home design exudes quality, style, value and comfort. Feel at home with Montgomery Homes.
The Bellevue double storey home design range smoothly promotes the highly sought-after work/life balance, and the four-bedroom Bellevue 288 is no exception to this. The lower level of the Bellevue 288 presents a unique lifestyle opportunity — housing a home theatre and spacious open-plan kitchen, meals and family zone. Effortlessly adjoining an alfresco opens up…
View All Our 5 Bedroom Home Plans
At Montgomery Homes, we understand that no two blocks of land are the same. We have been fine-tuning our specialist building techniques for more than 30 years, and our engineered split slab technique allows us adapt our home designs to build on almost any site — whether narrow, level or sloping. Offering single-storey and double-storey house designs means you can build a home that meets your new home expectations.
Montgomery Homes has a long history of building quality project homes in Sydney, Newcastle and Central Coast
For over 30 years Montgomery Homes has been fostering relationships with local trades and suppliers so that your new home build is completed as soon as possible and to the highest standard. With organised and service-oriented teams, our build locations span from the Blue Mountains, to Western Sydney, to Port Stephens. With home designs available across Sydney, the Central Coast and Newcastle and the Hunter Valley, our architecturally designed project homes are suitable for level or sloping sites and can be flexible to meet your specific land conditions. Contact one of our project home consultants in your area to find out more.
Do you love where you live but don't love your house? Undergoing a major renovation not only induces additional stress and pressure, but it can be a costly exercise with many variables and unknown factors. A knock down rebuild project allows you to build the home of your dreams, on your current block. With a complimentary site inspection, Montgomery Homes will help take the stress out of the entire build process. Recommending designs for your block, determining site accessibility and any additional preparation that may be required will result from the site inspection, alongside a free design consultation.
Ideal for first home buyers and investors, a house and land package with Montgomery Homes includes an award-winning home design on a hand-selected site that best suits the home. With an inclusions package, BASIX and regulatory requirements and site costs taken care of, house and land packages are perfect for those on a strict budget. Alongside knowing the final cost of your home upfront and being assured that the design will fit on the block of land, Montgomery Homes have house and land packages available across Sydney, the Central Coast and Newcastle and Hunter Valley.
Building Your Dream Home Design on a Vacant Block
Have you secured a vacant lot and are now looking for a reputable home builder? The Montgomery Homes specialist building techniques have been refined over 30+ years of industry experience, and maximise the potential of your block regardless of whether it is level or sloping. As the sloping site specialists, we understand that when approached and developed appropriately, a split-level house can provide maximum return when it's time to sell it. By following the natural gradient of the block, the Montgomery Homes split-slab ensures your design exudes its potential via natural air flow, light-filled spaces and maximisation of views.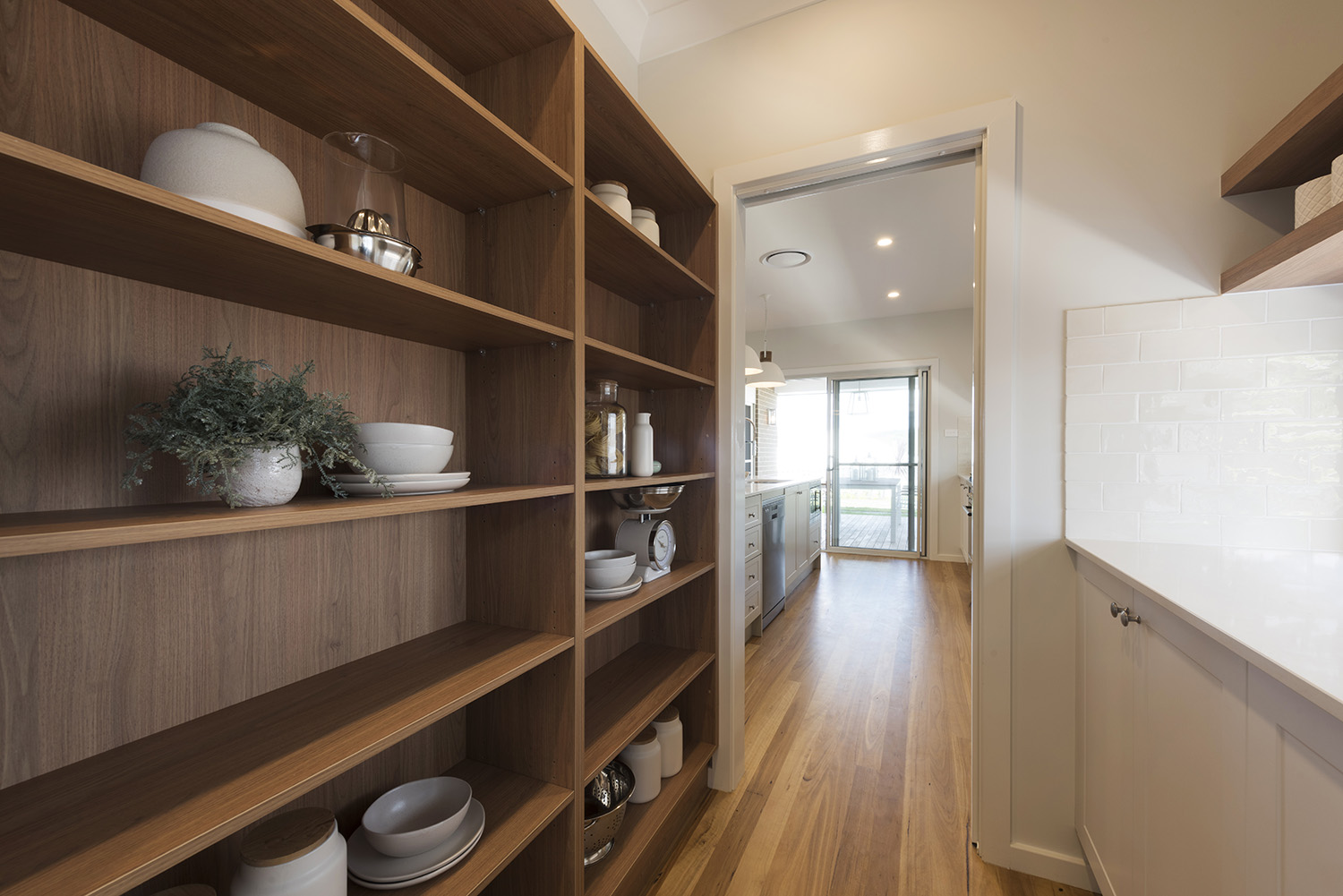 Building an Architectural Home Design That Ticks All Your Boxes
The beauty of 5 bedroom house plans are that there is room to fit all the mod-cons families have come to love. Alongside the spacious bedrooms, our modern 5 bedroom home designs include larger open-plan kitchens and multiple rejuvenation zones so everyone has their own space to relax and recharge.
5 bedroom house plans for level blocks
The ultra-modern Cayman 287 is one of our 5 bedroom modern house plans — a two-storey design crafted for narrow blocks. With primary living areas on the lower level and an optional alfresco adjacent — the Cayman 287 is perfect for families who love to entertain. Featuring five spacious bedrooms, this home also includes a separate rumpus room and home theatre.
On display now at HomeWorld Box Hill, featuring a modern theme that takes inspiration from the lofty look of industrial warehouses. Striking architectural features paired with a Manhattan facade makes this display home cutting edge. Open 7 days, 10am – 5pm, or take a virtual tour now.
One of our spectacular 5 bedroom home designs, the Coolum 266 is perfect for growing families. The ultimate rejuvenation zone, the upper floor hosts four spacious bedrooms and a rumpus room. The fifth bedroom (or optional theatre room) features on the lower floor, along with a spacious open-plan kitchen and family area which seamlessly unfolds to the alfresco. Take a virtual tour available online now!
5 bedroom house plans for sloping blocks
Designed to complement an uphill sloping site, the Riviera 1 267 is a split-level design suited for growing families. Entering through a stunning portico, the lower level hosts a comfortable home theatre and the fifth bedroom (or optional study). Ascending to the mid-level, the kitchen and primary living areas open to a large optional alfresco — perfect for indoor/outdoor living. On the mid-level, the master suite is secluded behind a separate hallway with ensuite and dual walk-in-robe. Three spacious bedrooms and the main bathroom surround the upstairs rumpus room, which opens to an enchanting deck to overlook your potential views.
One of our 5 bedroom display homes with a glamorous Hamptons facade, this home showcases our split-slab technique by following the land gradient to maximise on natural light, airflow and outlook. Redbank is open 7 days, 10am – 5pm, or take a virtual tour now.
5 bedroom house plans for reverse living
Perfect for taking in views on the upper floor, the Miami 1 318 is a reverse living two-storey 5 bedroom home design. An extra-large family room on the upper floor extends to a spacious deck — perfect for those who love to entertain. Secluded on the upper floor is the master suite with an impressive dual walk-in-robe and luxury ensuite, plus home theatre and study (or fifth bedroom).
Three spacious bedrooms are located on the lower floor, surrounding a comfortable rumpus room — the ultimate kids retreat. With loads of storage options and a variety of open plan living spaces, the Miami 1 318 is the ultimate design for the growing family. View the floorplan and brochure here.
5 bedroom house plans for acreage blocks
The most spacious Montgomery Homes single-storey design, the Ridgeview 321 is a deluxe five bedroom house. Floor plans that echo the enviable homestead vibe, this design is suitable for acreage blocks. With a stunning porch and raised foyer entry, the spectacular open-plan designer kitchen and Butler's Pantry overlook a spacious family and meals area and seamlessly join to the alfresco — the entertainers' dream.
With its own separate wing, the master suite features an extra-large walk-in-robe and ensuite — a perfect retreat to slip away to. Deliberately, the remaining four bedrooms are located on the opposite end of the home alongside the main bathroom, study and rumpus room. The Ridgeview 321 boasts three separate living areas meaning there is plenty of space for your family to relax and rejuvenate. View the floor plan and brochure here.
Get Started With a Free Design Consultation Today
Our team can help find the best home for your family


















Your 5 Bedroom House Design
At Montgomery Homes, we build every home as if it were our own. We understand that it's the small things that make a big difference.
Strong industry and supplier relationships means your Montgomery Home will feature superior fixtures and fittings and will be trimmed with the finest finishings.
Start unwrapping the finishing touches on your home with our Diamond Collection, ensuring your home is not only cutting edge but is also an oasis for you to create beautiful memories with your family.
Internal Draftspeople and Planners
Progressing your new home to construction as soon as possible is important to our team, with our advanced systems providing fast and efficient service. We pride ourselves on a personalised and enjoyable experience throughout your entire home building journey.
With an in-house team of professional draftspeople and planners, you can be rest assured of a swifter turnaround of plans and designs that uphold the quality work that comes as standard with every Montgomery Home.
Building your dream home is our passion. With unequalled success at the prestigious Housing Industry Association (HIA) Awards, Montgomery Homes were proud to be awarded Australian Medium Professional Builder of the Year in 2016.
With unequalled success at the prestigious Housing Industry Association (HIA) Awards, the Montgomery Homes Monaco 1 211 was crowned the 2020 Hunter Display Home of the Year, with our Byron 250 being named a finalist.
Premium quality home designs in Sydney, Newcastle and Central Coast
Every Montgomery Home upholds an ongoing commitment to quality, style, and integrity with each design adapted to be site-specific and take advantage of the unique character and opportunities of your location, views, breezes, and landscapes.
If you have a flat, level block of land, we have more than 80 single storey home designs to choose from, 60 two-storey home designs, 90 home designs for narrow sites, and 12 homestead designs.
No matter what home design you build, we're here to make your new house feel like home. We have more than 300 quality home designs to choose from and hundreds of premium inclusions to increase your comfort and make the space your own.
The Montgomery Homes Difference
Delivering quality homes since 1989
Crafting a home that is high-quality and comfortable comes standard with Montgomery Homes. Our range of 5 bedroom house designs are designed to balance beauty with functionality.
Spacious bedrooms, luxurious living spaces and modern features ensure that your family has room to grow — all with added peace of mind that Montgomery Homes have your lifestyle and budget needs in mind. Feel at home with Montgomery Homes.