How To Design A Stunning House For Entertaining
How to design a stunning house for entertaining
If you love a weekend BBQ, hosting dinners and cocktail parties, or even just having friends and family come to stay for a while, then a specially designed house for entertaining is essential! Think cosy spare bedrooms and powder rooms, outdoor entertaining areas and rumpus rooms (the designated kids' room) — you need comfortable, welcoming spaces that "wow" your guests.
So, how do you design a beautiful, spacious house for entertaining? 
Here, we've collected some of the big-ticket items for great house plans for entertaining.
An alfresco area for weekend BBQs
Australia is famous for its sunshine, so it's no wonder that we love spending time in the Great Outdoors! With this in mind, an alfresco area is an essential addition to a house for entertaining. Borrowed from the Italian phrase for "in the cool/fresh air", an alfresco is an optional add-on for almost all of our home designs so that you can host weekend BBQs in style. 
Just add some comfortable, weather-resistant outdoor furniture, a BBQ and lots of fresh greenery in the garden for a relaxed, welcoming atmosphere (as seen in the Whitehaven 264 display home above).
An island bench in the kitchen to gather around
When the weather takes a turn and the alfresco area isn't an option, there's no better place to catch up and have a few snacks than the kitchen. You can all gather around the island bench and chat while breakfast, lunch, dinner or drinks are being prepared — add some bar stools so your guests can take a seat while you serve them tasty treats. 
Plus, when the guests go home, it's still a great place to catch up with your family before school or work each morning. The kitchen is the heart of the home, after all!
Check out the island bench in the Whitehaven 264 display home's kitchen above. Who doesn't want to make a meal, socialise and entertain here?
A rumpus room for the kids
While the parents are having a few drinks and laughing in the other room, the kids can have their own private space to watch movies and hang out in the rumpus room. Complete with a big TV, a comfortable couch and a shag rug to dip their toes into (as seen in the Cayman 287 display home above), the rumpus room will be the designated kids' room for the night!
It's not a bad place to wind down after a long day, either. Rug up in some blankets, turn on the TV and grab a cup of tea — it's an entertaining room, even when you're home alone.
Spacious guest bedrooms for longer stays
If you have friends and family visiting from out of town, there's no need to send them to a hotel. With spacious spare bedrooms and comfortable beds, your guests will sleep peacefully at night and wake up fresh in the morning, ready for the day's adventure. 
We offer home designs with up to six bedrooms (like the Bellevue 321), including the master bedroom. In fact, all of our home designs have a minimum of three bedrooms, so there will always be room for guests! Alternatively, consider adding a granny flat to your building plan if you entertain often. Your guests will have their own personal haven to unwind after a long and exciting day
A powder room for convenience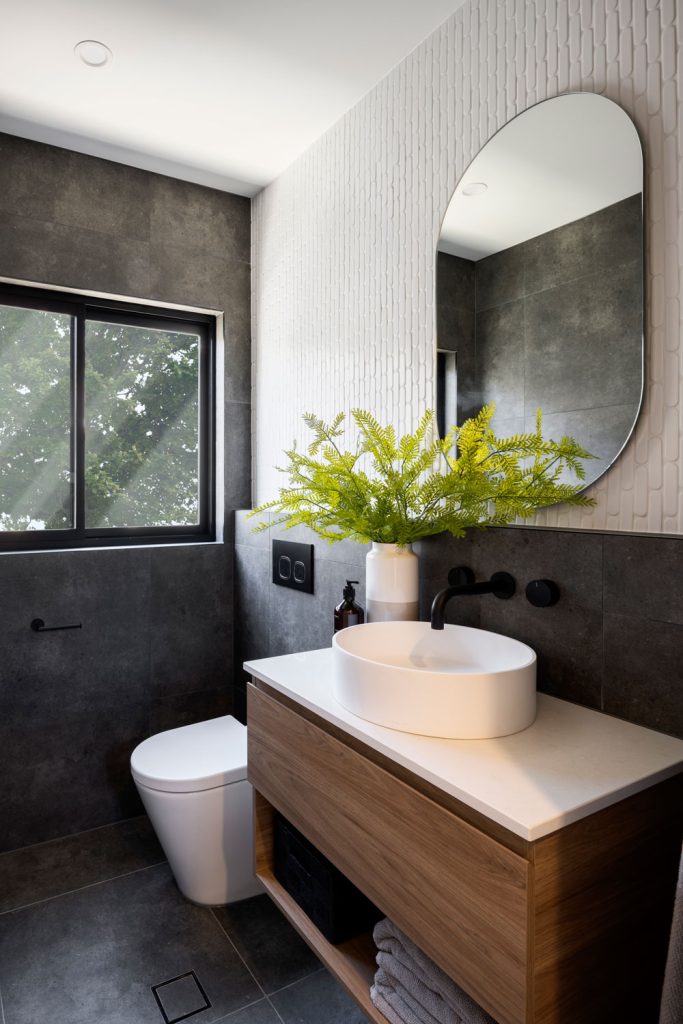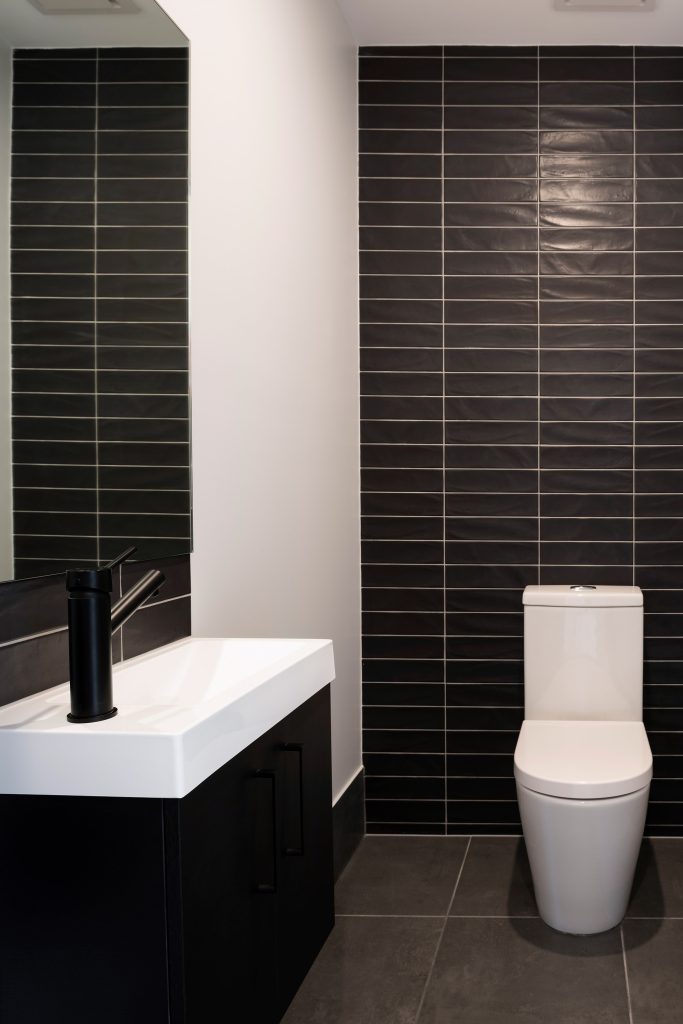 The humble powder room is a must-have in a house for entertaining. Otherwise known as a "half-bath" or "guest bath", powder rooms have a sink and a toilet, and are usually located on the bottom floor of a two-storey home near the guest bedroom. This is perfect for guests — it means they don't have to climb the stairs to use the main bathroom!
Add fragrant soap, hand towels for convenience and some lush greenery for a relaxed vibe. Your guest bathroom will feel like a home away from home with everything your guest needs in one place.
Build a beautiful house for entertaining with Montgomery Homes!
Build a home that welcomes guests like it was their own. Comfortable, spacious and stunning, your home is sure to "wow" guests — it'll be challenging to get them back out the door! 
At Montgomery Homes, we have 250+ stunning home designs to choose from, from simple three-bedroom homes to grand acreage designs for larger rural properties. All come complete with the entertaining rooms and amenities needed to keep guests happy, so get in touch today!
Alternatively, visit one of our 25 display homes across Newcastle, Sydney and the Central Coast. You can get a vibe for your new home before it has been built!
Explore our other blog posts
All Articles
Styling & Inspiration
Building Process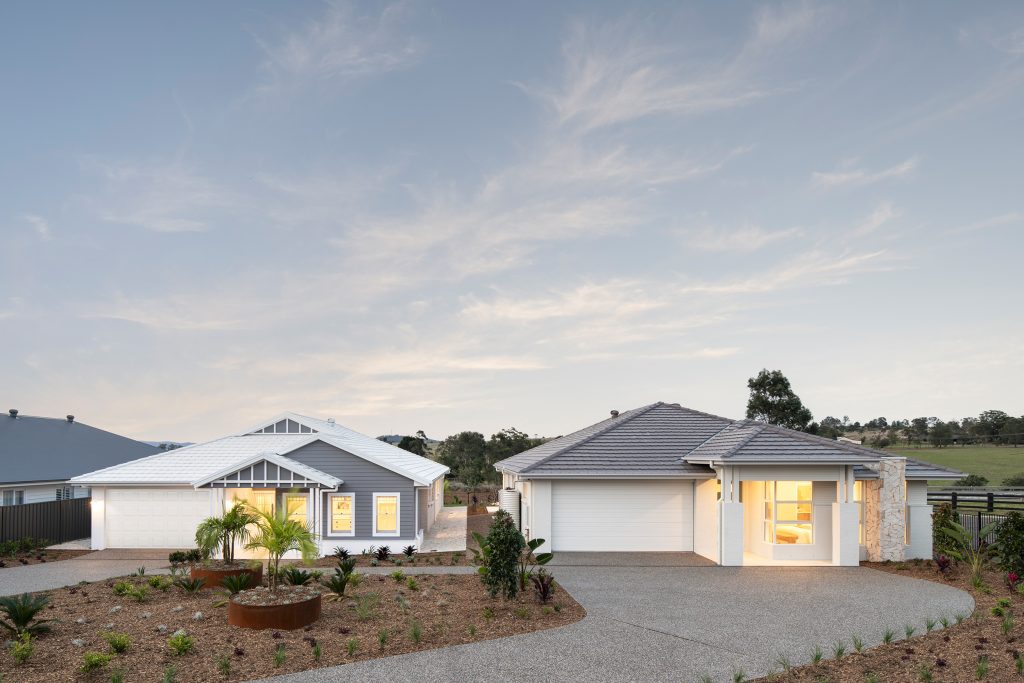 1 December, 2023
The Montgomery Homes team is excited to announce two beautiful new display homes at Hereford Hill in Lochinvar — the Airlie 222 and Avalon 2 249, styled by interior designer Shaynna Blaze! Learn more about these designs and visit us at Hereford Hill from Friday to Monday.
Join our newsletter to receive our latest promotions,
news and helpful building and design tips