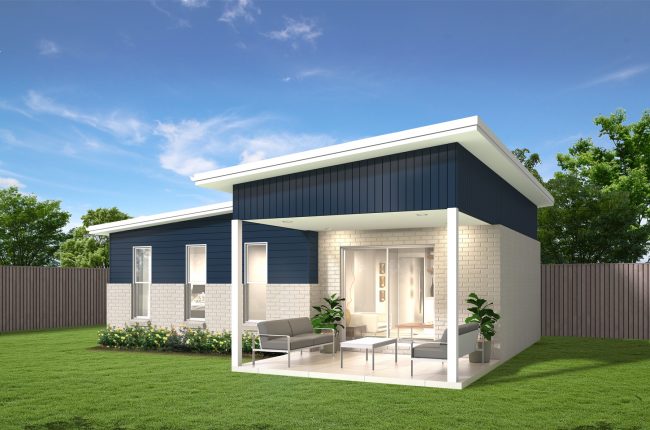 The largest of the five granny flat designs, The Bungalow contains all the essentials you could want in a conveniently sized floor plan. Both bedrooms are generously sized and placed to the left for privacy. This design features a separate bathroom, laundry and a linen cupboard to maximise storage. Our new range of Granny Flats…
Want to get in touch with one of our consultants?
Our team can help find the best home for your family
Find Your perfect Granny Flat Design Today
In addition to building your brand new home, Montgomery Homes can also build a contemporary granny flat in your new backyard. Complementing your new Montgomery Home, our range of granny flats are wonderfully versatile and are a perfect option for teenagers who need their own space, visitors or even for older relatives to live.
Adding a granny flat to your new home plan with Montgomery Homes comes with a range of benefits, such as the ability to keep your family close, adding value to your home, potential to make extra rental income, create a guest space or even turn your granny flat into a home office.
A range of granny flat designs to choose from
With 10 granny flat designs to choose from, our modern one and two bedroom options amplify your living features and maximise space without compromising on comfort. Building a granny flat alongside your new home will allow you to seamlessly attach a separate residence and ensure both structures are built with the same level of quality and attention to detail.
Each granny flat comes with two façade options – metro and retro – and contain all the essentials you could want in a conveniently sized floor plan.
Steps to building your granny flat
If you're looking to add some extra space to your new home build, a granny flat might be a great option for you to consider.
Adding a granny flat  to your new home with a granny flat builder like Montgomery Homes can be completed in just 7 easy steps and starts from picking out your modern granny flat design, selecting your material and colours through to the exciting step of moving in!
Get in touch! Chat to one of our granny flat home builder experts in Sydney Newcastle or Central Coast to find out more about adding a granny flat to your home build today.
We understand building a granny flat can be a complex and confusing journey. That's why we've put together a list of frequently asked questions to help guide you along the way.
First Home Buyers:
Montgomery Homes Clients Ilina and Dave are first home buyers and loved building with Montgomery Homes. "It's been smooth sailing. We get to choose what we want and it gets done for us!"
Join our newsletter to receive our latest promotions, news and helpful building and design tips