New Home Builders in Sydney
We build every new house as if it were our very own home
Building a brand home is an exciting experience — soon, you'll have somewhere special to call home, make memories and live life to the fullest. Walking through your new front door is a magical moment, which is why we're in the business! At Montgomery Homes, we live to make dream homes a stunning reality.
As one of the leading home builders in Sydney, NSW, we deliver beautiful architectural home designs for entertainers, growing families, new home buyers, upsizers and downsizers alike! From spacious granny flats and economical three-bedroom homes to grand acreage properties and luxe double-storey designs, we have brand-new home designs for every aspiring homeowner.
Simply step inside one of our beautiful Sydney display homes in Box Hill, Marsden Park, Leppington or Redbank to discover the Montgomery Homes difference. Visit our display homes and talk to a home builder you can trust. No appointment is required — our team will be on hand to answer any and all questions about the whole process.
Sydney is a great location to bring up a family with an array of parks, educational institutions and activities such as Luna Park and Taronga Zoo. Pairing these fantastic city features with one of our award winning home designs will only enhance your living experience in the state's capital.
However, there's no doubt about it — when it comes to searching for new home builders, Sydney is widespread, covering more than 12,000 square kilometres. Choosing a trusted home builder and a suburb to live in can be tricky, and more often than not, your block may be smaller or narrower than you had hoped. 
With our collection of new home designs, you can still have a luxurious abode! For example, Brighton 229 display home has been built on a narrow block at HomeWorld Marsden Park, showcasing a beautiful two-storey Hamptons facade. 
With four spacious bedrooms and an open-plan living area, you will have lots of space to move despite building on a smaller block. Visit the Brighton 229 at HomeWorld Marsden Park. Open seven days a week, 10 am – 5 pm.
As one the leading house builders in Sydney, we offer our services throughout the local area, stretching from the Blue Mountains and the Hawkesbury to the Northern Beaches! We serve:
Explore our home and land packages, knockdown rebuild service, award winning home designs, and more online! Then, book a free design consultation with our design team to discover the possibilities for your future home.
Your HIA award winning builder in Sydney
Montgomery Homes has been building beautiful homes for more than 30 years, and in this time, we have experienced unequalled success at the prestigious Housing Industry Association (HIA) Awards. 
From being awarded Australian Medium Professional Builder of the Year at the 2016 National HIA Awards to our Carolina 1 311 at Box Hill being crowned one of the 2022 NSW Region Display Homes of the Year, our home designs and display homes have won the hearts of homeowners in New South Wales.
What makes us different from other builders is our award winning ability to work with almost any block, including level, sloping, acreage, narrow or uniquely shaped.
We understand that every block is different, and the building process needs to be changed accordingly to deliver a stress-free experience for our clients — and a beautiful, functional new home to match. With this in mind, our new home builders approach every block to follow the land's natural slope for optimised drainage, better views and improved airflow. 
Contact our experienced team to start the planning process today. Your brand-new house starts with a free site inspection.
It's the little things that make the biggest difference
Every family has different needs and design aspirations, and quite often, the little things make the biggest difference! With this in mind, we've developed close relationships with all of our suppliers to ensure your new home comes with the highest quality fittings, fixtures and finishes on the market. From contemporary tiling to sleek kitchen cabinetry and more, we've included all the quality products to amplify your living space and ensure practicality and convenience.
Visit one of our Sydney display homes to see the possibilities in person (open 10am - 5pm), or download one of our Inclusions Brochures today!
Montgomery Homes: one of the leading home builders in Sydney
Sydney continues to grow in popularity with a sparkling harbour, stunning beaches, vibrant arts and cultural calendar. Add the allure of the Harbour Bridge and the Opera House, and feel the strength of gravity pulling you toward living in the capital city of New South Wales.
Our new home builders maintain a proud presence in the Sydney market with homes exuding quality, value, comfort and style. When it comes to building project homes Sydney residents will feel at home in, Montgomery Homes have an extensive range of designs to suit level designs and sloping blocks.
Whether you're looking to build in the Northern Beaches or the Eastern Suburbs, the foothills of the Blue Mountains or somewhere in between, we're your number one team of dedicated home builders. See your dream home come to life with Montgomery Homes' stunning facade options, superior inclusions, and practical floor plans.
Crafting and designing new homes is our specialty. Visit our display homes in Marsden Park, Box Hill, Leppington and Redbank to experience the Montgomery Homes difference first-hand — your new home is a short trip away.
Open 10am - 5pm, 7 days a week.
Love where you live but don't love your house? There's no need to move away from the suburb where you've made so many memories — you can start the build journey again on your own land with a knockdown rebuild project! Once your current house has been demolished, our Sydney home builders can start building your dream home from scratch. With a knockdown rebuild, you can have all the novelty and sparkle of a brand-new home design without ever leaving the neighbourhood.
Starting afresh has never been simpler. Get in touch with our home building specialists for a free site appraisal and start a knockdown rebuild project now!
House and land packages are one of the most cost-effective and convenient ways to build a home. 
Opting for a house and land package takes all the hard work out of the building process as your home is guaranteed to fit perfectly on your block, and you'll know the final price of your build from day one — we offer detailed home pricing to eliminate surprise costs down the line.
Plus, house and land packages include all the essential regulatory requirements, standard site costs and quality inclusions you need to live comfortably. You can rest assured that we've hand-selected the sites and matched them with the most suitable of our award winning home designs.
Sydney estates span between Elara in Marsden Park, Emerald Hills in Leppington, Redbank in North Richmond and beyond. Visit one of our Sydney display homes and discover the possibilities, or contact us for more information about building now!
Start fresh on a vacant block with our Sydney home builders
Already have your eyes set on a vacant block but just need to find a reliable home builder in Sydney? Look no further than Montgomery Homes. The city's unique landscape is the perfect space for our 200+ house designs, and our specialist building techniques allow us to work with the steep and narrow blocks we often find in the city.
We'll adapt our designs to suit the natural gradient of the land, so you will get the most out of your house design — from natural light and airflow to maximised views and a manageable driveway.
Browse through our incredible collection, find your favourite home design and contact the home builders Sydney homeowners can count on. We're here to make your dream home happen.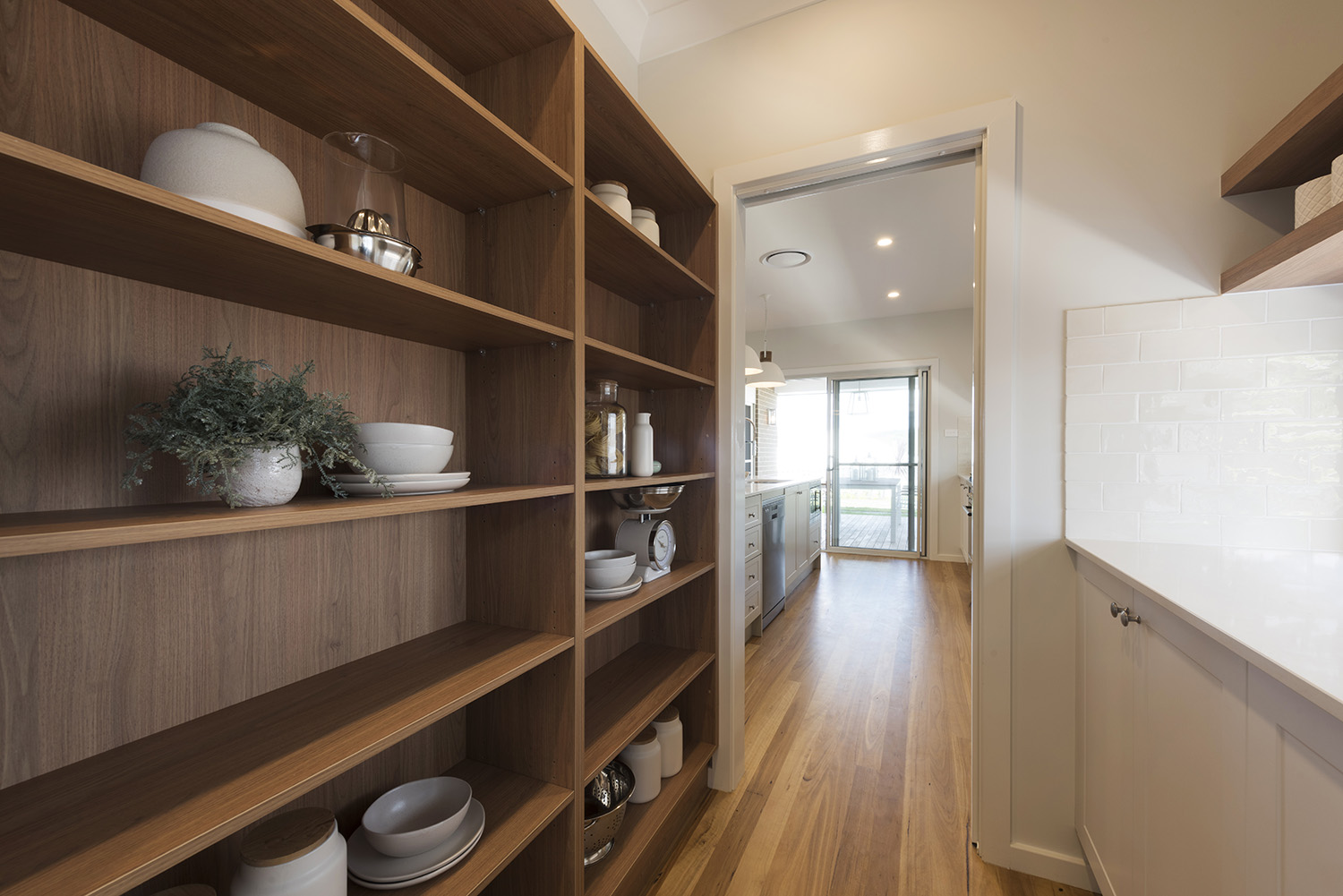 All the details you need to make a house feel like a dream home
Dreaming of a Butler's Pantry or a spacious rumpus room? Can't live without a cosy home theatre or a stunning alfresco area for weekend entertaining? Our contemporary house designs have all of this and more — meaning everyone has their own space to relax and rejuvenate.
Find out what's included in your new home build by downloading one of our Inclusions Brochures, or contact us today! We can share up-to-date information about inclusions, upgrades, quality finishes and promotions to ensure you get the most out of your new build.
Want to start the home building process from the comfort of your couch? You can now take a virtual reality (VR) tour of your new home long before it has even been built. Zoom in, zoom out and travel from room to room, exploring and visualising your dream home. 
Discover some of our new home designs, or take a walk through the classics. We have lots of stunning new home designs to discover — once you've found your new home, we'll guide you through the whole process of planning, council approvals and building from start to finish.
Home building has never been simpler or more convenient. Gain exclusive access to one of our virtual tours online, find a favourite home design and start your build journey today!


















Get started with a free design consultation today
Our team can help find the best home for your family
The Montgomery Homes difference
Join our newsletter to receive our latest promotions, news and helpful building and design tips