Over 150+ 4 Bedroom House Floor Plans
Home is a collection of what you love and tells the story of who you are. At Montgomery Homes we understand that as your family grows, so will your need for additional space to relax, rejuvenate and entertain.
4 bedroom modern house plans have become one of the most requested Montgomery Homes' designs, including two garages and two bathrooms. Exuding ultimate street appeal, our range of 4 bedroom house plans include stunning facades, practical features and modern finishes such as grand entrances, open-plan living spaces and theatre rooms.
With designs suitable for narrow, level and sloping sites, our range of 150+ single storey, double storey, and split-level 4 bedroom house floor plans have been thoughtfully crafted to ensure your new home balances beauty with functionality. Come home to quality, style, value and comfort and feel at home with Montgomery Homes.
The Avoca 210 is a single storey design perfectly suited for level sites with a 13m frontage or more. This design features an open living area, including a separate home theatre room, and four bedrooms. With a secluded master bedroom with generously sized dual walk-in robes and ensuite, open plan kitchen – featuring a contemporary…
View All Our 4 Bedroom Home Designs
At Montgomery Homes, we understand that every block is unique and our specialist building techniques allow us to work with narrow, level, wide, and sloping sites — adapting our designs to suit the natural slope of the land. Designed to suit every stage of life, our 4 bedroom house floor plans include single storey, split-level and double storey options depending on your design preferences.
Montgomery Homes has a long history of building quality project homes in Sydney, Newcastle and Central Coast
Whether you are looking to knock down and rebuild your current home, or you're searching for a convenient house and land package, Montgomery Homes have modern and practical 4 bedroom home designs to suit your budget and design goals.
With over 30 years of industry experience, our specialist building techniques allow us to build on just about any block — whether it's level, sloping or narrow. Stretching from Newcastle and the Hunter to Sydney, we build anywhere from Port Stephens to North Sydney to the Blue Mountains. With locations in Sydney, Newcastle and the Central Coast serviced by Montgomery Homes, our designs can be flexible to meet your specific land specifications — contact one of our project home consultants in your area to find out more.
Couple the familiarity of your current location with the sparkle of a new home and you have a Montgomery Home knock down rebuild! A complimentary site appraisal will take the stress out of the entire building process, determining which designs are most suitable for your block, site accessibility and any other additional considerations and preparations that need to be undertaken.
Knowing the final price of your build upfront is just one benefit of a house and land package. Being cost effective and convenient, the stress is taken out of the processes as the home is guaranteed to fit perfectly on your block. With estates open across Sydney, the Central Coast and Newcastle and Hunter Valley, a house and land package with Montgomery Homes includes all the essential regulatory requirements, standard site costs and an inclusions package. Plus, you can be rest assured that we've hand-selected the sites and matched them with the most suitable of our award-winning homes.
Building Your Dream Home Design on a Vacant Block
Our specialist building techniques allow us to work with almost every block — whether it's sideways sloping, uphill, downhill or level. Plus, adapting our designs to suit the natural gradient of the land means you will get the most out of your design including natural air flow, light-filled spaces and the maximisation of your outlook.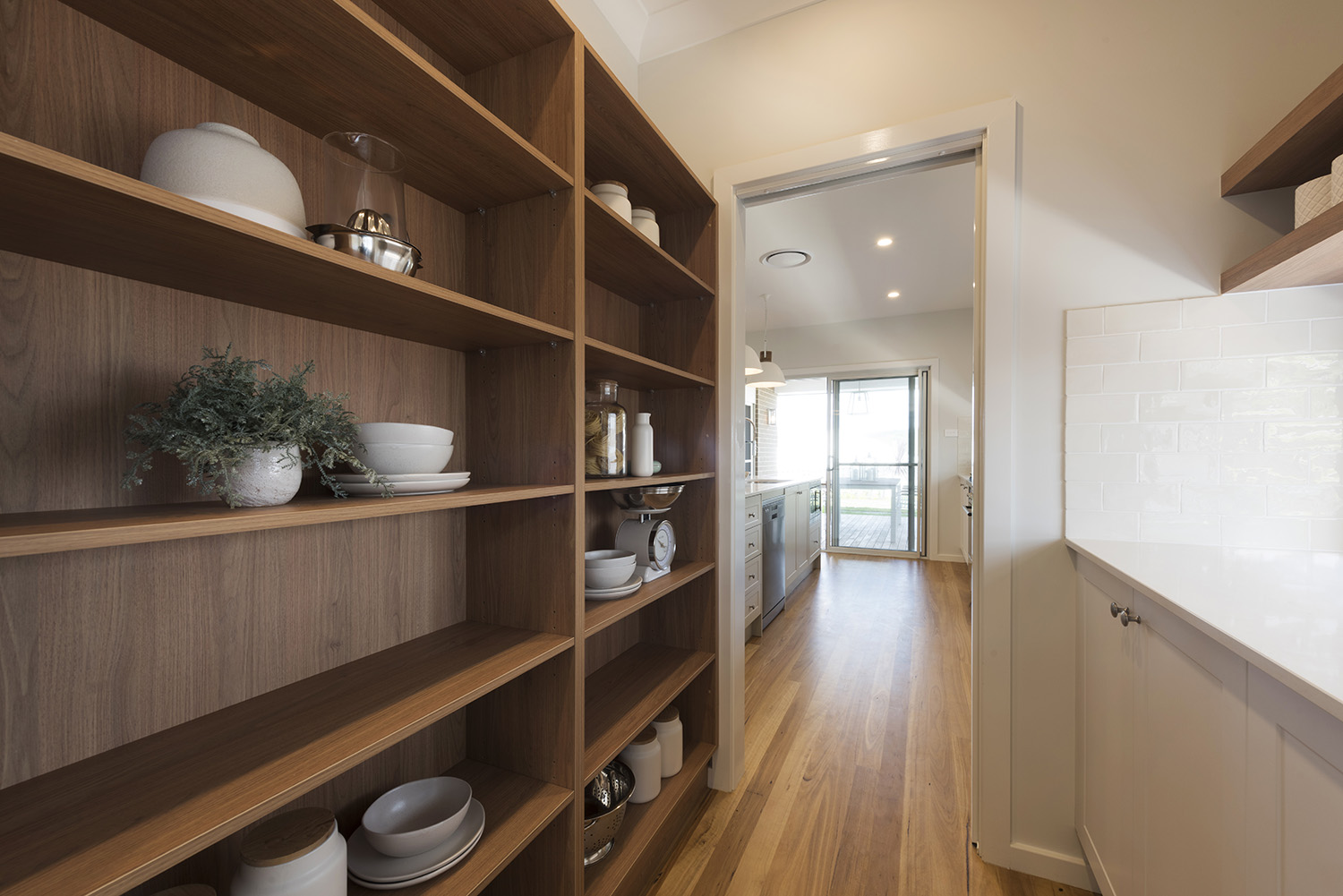 Building an Architectural Home Design That Ticks All Your Boxes
Dreaming of a Butler's Pantry? Or a spacious rumpus room? Can't go past the cosy home theatre? Our modern house designs feature all of the mod-cons families have come to love — meaning everyone has their own space to relax and rejuvenate.
4 Bedroom House Designs On Display Now
4 bedroom house plans for narrow blocks
Our narrow block designs have been cleverly crafted for blocks with a 12.5m frontage or less.
The single-storey Avoca 210 on display at Huntlee 2.0 packs a punch with two separate living areas and a stunning Hamptons facade. A convenient Butler's Pantry and mudroom are adjacent to the open-plan kitchen and living areas, alongside four spacious bedrooms and an ensuite and main bathroom.
The double-storey Brighton 229 is on display at HomeWorld Marsden Park and exudes elegance and sophistication with neutral colour schemes and bright, light filled spaces. Open-plan living areas are complemented by four spacious bedrooms and a rumpus room, with large sliding stacker doors connecting the outside to the inside.
4 bedroom house plans for level blocks
The single-storey Avalon 220 is on display at Huntlee 2.0 and showcases a perfectly executed Grande facade and modern features including a cosy theatre room, open-plan kitchen and a highly-sought after Butler's Pantry. This display perfectly encapsulates the allure of the countryside with a modern twist that would be equally as welcome in an urban setting.
Experience the double-storey Byron 250 on display now at Brush Creek, Edgeworth — complete with Palm Springs interior styling, open-plan living areas and four spacious bedrooms. The sculptural u-shaped staircase is a striking feature of this home, complete with matte black flat balustrade and blonde treads.
4 bedroom house plans for sloping blocks
Featuring the signature Montgomery Homes' split slab technique, the Monaco 1 211 is on display at Cameron Park. With a stylish transition from entry to the living area, be inspired with all the mod-cons families need — including a walk-in pantry and space for a double fridge. This home features four spacious bedrooms, an ensuite and main bathroom and powder room for guests.
With stunning blue kitchen cabinetry, herringbone timber floors and industrial pendants, the split-level Whitehaven 238 is on display at HomeWorld Box Hill. Two living areas, four bedrooms and a contemporary Butler's Pantry are complemented by the sophisticated Hamptons facade. This house exudes elegance and class from the moment you arrive.
Get Started With a Free Design Consultation Today
Our team can help find the best home for your family


















Your 4 Bedroom House Design
At Montgomery Homes, we build every home as if it were our own. We understand that it's the small things that make a big difference.
Strong industry and supplier relationships means your Montgomery Home will feature superior fixtures and fittings and will be trimmed with the finest finishings.
Start unwrapping the finishing touches on your home with our Diamond Collection, ensuring your home is not only cutting edge but is also an oasis for you to create beautiful memories with your family.
Do you love one of our display homes that's not in your location? Our curated range of 3D virtual tours means you can visit from the comfort of your home!
Walk through at your own pace with the added benefit of quickly being able to revisit later if needed! Easily compare house designs and zoom in to see the detail.
Receiving a myriad of awards throughout our 30-year history affirms that the Montgomery Homes' business practices, quality home designs and construction are consistent with the highest standards of professional and commercial conduct.
With unequalled success at the prestigious Housing Industry Association (HIA) Awards, the Montgomery Homes Monaco 1 211 was crowned the 2020 Hunter Display Home of the Year, with our Byron 250 being named a finalist.
Premium Quality Home Designs in Sydney, Newcastle and Central Coast
Every Montgomery Home upholds an ongoing commitment to quality, style, and integrity with each design adapted to be site-specific and take advantage of the unique character and opportunities of your location, views, breezes, and landscapes.
If you have a flat, level block of land, we have more than 80 single storey home designs to choose from, 60 two-storey home designs, 90 home designs for narrow sites, and 12 homestead designs.
No matter what home design you build, we're here to make your new house feel like home. We have more than 300 quality home designs to choose from and hundreds of premium inclusions to increase your comfort and make the space your own.
The Montgomery Homes Difference
Delivering quality homes since 1989
Quality comes as standard with Montgomery Homes. We understand that as your family grows, so will the need for additional bedrooms and living spaces. Our range of 4-bedroom house plans have been especially curated to amplify space and convenience with the luxurious mod-cons families have come to love including Butler's Pantries and Theatre Rooms.
Every block is different, which is why we apply our specialist building techniques to maximise your block including natural light, airflow and outlook. When you build with Montgomery Homes, you can be rest assured that we have your lifestyle and budget needs in mind. Feel at home with Montgomery Homes.