6 Bedroom House Plans With Montgomery Homes
Moments at home are precious, and a spacious abode provides the perfect environment for memorable family occasions. Life is a series of small and large moments that form our personal and individual journey. But, nothing compares to that feeling of coming home. We want you to feel secure, to feel relaxed and to feel at home with Montgomery Homes — because we understand that even the very best of life's' journeys will always bring you home.
The sheer expanse of our 6 bedroom home designs seamlessly complements the growth of your family, ensuring everyone has room to rest and rejuvenate — whilst fostering moments of important connection in the main living spaces of the home. With the most sophisticated of external features used, our 6 bedroom house plans are designed to radiate maximum street appeal and match the quality found on the interior of the home. Come home to quality, style, value and comfort with your Montgomery Home.
The Cayman 349 is a cutting edge, brand new design to our range of two storey homes. This home design is the largest of our designs, yet has been cleverly designed to suit narrow blocks. The Cayman 349 boasts three separate living areas, six bedrooms – or convert the 6th to a study – a…
View Our 6 Bedroom House Plans
Being the largest Montgomery Homes floorplan, the Cayman 349 is a 6 bedroom modern house design, with three separate living spaces across two levels giving your family ample room to move.
An ultra-modern design, the Cayman 349 has primary entertaining areas on the lower floor, with a large optional alfresco adjacent to the kitchen — perfect for those who love to entertain. Ascending the stairs, you will find a separate rumpus room, five bedrooms, main bathroom, separate powder room, ensuite and large walk-in linen closet.
Suited for narrow blocks with a 12.9m wide frontage or more, the Cayman 349 maximises on potential living space and is available as a zero lot home design.
Montgomery Homes — commited to building a trusted name across Sydney, Newcastle and Central Coast
With a presence of 30+ years in the project home building market, the team at Montgomery Homes are passionate about pairing the highest level of customer service with quality home designs that will exceed your visions and expectations. Specialists in knock down rebuild projects and house and land packages, our 6 bedroom house plans have both your budget and design goals at the forefront.
Refined over a number of years, our specialist building techniques allow us to build on just about any block — whether it's level, sloping or narrow. Adapting our home designs with respect to the natural slope and gradient of the land avoids mass excavation of your block and the need to install expensive retaining walls in the future, as well as preventing any drainage issues that may arise.
Montgomery Homes is proud to service the Sydney, Central Coast, Newcastle and Hunter Valley areas — contact one of our project home consultants in your area to find out more. We understand that these locations feature vastly different terrains, and as such we will ensure your new home design is adapted to suit the land specifications of your location.
Considered more cost effective than a full scale renovation, a knock down rebuild of your current home gives you the freedom to build your new dream home within the familiarity of your current location. Enjoy the luxury and allure associated with owning a brand-new home whilst maximising on benefits such as increasing the value of your land, avoiding real estate and stamp duty fees, and retaining the convenience of your current neighbourhood. Building a new home can be complex and stressful, so we include a complimentary site appraisal to assess site accessibility, house design suitability and any other preparations that may need to be undertaken.
It's the ultimate juncture of an award-winning design and a hand-selected site — a house and land package with Montgomery Homes. Guaranteed to fit on the block, your new Montgomery Home will also include all the essential regulatory requirements, standard site costs and an inclusions package meaning the complexities are removed from the new home build process and you can focus on choosing the interior finishes and features. With estates open across Sydney, the Central Coast and Newcastle and Hunter Valley, a house and land package is the ideal option for an investor, first home buyer or those looking to build on a strict budget.
Building Your Dream Home Design on a Vacant Block
Whatever your dream home looks like, we want to bring it to life for you. If you have secured a vacant block of land, browse our range of stunning designs that have been designed to maximise on natural air flow, natural light and outlook — start picturing yourself in your forever home. Plus, whether your vacant block is level or sloping, our specialist building techniques allow us to adapt our home designs to suit the natural gradient and maximise the potential of your new home.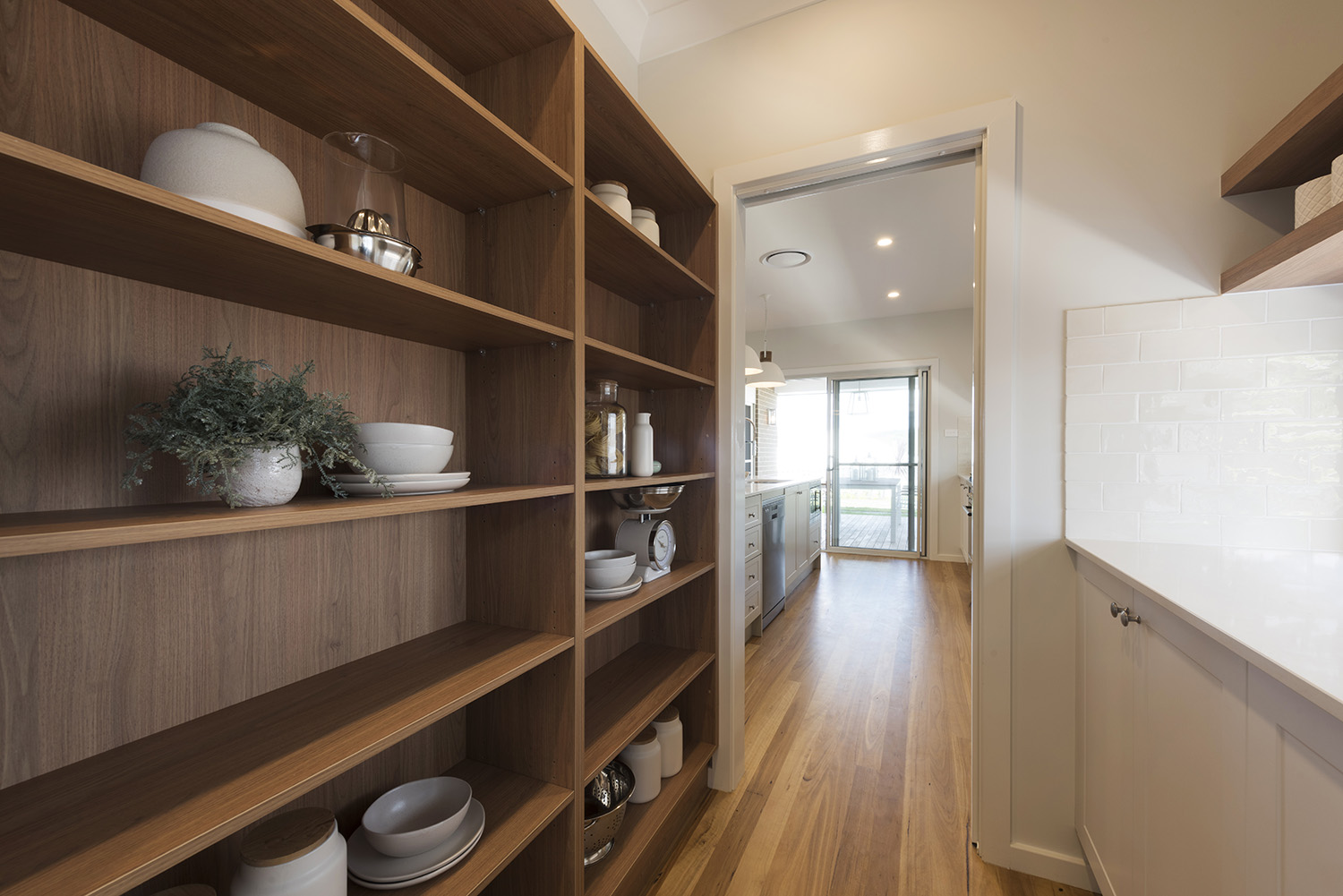 Building an Architectural Home Design That Ticks All Your Boxes
A significant advantage of our 6 bedroom new build homes is the sheer amount of space providing a canvas for mod-cons including a Butler's Pantry, rumpus rooms and home theatres. Such an array of living zones means everyone has their own space to relax and rejuvenate, with the assured comfort of shared zones to connect. Plus, loads of storage options feature — including linen cupboards and spacious walk-in-robes.
Get Started With a Free Design Consultation Today
Our team can help find the best home for your family














Your 6 Bedroom Modern House Design
With Montgomery Homes, your home will be quality from the inside out. Building every home as if it were our own, we understand that it's the small things that make a big difference. Strong industry and supplier relationships allow us to work with leading suppliers such as Clipsal, Colorbond, Caroma and ILVE to ensure your new home will be equipped with the highest quality appliances, fixtures and finishes.
Start unwrapping the finishing touches on your home with our Diamond Collection, ensuring your home is not only cutting edge but is also an oasis for you to create beautiful memories with your family.
There is nothing more magical than walking through a display home and picturing yourself in your forever home.
Do you love one of our display homes that isn't in your location? Explore at the click of a button — our curated range of 3D virtual tours means you can explore each display home in detail, all from the comfort of your home! Zoom in to see the intricate details and zoom out to capture the overall layout of the floorplan, or switch between homes to compare facades, features and finishes.
At Montgomery Homes, we understand the importance of finding the perfect home design, and want you have the freedom and flexibility to change our floor plans to suit the way you want to live. For example, you might want to convert one of your bedrooms into a home gym — we can adapt our home designs to bring your dream vision to life.
Premium Quality Home Designs in Sydney, Newcastle and Central Coast
Every Montgomery Home upholds an ongoing commitment to quality, style, and integrity with each design adapted to be site-specific and take advantage of the unique character and opportunities of your location, views, breezes, and landscapes.
If you have a flat, level block of land, we have more than 80 single storey home designs to choose from, 60 two-storey home designs, 90 home designs for narrow sites, and 12 homestead designs.
No matter what home design you build, we're here to make your new house feel like home. We have more than 200 quality home designs to choose from and hundreds of premium inclusions to increase your comfort and make the space your own.
The Montgomery Homes Difference
Delivering quality homes since 1989
When you build with Montgomery Homes, you can be rest assured that you're working with a trustworthy and leading project home builder. We understand that your family home is a haven of blissful connection, which is why we take care to ensure it includes features designed to amplify space and convenience alongside the highest quality fixtures and finishings. Behind every build is a passionate team, committed to facilitating a smooth process from pre-construction to handover — all whilst fostering open lines of communication to keep you up to date with build progress.
Considering the unique values of each block of land comes to life through application of our specialist building techniques, giving you peace of mind that your new 6 bedroom house plans will maximise on natural light, airflow and outlook. When you build with Montgomery Homes, you can be certain that we have your lifestyle and budget needs in mind. Feel at home with Montgomery Homes.