Explaining Our Beautiful Kitchen Cabinet Materials
Polyurethane, Melamine & 2-Pack Kitchen Cabinetry: Explaining our kitchen cabinet materials
Cupboard doors are often the largest surface in your kitchen (apart from the fridge, of course). With this in mind, the kitchen cabinet materials you choose are vital — you want something with a distinct character that reflects your unique sense of taste and style.
You also want cabinets that won't fade in the sun, peel, chip or suffer heat damage — we've all experienced a malfunction in the kitchen before, so it's important to have kitchen cabinets that perform.
At Montgomery Homes, we're committed to using the best kitchen materials on the market which is why we use Polytec Melamine and 2-Pack Polyurethane in our new home builds. In this article, we lift the veil of mystery around these two kitchen cabinet materials so you can decide which option is best for you!

What is 2-Pack Polyurethane?

A common question we get about our 2-Pack Polyurethane cabinets — "two packs of what?" The name can be a little misleading but essentially 2-Pack Polyurethane is a unique finish that is added to the cabinets for excellent durability.
While most paints and clear finishes are solvent-based, 2-Pack contains two containers or "packs" of liquid — a resin made of acrylic paint and melamine as well as a hardening resin. The result is an extremely durable surface for your kitchen cabinetry that will last for years to come without chipping, fading or peeling. It's a great choice for families with small children — they'll have a hard time damaging your new cabinets with 2-Pack Polyurethane!
The finish can be matte, textured, satin, semi-gloss or full gloss, and there is a selected range of stylish colours available. You'll have complete control and flexibility over your new kitchen design with 2-Pack Polyurethane.
We offer this hard-wearing kitchen cabinet material in our Diamond Collection — download the brochure for more information about our cabinetry.

What is Polytec Melamine?

Melamine is a unique material produced by Polytec for use in kitchen cabinetry and benchtops. Melamine cabinets are perfect for the modern kitchen — made from durable, low maintenance materials, you can clean Melamine cabinets simply by wiping them down with warm soapy water.
Unlike 2-Pack Polyurethane that makes up the cabinetry itself, Melamine is a layer of laminate that is applied to the cabinet's surface. It's waterproof as well as scratch and shatter-resistant — the only downside is that you need to ensure water doesn't get underneath the layer of Melamine. The Melamine is waterproof but the wooden cabinetry isn't.
The advantages of Melamine far outweigh the disadvantages, though. One of the major benefits of Polytec Melamine is the range of colours, finishes and textures available — for example:
A "Smooth" texture that resembles a soft, painted finish or the "Sheen" texture for a shiny, glossy look
The "Matte" texture for fine texture and "Texture" for a more traditional design
A "Woodmatt" texture with woodgrain embossing and an overall matt look and feel.
Here are just a few colours available from Polytec:

We use Polytec Melamine for our doors as well as drawer fronts and end panels as a standard in our Sapphire Collection. Available in a wide range of stunning colours and finishes, we can ensure your new kitchen cabinets blend seamlessly into the overall design of your kitchen.
Start designing your new kitchen with Montgomery Homes today!
Loving the sound of these stunning kitchen cabinet materials? Start designing a brand new kitchen with Montgomery Homes! In our Selections Gallery, you'll have the chance to see our kitchen cabinet materials in person — we have all the colours and textures on display, ready and waiting for you to choose from.
Get in touch with our team to book an appointment and start the design process today!

Explore our other blog posts
All Articles
Styling & Inspiration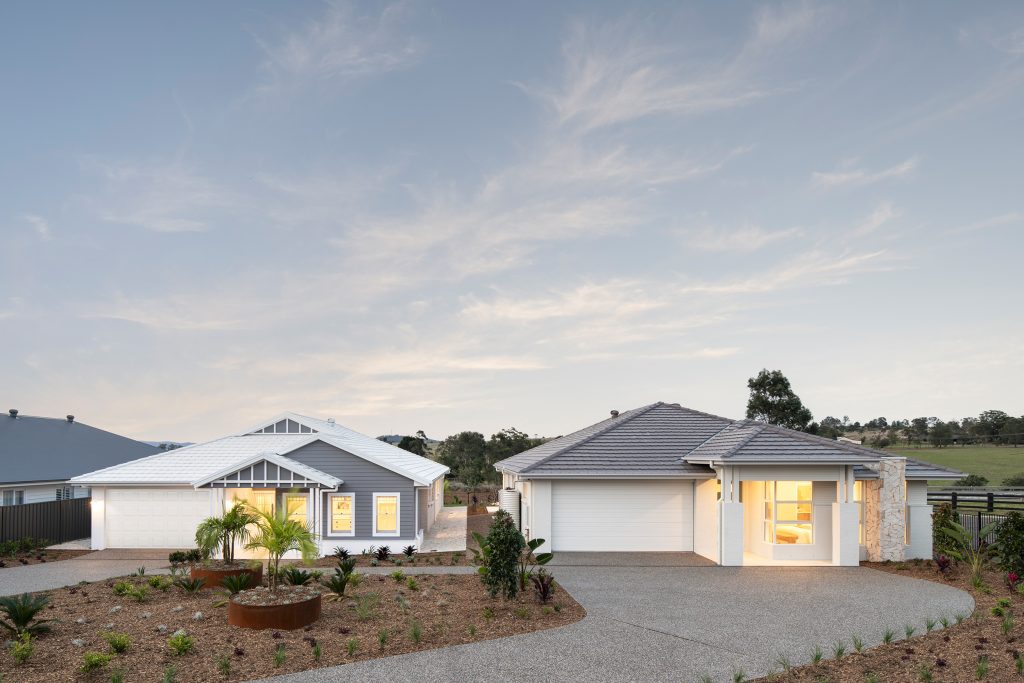 December 1, 2023
The Montgomery Homes team is excited to announce two beautiful new display homes at Hereford Hill in Lochinvar — the Airlie 222 and Avalon 2 249, styled by interior designer Shaynna Blaze! Learn more about these designs and visit us at Hereford Hill from Friday to Monday.
Join our newsletter to receive our latest promotions,
news and helpful building and design tips