3 beautiful front door designs to inspire your facade
The front door truly is the focal point of your facade — and Australia's top interior designer and our collaborative partner, Shaynna Blaze, agrees.
"Your choice of door can really transform the design," Shaynna says. "Consider different materials like timber for an organic yet refined aesthetic, brushed aluminium for an industrial, contemporary look, or painted timber to showcase your unique style." 
The design and materials of your front door can make a huge difference to the overall aesthetic of your facade. With this in mind, we offer an extensive range of front door designs to make your house feel more like a home and enhance your street appeal tenfold.
In this article, we share three stunning front door styles to inspire the home building journey and transform your facade.

Front door design #1: Natural Timber
If you're looking for a classic front door style, you can't go wrong with natural timber. This earthy material adds warmth and timeless class to your home's facade, especially if you have additional timber battens to complement the materials of the front door.
Plus, the glass panels allow for an abundance of light through your front door. We offer clear and frosted glass tinting, so you have total control over how much light flows through your entryway. 
Front door design #2: Brushed aluminium

For a sleek, contemporary look, we recommend an aluminium front door for your facade. Matched with moroka, dark brickwork and contrasting colours, your home can have some striking street appeal!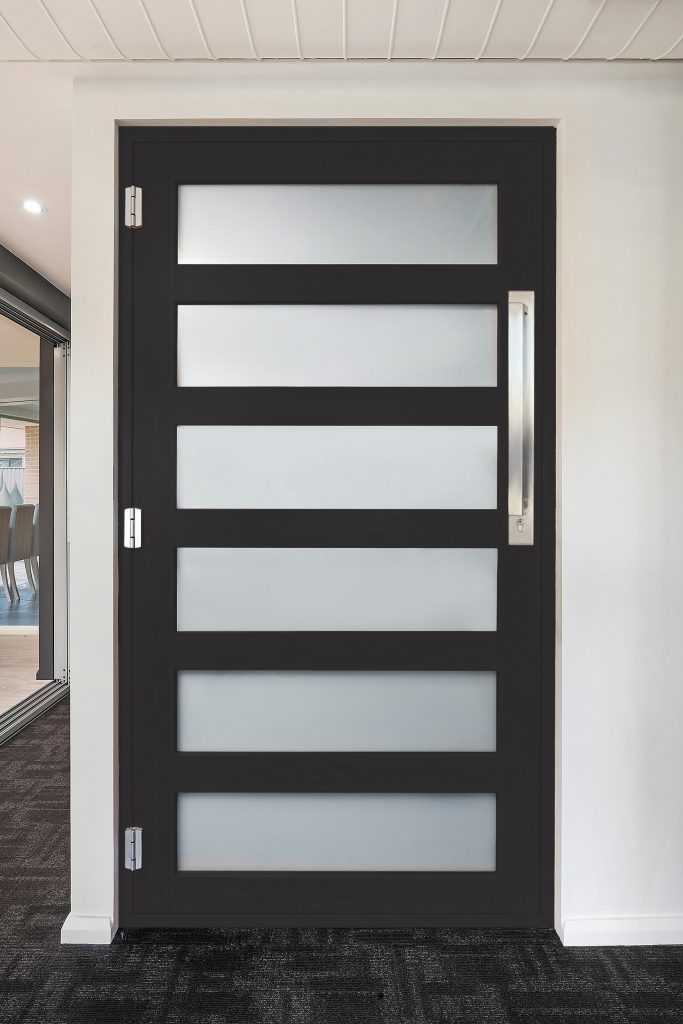 Provided by Wideline, our aluminium doors add a touch of contemporary class to your facade. As well as the stunning appearance, aluminium doors have a wide range of benefits:
BAL-40 rating: our aluminium front door designs are designed to withstand exposure to flames and high radiant heat in the event of a bushfire or a heatwave.
A long and useful life: while aluminium is a lightweight material, it is also highly durable, meaning you can have a modern front door design without the risk of damage, rust, expansion or corrosion.
Acoustic and thermal insulation: thanks to the lightweight and sturdy nature of our aluminium doors, you can enjoy a cooler home during the warmer months.

Front door design #3: Composite materials

Still want a timber door, but want to add some extra character to your home design? At Montgomery Homes, we also offer composite/MDF doors to add a classic timber look to your facade — with a stronger, more durable twist. In the design process, we can discuss potential colours and designs to make your front door style as contemporary and "you" as possible!
Our composite front door designs also feature a high BAL rating — while lower than an aluminium door, composite doors have a 12.5 BAL rating which means they will not generate enough heat to affect windows or other building elements in the event of a bushfire.
You can have the vibrant (or neutral) front door design you've always wanted with extra protection from potential hazards. A composite door is the perfect, durable solution to a colourful front door!

Discover the possibilities with our wide range of front door designs
Ready to start the home building process?
Contact us about one of our 200+ home designs today. Once the building and design process is underway, you will be invited to our Selections Gallery to view our quality inclusions, upgrades, finishes and colour schemes, so you can truly make your new house feel like a home.
In the meantime, if you have any questions about our front door designs and suppliers, contact us today. We'd be more than happy to discuss potential customisations to transform our floor plans into the home you've always wanted.

Explore our other blog posts
All Articles
Styling & Inspiration
September 4, 2023
The team at Montgomery Homes is excited to announce four beautiful new display homes at HomeWorld Leppington! Designed by interior design specialist Shaynna Blaze, these four new home designs blend old and new trends to create something truly chic and stylish. Learn more!
Join our newsletter to receive our latest promotions,
news and helpful building and design tips