Building a house on acreage: 4 country modern home designs to revolutionise rural living
Time to get away from the hustle and bustle of the city?
Building a house on acreage might be the perfect solution to bring some more peace and quiet into your life. Acreage home designs are traditionally single storey, open plan, and inspired by the natural beauty of the countryside. Featuring large windows and doors, you'll always feel connected to the Great Outdoors.
We have just added an additional TWO country home designs to our collection - ideal for large acreage blocks, you'll have plenty of space to entertain and grow your family in a Montgomery Homes acreage design.
In this blog, we explore all four of our architectural country home designs, including the Ridgeview 321, Ridgeview 263, Willowview 263, and Oakview 206 - all available in a range of stunning facades.
Our country home designs: Ridgeview 263
Like most traditional acreage or homestead designs, our new Ridgeview 263 home design is wide and single storey, creating an unprecedented amount of perceived space. The extra large windows also allow natural light to flow through the house, bringing the outdoors inside.
The Ridgeview 263 is one of our latest country home designs featuring an open plan kitchen and walk-in pantry for the self-proclaimed Master Chefs, and a separate home theatre and rumpus room for entertaining or just relaxing with your family.
With four large bedrooms scattered throughout the house, you will have plenty of space for visitors and entertaining - or space for your family to grow over the years.
Available in three beautiful facades, you can customise the front of your country home design to suit your unique needs and sense of style. Talk to our home and interior design specialists about building a house on acreage!
Our country home designs: Willowview 230
The Willowview 230 is one of our latest country home designs - perfect for level acreage sites! Designed to harmonise the natural beauty of the Great Outdoors and the comforts of home, the Willowview has a stunning open plan design abundant with natural light.
The classic homestead design will make you feel right at home as soon as you step through the door. Featuring a cosy home theatre, a dedicated workshop in the garage for all the tools, bikes, and lawn care equipment, a home office/IT nook, open plan kitchen and a butler's pantry, you'll have everything you need at your fingertips —  whether you work from home, or simply love entertaining guests on the weekend.
The Willowview 230 is the perfect choice for growing families looking to return to the quiet countryside. With four spacious bedrooms and a modern relaxed lifestyle, your family will have plenty of space to grow — comfortably.
Our country home designs: Ridgeview 321
The Ridgeview 321 is one of the most spacious single storey home designs we have to offer. Spanning 320.78m² (34.5 squares), this traditional country home design has FIVE bedrooms, three living areas, and 2.5 bathrooms, making it the perfect rural escape for large families and avid entertainers.
Our new Willowview and Ridgeview home designs take a very important page from the classic Ridgeview 231 - featuring a large open plan kitchen, a butler's pantry, and easy access onto a stunning alfresco area, the Ridgeview 321 is designed for entertaining.
Serve drinks and nibbles from your state-of-the-art kitchen, or ferry food out onto the alfresco area for a summer barbeque. Open up the doors and experience the difference of the refreshing rural breeze - the open plan will ensure you feel the freshness wherever you are in the house.
Our country home designs: Oakview 206
At 206.81m² (22.2squares), this is one of our more petite country home designs — however, it still provides plenty of space for growing families and those who like having room to stretch their legs!
The Oakview 206 has four bedrooms (including a master bedroom with its own contemporary ensuite), two living rooms, and two bathrooms, so there's always room for entertaining comfortably. Plus, this design features the classic open plan kitchen connected to an optional alfresco area, so it's the ideal venue for summer barbeques, birthdays, and lots of get-togethers.
Like most of our architectural home designs, the floor plan is adjustable to meet your family's unique needs and requirements — flip and play with the floorplan online, or get in touch with our team for more information on how you can make this design fit your lifestyle!
Building a house on acreage has never been simpler with Montgomery Homes
If you've been dreaming of living in the countryside and taking a breath of fresh air, then it's never been a better time to chase those dreams! With four acreage home designs to choose from, you're sure to find a stunning home to build in the peace and quiet of the countryside.
Learn more about our country home designs by downloading a brochure or get in touch with our team of home building specialists to discover the potential for your new home!
Explore our other blog posts
All Articles
Styling & Inspiration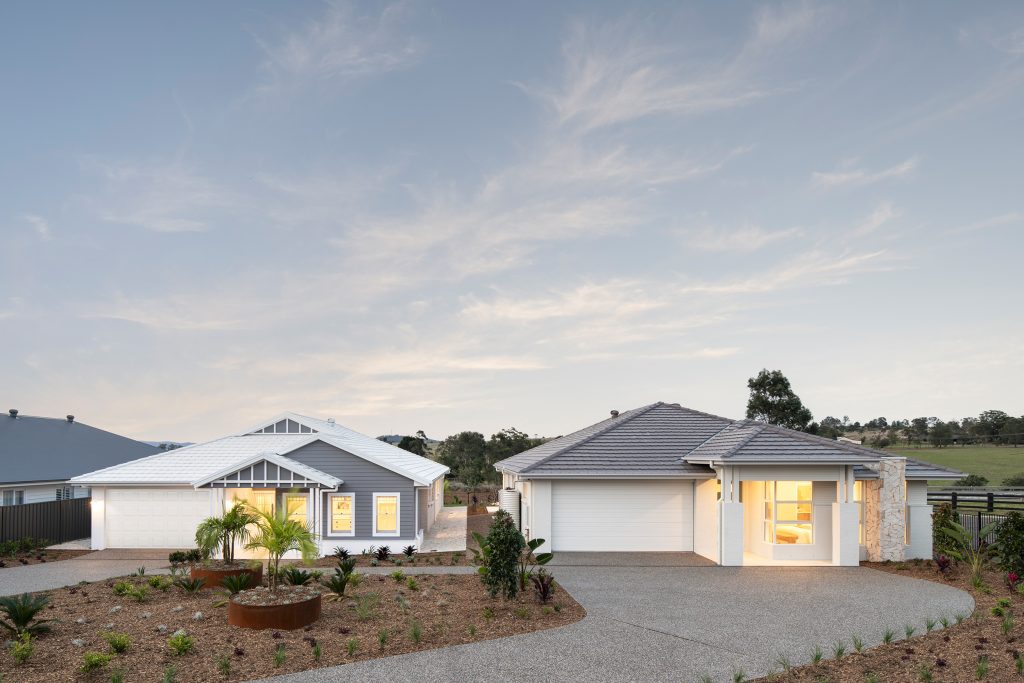 December 1, 2023
The Montgomery Homes team is excited to announce two beautiful new display homes at Hereford Hill in Lochinvar — the Airlie 222 and Avalon 2 249, styled by interior designer Shaynna Blaze! Learn more about these designs and visit us at Hereford Hill from Friday to Monday.
Join our newsletter to receive our latest promotions,
news and helpful building and design tips