Be Inspired by The Montgomery Homes New Home Visualiser Tool
Building a new home is an exciting life milestone, and at Montgomery Homes we understand that the interior and exterior textures, styles and colours should reflect the personality and lifestyle of you and your family. Every Montgomery home design exudes ultimate street appeal, and with thoughtfully selected finishes, your new home is sure to make a lasting impression.
From textures, finishes, and colours — enter the ultimate new home virtual world.
What is the New Home Visualiser Tool and how does it work?
Designed exclusively for Montgomery Homes clients, create the ultimate house facade visualiser experience on your personal home design facade by mixing and matching different colours, textures, and finishes.
Picturing what your new home will look like can be challenging — especially given the amount of selections required to create the completed new home facade. With the personalised New Home Visualiser Tool, you are able to make pre-selections ahead of your Selections Appointment — from tiles to paint colours, all from a 360° vantage point.
(Please note all selections will be reviewed and discussed with your Interior Designer during your appointment, ensuring you have the best possible finish for your new home.)
During your new home visualiser experience, we encourage you to make as many selections as you can as you journey around your new home. You will notice that some features have been marked specifically – these elements recommend you to visit the specific suppliers' showrooms to see the physical products.

Compare external colours and textures
Creating an external look that is varied yet cohesive contributes to a holistic aura to your new home. Using the facade visualiser, experiment with textures such as exposed brick, render and Moroka to afford your new home an edgy vibe. The Montgomery Homes New Home Visualiser Tool includes the capability to compare what each texture looks like on your unique facade, as well as toggle between various colours to confirm your preferences. Montgomery Homes have built trusted relationships with local suppliers including Taubmans, Colorbond, Austral Bricks and PGH Bricks to ensure that your new home features only the highest quality materials.
Compare cladding profile and colours
Particularly prevalent in the Hamptons, Retro and Metro facades, external cladding creates a point of difference and can really elevate the look of your home exterior. House visualiser capabilities within the Montgomery Homes New Home Visualiser Tool allow you to choose a cladding colour to complement the remaining facade textures. An important selection for your new house, colour visualiser capabilities will ensure your facade features your preferred colour palette.
Compare roof tile to Colorbond
From the durability of Colorbond to the tradition of tiles, the roof of your new home weathers the harshest of Australian conditions whilst providing an aesthetic like no other. Although classified as an upgrade item, Colorbond roof sheets provide a sleek and modern finish to your facade. Comparatively, roof tiles braid a complete and traditional viewpoint for your roof and come standard with each home design. Whilst both options feature quality materials, comparing the look and feel of each on your unique facade is made possible with the Montgomery Homes New Home Visualiser Tool.
Compare front entry doors and colours
Welcome your guests through a front door like no other. Combining the practicality of a main entry point, with the Hume Doors luxurious product — your front door contributes to creating a lasting first impression. Browse different front door styles and colours, taking into consideration the connection between the aforementioned facade elements.  With the New Home Visualiser Tool, your front entry point transitions from a concept to a reality.
Make your pre-selections
Within the New Home Visualiser Tool, proceed to select standard and upgrade items across appliances, vanities and tapware — start to see the finer details of your new home come to life! With the opportunity to select internal and external paint colours, the New Home Visualiser Tool gives you a holistic viewpoint of your new home. 
Review and submit all pre-selections
Finalise your submission via the 'My Selections' screen – your selections will then be submitted to your Montgomery Homes interior designer in preparation for your upcoming appointment. Part of the Montgomery Homes Client Portal, the New Home Visualiser Tool will be housed within the Montgomery Homes website.
Building with Montgomery Homes.
With over 30 years' experience building beautiful, functional homes, you can be assured that your new home will be quality from the inside out — and with over 25 display homes across Sydney, the Central Coast, and Newcastle — you'll find a convenient location where you can enjoy our beautiful home designs for yourself. Plus, with the recently released New Home Visualiser Tool, you'll see your dream home come to life through the ultimate virtual experience.
Explore our other blog posts
All Articles
Styling & Inspiration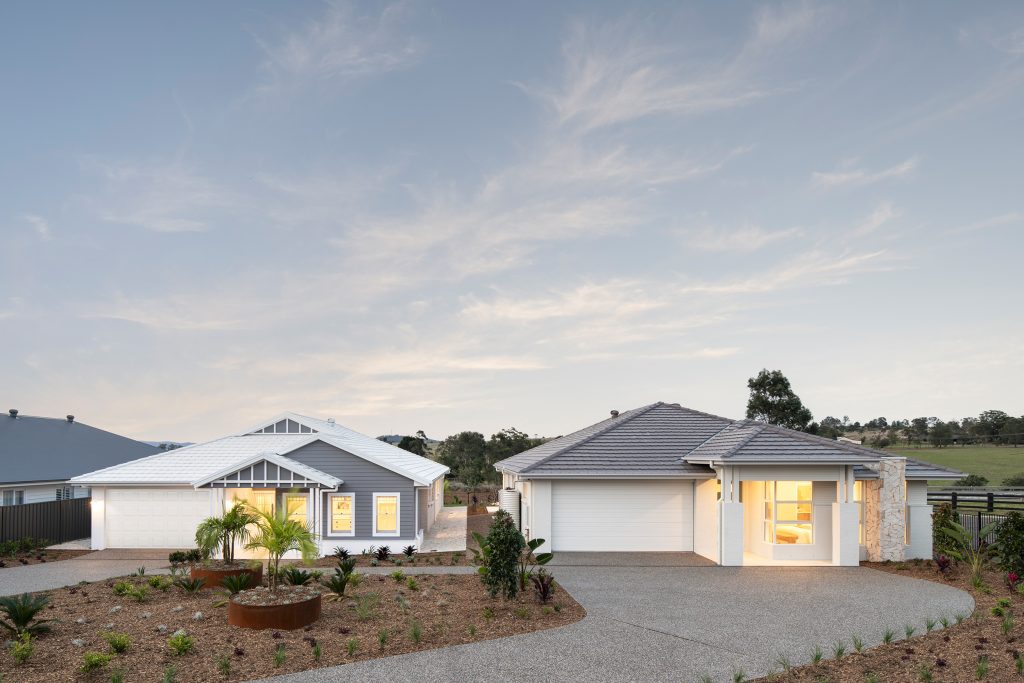 December 1, 2023
The Montgomery Homes team is excited to announce two beautiful new display homes at Hereford Hill in Lochinvar — the Airlie 222 and Avalon 2 249, styled by interior designer Shaynna Blaze! Learn more about these designs and visit us at Hereford Hill from Friday to Monday.
Join our newsletter to receive our latest promotions,
news and helpful building and design tips