DIY renovation vs. professional home rebuild: the cost to knock down a house and rebuild from scratch
If you're in love with your neighbourhood but no longer feel for your home design, the idea of a knock down rebuild project may have crossed your mind. You might have fallen out of love with your house for a number of reasons:
The design is starting to look outdated compared to your neighbours

You have a growing family and need more space

You're looking to downsize since the kids have flown the nest

Your current design is in desperate need of some TLC

You need a change and want something more contemporary. 
No matter the reason, a knockdown rebuild project can help solve the problem and provide a clean slate without needing to uproot your family and move somewhere else.
A common concern for homeowners is the cost to knock down and rebuild a house. You might be weighing up the pros and cons of renovating or choosing a professional home builder to manage a knock down rebuild project for you.
Quite often, renovation costs end up being twice — sometimes three times — the amount of a knock down rebuild project. It's very easy to blow out your renovation budget as new problems and unexpected costs arise.
A knock down rebuild project is a simple and cost-effective way to revamp the design of your home. But what is the average cost to rebuild a house in Australia? Is it cheaper to conduct a DIY renovation, or get a home builder to build a new house from the ground up? 
In this blog, we weigh up the knockdown and rebuild costs for you so that you can make an educated decision about your brand new dream home.
The cost of a DIY renovation on your existing property
If you like to take a "hands-on" approach to your home improvements, you might be considering a DIY home renovation. There are a range of benefits to a renovation — for example, you have control over the timeline of your renovation project, and you can design your dream home down to the very last detail. 
However, it's important to understand house renovation costs. It can be a complicated process to undertake on your own, and if you're not careful, the costs can start to build up.
According to Service Seeking, minor renovations can cost as little as $20,000. However, for a complete home transformation, the budget can easily go over $300,000 — every square metre counts.
The biggest expenses go into labour and sourcing building materials, but some additional factors include:
The size of your home.

Remodelling a small home or townhouse wouldn't cost as much as a five-bedroom home, so the scale of the project can have a huge impact on the budget.



Your location.

Based on where you live, the cost of labour and sourcing building materials can vary greatly. If you decide to hire some renovators for an extra set of hands in Queensland, for example, their wages sit at around $50 per hour, whereas it can

cost up to $85 per hour in New South Wales

.

Local council regulations.

If you are planning a major renovation, you will need to consider local zoning laws, approvals and building permit costs. This can be extremely time-consuming and stressful.

Kitchen and bathroom renovations.

These are arguably the most important rooms in the house, but are also the most expensive to renovate! Due to the number of appliances and fittings required,

a kitchen renovation can cost up to $40,000, and a bathroom renovation can cost up to $35,000

.

Mistakes and repairs.

We all make mistakes, but a DIY renovation blunder can be costly. We recommend adding 10% to 15% to your estimated budget to cover repairs.

Removing dangerous materials.

If you plan to remove walls in an old home, you may need to consider asbestos removal. In New South Wales, you must hire a licensed asbestos removalist for the job — this is expensive, but worth it to ensure your safety.
As you can see, there are a lot of pros and cons to a major renovation project — with the biggest unknown being an uncertain budget and unforeseen costs. In most cases, it's more affordable to simply knock down your home and start from scratch.
How much does it cost to knock down and rebuild with our knockdown rebuild specialists?
If you knock down and rebuild your home with an experienced knockdown rebuild specialist like Montgomery Homes, there will be no "what-ifs" or confusion around the cost of rebuilding a house. 
Our builders will complete an in-depth site inspection to determine any additional work that needs to be done to prepare the block for a new home build, like removing old electrical cabling and tree removal. 
Our site inspections are free of charge, so once we come back with recommendations and potential costs, there's no obligation to proceed with the project or place a deposit.
Based on your chosen home design and the existing site conditions, we'll provide a detailed quote that includes any possible site costs involved required to start the build. This might include excavation and retaining walls; however, this is more common for sloping sites.
You will still need to schedule and pay for the demolition of your existing home, but all other costs are covered under the cost we have agreed upon in the planning process. This includes our standard inclusions like:
Flooring and painting

Finishes like tapware

Kitchen, bathroom and laundry essentials

Power and plumbing

Cupboards, drawers and walk-in wardrobes.
You will also have the choice to select our Diamond or Sapphire Collections for additional benefits like: 
Stone countertops for the kitchen

Downlights

Frameless shower screens

Freestanding baths

Floor-to-ceiling tiling

Polytec polyurethane kitchen and bathroom cabinetry

Handless doors and drawers

Stylish tapware and sinks
All in all, the cost of a knockdown rebuild with Montgomery Homes comes down to the home design of your choice, the site conditions, and any upgrades you want to include for a home design that's truly your own. 
Plus, you won't need to worry about real estate or stamp duty costs!
Note: as the homeowner, you will need to hire a demolition company and cover demolition costs. If required, we can recommend a reliable demolition contractor in your area. 
Covering home rebuild costs with a knockdown rebuild loan
Wondering how to cover the costs to rebuild your home and save money in the process? Knockdown rebuild loans are a smart financial solution to cover the cost of demolition and rebuilding a house.
Lenders will assess factors like property and land value, construction plans, and your financial standing to determine loan eligibility and terms. Interest rates and repayment terms vary, so careful comparison and financial planning are essential.
We recommend contacting a lender and finding out how much you can borrow before committing to knocking down your existing house.
Knock down a house and rebuild a stunning new home with us
While a renovation project can be a lot of fun, it can also cause stress and budget blowouts. With Montgomery Homes, we'll cover all the minor details and cover the costs under one simple, cost-effective quote, so you can achieve the home you've always wanted at a set price.
Clients who have completed a knockdown rebuild project with Montgomery Homes have told us it was the best financial decision they ever made, and the knockdown rebuild process was simple and stress-free!
So what are you waiting for? Get in touch with the team from Montgomery Homes for more information, or book a free site inspection to get the project rolling now!
Explore our other blog posts
All Articles
Styling & Inspiration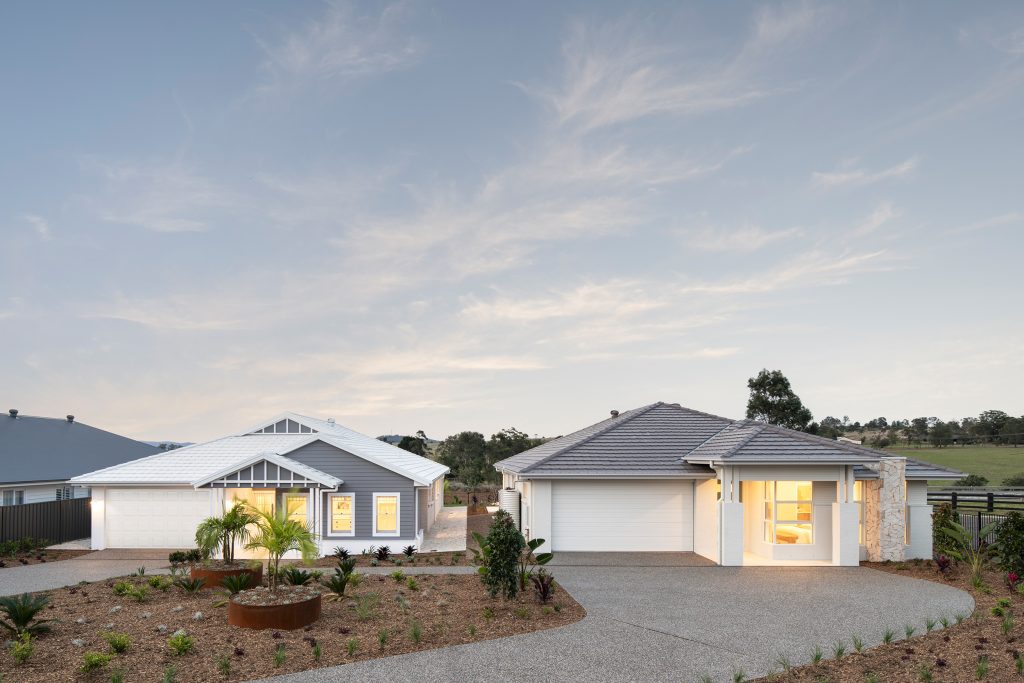 December 1, 2023
The Montgomery Homes team is excited to announce two beautiful new display homes at Hereford Hill in Lochinvar — the Airlie 222 and Avalon 2 249, styled by interior designer Shaynna Blaze! Learn more about these designs and visit us at Hereford Hill from Friday to Monday.
Join our newsletter to receive our latest promotions,
news and helpful building and design tips