6 Amazing Advantages of Acreage Life
With more space, affordable plots and the chance to build a bigger home, more homebuyers than ever are willing to venture a little further out of the city for the promise of more land on an acreage. Plus, with the right acreage home design and the assistance of skilled builders, your new acreage property will likely appreciate in value over time. This means that acreage life could be rewarding AND profitable if you're ready to move a little further out from the CBD! 
So, what are the advantages of acreage life? In this blog, we'll help you decide if living on an acreage is the right move for you. Read on!
Acreage life refers to living on a large, generally empty plot of land away from the city and building a new home with the additional space.
While most standard Australian blocks are 400-800 square metres, acreages are at least one acre in size (or over 4,000 sqm). While many people think of acreage life as living in a rural setting or a small town, many acreage properties are built in spacious suburbs just a short drive from cities or the local CBD. Because of this, acreage living is more about the size and spaciousness of your plot, rather than its location. 
Most acreage buyers are looking to buy an empty plot of land and build a new home from scratch. Knockdown rebuilds are also popular on acreage plots, as acreages provide plenty of space to build spacious, luxurious homes — especially in rural areas where the existing property may need too much maintenance to renovate.
Advantages of living on an acreage
While most acreage properties are less centrally located than other homes, acreage life has plenty of unique benefits for your new home build. 
Whether you're looking for a secluded life or you want to build the home of your dreams, take a look at these advantages of living on an acreage and find out if an acreage plot is right for your next home!
#1. You can build a bigger home
More land means more space to bring your dream home to life! Acreages give you extra flexibility to build a larger home without the hassle of having to compromise on your ideal layout. This makes them a popular choice for growing families looking for extra space to play, explore and have fun. 
Homes like the deluxe 5-bedroom Ridgeview 321 are perfect for families of all sizes or anyone looking to entertain. With 3 beautiful living areas and 2.5 bathrooms, the spacious open-plan design includes a generous alfresco area right on your back doorstep!
#2. Plenty of outdoor space
Whether you're a gardening enthusiast or you love connecting with nature, living on an acreage gives you extra outdoor space to relax, unwind and explore your favourite hobbies! 
Ever thought of growing your own crops? How about adding a beautiful lap pool or decorative pond to your home? From spacious alfresco areas to extra gardening space for flowers, trees and plants, you can create your perfect outdoor oasis with your new acreage home. 
#3. More options for alfresco areas
Entertain guests or host beautiful outdoor dinners with the family with a gorgeous alfresco area on your acreage home! 
Alfresco areas can include simple patios, outdoor cooking areas or luxurious lounge settings for unwinding and relaxing throughout the day. At Montgomery Homes, our acreage home designs can be made with stunning alfresco areas adding an extra layer of comfort to your new acreage lifestyle. Plus, with their sleek, versatile designs, you can craft your ideal alfresco area with furniture, BBQs, dining tables and more to suit your needs.
#4. Space for dual living
Perfect for multigenerational living, entertaining guests or anyone looking for a little extra space, acreages have plenty of room to add a granny flat or extra accommodation to your new home build. 
Granny flats can be built right next to your home or across your plot, so you can choose the right amount of distance, proximity and privacy to suit you and your guests.
We offer a selection of 10 luxurious, modern granny flat designs perfect for your new acreage home. Plus, our floor plans can be arranged to suit your land, so you can find the right fit for your space without compromising on the design!
With a large acreage plot, you won't need to worry about nosey neighbours, bystanders or traffic peeking into your space. Most acreage homes are set further back from the road and have a greater distance between neighbours on both sides, making them perfect for anyone looking for a little extra privacy at home. 
Enhance your privacy with beautiful tall hedges like Lilly Pillies or Kohuhu hedges that screen your home from view while adding a cosy, secluded feel to your plot.
Acreage houses are spaced out further from neighbouring homes, so — depending on where your home is situated — you'll likely lose less light to trees, hedges and fences from next door. This means your spacious new acreage home will be bathed in glowing natural light, making your interior decor shine and saving your energy bill with less electric lighting throughout the day.
Make your dream acreage life a reality with Montgomery Homes
Whether you're moving away from the city or need extra space for your family, embrace the acreage life with a new home from Montgomery Homes! 
Our chic acreage homes are available in a range of stylish facades including Metro, Cosmo and Executive styles, so you can make the best first impression and stand out from the neighbours with a distinct modern home. 
Discover our full range of acreage homes and make the most of living on an acreage with Montgomery Homes. Get in touch with our expert home builders today!
Contact our team and find your perfect acreage home today!
Explore our other blog posts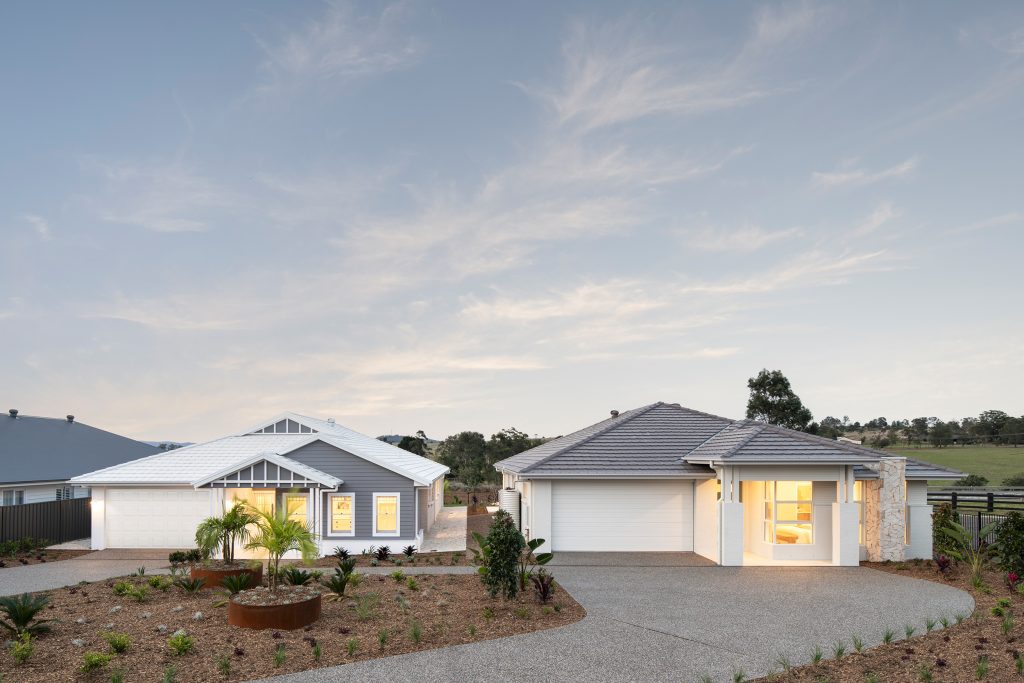 December 1, 2023
The Montgomery Homes team is excited to announce two beautiful new display homes at Hereford Hill in Lochinvar — the Airlie 222 and Avalon 2 249, styled by interior designer Shaynna Blaze! Learn more about these designs and visit us at Hereford Hill from Friday to Monday.
Join our newsletter to receive our latest promotions,
news and helpful building and design tips