What is BASIX? Your complete guide to BASIX & their requirements
What is BASIX? Your complete guide to BASIX & their requirements
Bringing your dream home or investment build to life is an exciting process for anyone, but every home needs to fit certain requirements before your builders can get started. 
BASIX requirements have been a part of every new home build or major renovation for almost two decades. Despite this, many homeowners embarking on their first build are left scratching their heads when it comes to following BASIX requirements. 
But what is BASIX, and why is it required for your home? In this blog, we'll walk you through everything you need to know to get a BASIX Certificate for your next build and an overview of the expected changes to BASIX requirements from 1 October 2023. Read on!
What is a BASIX certificate and do I really need one?
So, what is BASIX? 
BASIX, also known as the Building Sustainability Index, was created in 2004 as part of the NSW Government's plan to improve the sustainability of residential developments. As part of the Environmental Planning and Assessment Act, the goal of the BASIX initiative is to reduce the amount of potable water usage and greenhouse gas emissions produced by NSW homes. 
While this may seem like an extra hoop to jump through when building your new home, following the requirements of the BASIX initiative can provide long-term financial savings to homeowners. This is because homes that comply with BASIX requirements use less water and consume less energy on a daily basis, which makes them more environmentally friendly while also making your utilities cheaper! 
BASIX requirements apply to the following types of builds:
New residential homes and dwellings

Alterations and additions to existing dwellings that cost $50,000 or more to complete

Swimming pools that are 40,000 litres or more in size
Our guide to the BASIX requirements NSW builders must follow
What is a BASIX certificate, and how do you get one in NSW? The requirements for a BASIX certificate are based on the amount of potable water consumed and greenhouse gas emissions produced by each person in a single or multi-dwelling home. 
To establish the requirements for your home, BASIX assessments also take into account a range of information including: 
The location of your home

Your home's orientation

The proposed size of the windows in your home

The type of home you're building (single or multi-dwelling)

Appliances used in your home

The landscaping required

Hot water heating

Insulation
After submitting a BASIX assessment, the information provided will be assessed against the NSW government's current energy and water targets.
BASIX targets are split into three categories:
Water targets

— Before BASIX standards were introduced, the average NSW dwelling used 90,340 litres of water per person each year. BASIX-compliant homes need to reduce the amount of water consumed per person by up to 40%. In addition, all new houses must have a minimum-size water tank that is filled from the roof structure and is then used for gardens, washing machines and toilets.

Energy targets

—  Before BASIX standards were introduced, the average NSW dwelling produced 3,292 kilograms of CO2-e (greenhouse gasses) per person each year. BASIX-compliant homes need to reduce the amount of greenhouse gas emissions per person by up to 40%.

Thermal performance

– Every new home must achieve a minimum heating and cooling score, which is based on the following criteria:

Orientation of the home

Window sizes

The type of glazing used (e.g. smart glass)

Insulation to walls, ceilings and floors

Electric lighting

The type of hot water heating system used
While these are the main factors considered during a BASIX assessment, there are other factors that can influence your score. For example, if insulated glazing (such as tinted or double glazing) is used in your build, this would help your score to achieve a better overall energy rating. 
The exact requirements for your home will depend on the type of home you're building, the factors listed above and the energy and water targets required.
How are BASIX assessments completed?
If you're building a new home, a BASIX assessment must be completed by the owner or builder of the dwelling before a Development Application (DA) or Complying Development Certificate (CDC) can be submitted and approved. 
At Montgomery Homes, we'll submit a BASIX assessment on your behalf to take the hassle out of managing your build. Once a BASIX Certificate has been obtained by your builder, they will then submit a Development Application or CDC for your home.
2023 changes to NSW BASIX standards
BASIX requirements NSW-wide are set to change in late 2023. As of 1 October 2023, there will be several changes to BASIX standards. The new standards will affect any build with contracts submitted on or after this date. These changes include:
Increased thermal comfort target

. The thermal comfort target will increase from 5.5-stars to 7-stars in line with the Nationwide House Energy Rating Scheme (NatHERS).



Energy standards will vary based on total floor area

. Energy consumption targets will become stricter (increase from 50% to 70%) depending on your building type and location. For example, a home with a 100 sqm floor area will have different standards from a home with a 250 sqm floor area. Current standards do not vary based on floor area.
Current BASIX water standards will remain the same. The increased standards won't apply to those who have already signed contracts before 1 October 2023. This means that they will not need to receive a new BASIX certificate, as long the corresponding DA or CDC have been lodged within three months of the BASIX certificate being generated.
Take the stress out of BASIX reports and requirements with a new home build from Montgomery Homes
At Montgomery Homes, we take the hassle out of building your new home. Whether you're looking for a single-storey stunner or a spacious two-storey build, we've got the right home design for you. Plus, we can help you through the process of obtaining BASIX reports for your build and submit a BASIX assessment on your behalf to streamline the process!
Building on a sloping site? As Newcastle's sloping site specialists, we'll transform the floorplan of your choice into the perfect layout for downhill, uphill and sideways sloping sites of all shapes and sizes. Plus, we've got a range of layouts suitable for tricky narrow blocks, so you don't have to compromise on space with your Montgomery Homes build. 
Whether you're downsizing, upgrading or looking for your dream home design, we've got the right fit for your family at Montgomery Homes. Contact our friendly team and get the ball rolling on your new home today.
Explore our full range of home designs and get in touch with our team today!
Explore our other blog posts
All Articles
Styling & Inspiration
August 5, 2021
Lighting is an incredibly important part of the design process — the placement of lighting fixtures and the lighting designs you choose can have a major impact on the atmosphere of a room. Likewise, the placement of powerpoints can impact a room's functionality and convenience. With this in mind, we've put together a guide to electrical planning with Montgomery Homes — learn more!
May 11, 2021
The kitchen is the heart of the home. Here, interior design specialist Shaynna Blaze shares how to design a new kitchen that's both beautiful and practical.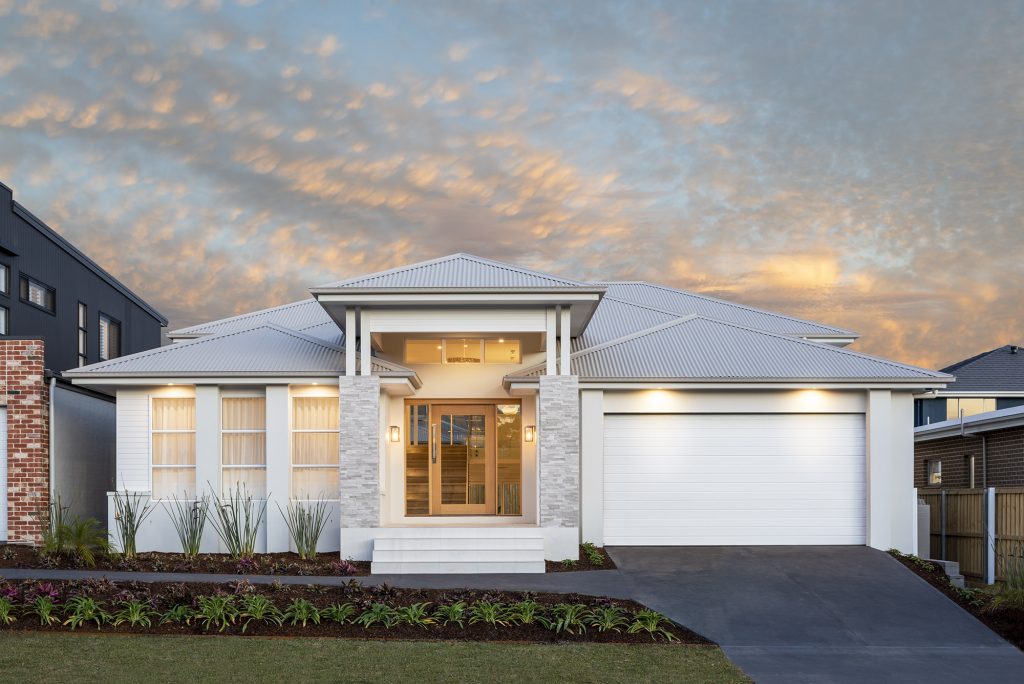 April 15, 2020
When researching land to purchase, the thought of building on a sloping block at first might seem complicated. However, building on a sloping site doesn't need to be stressful and you certainly don't need to compromise on building the home you've always dreamed about. Split level house designs are the perfect solution for sloping blocks as they are designed to follow the natural slope of the land, resulting in a stunning, architectural split level home that is both unique and spacious.
Join our newsletter to receive our latest promotions,
news and helpful building and design tips