How To Design A New Kitchen With Shaynna Blaze
How to design a new kitchen design with Shaynna Blaze
The kitchen truly is the heart of the home. Once, it was simply a practical utility room where you would make your meals, but in the 1960s and 1970s, a kitchen renaissance occurred. Home cooking and entertaining became the norm, and it was a chance for homeowners to show off their designer cookware, culinary skills and modern new kitchens.
From the 1980s, an open-plan kitchen became the height of sophistication, and we've never looked back since.
At Montgomery Homes, we pride ourselves on our luxurious, open-plan kitchen designs featuring durable materials and abundant storage space for utensils, cookware, and appliances.
The question is: how do you design a new kitchen to meet your needs, while also maintaining an evergreen contemporary style? Our brand ambassador Shaynna Blaze offers some valuable tips on how to create a kitchen that's both beautiful and practical. Read on!
#1. Sleek cabinetry & soft close drawers
When you design a new kitchen, it's an excellent opportunity to add a sleek and contemporary look to ensure you live comfortably and stylishly for years to come. According to Shaynna, one of the key ways to add style and practicality to your design is with 2-pack cabinetry and soft-close drawers. 
Our 2-pack cabinetry is high quality, durable and gives you flexible design control. Our cabinetry is available in a wide range of colours and finishes, so you can add a personal twist to your new kitchen design.
Likewise, handleless drawers and doors allow your cabinetry to blend into its surroundings. We have both handle and handleless options to choose from, but if it's modernity you're looking for, handleless is the way to go.
Finally, your kitchen should be filled with laughter, chatter, and the sizzle of food cooking on the stovetop. With this in mind, soft-close drawers and doors will eliminate unnecessary noise while entertaining or cooking.
#2. Stone benchtops, under mount sinks, and large appliances
According to Shaynna, choosing the right mix of materials for a new kitchen is paramount to a stunning, evergreen design. For example, stone benchtops are always in style — allowing for both luxury and durability, stone benchtops are a popular choice for homeowners looking to revamp their kitchen. 
Mixed with other textures like timber, your kitchen will be your home's focal point of style and functionality.
When it comes to appliances, however, Shaynna recommends looking at things from an entertainment perspective. Our kitchens within our Diamond Collection come complete with 900mm ovens and stovetops, making entertaining absolutely effortless — you'll have plenty of space in the oven and on the stove to cook grand meals for your guests. 
Entertaining (or even cooking for a large family) can also lead to a lot of mess on the countertops. With this in mind, our under mount sinks are deep and seamless, so you can simply wipe benchtop debris into the sink without any extra effort.
#3. Deep drawers and a butler's pantry for additional prep space
The kitchen is where we store hard, large to organise items like cooking pans and appliances, but did you know large drawers can provide up to 50% more space to store items?
Our kitchen designs come complete with deep drawers for large items like rice cookers, slow cookers, sandwich makers, soup pots, and so much more. 
Need a little more space? Whether you have a busy kitchen day to day or love entertaining guests, you may need some extra bench space for preparing meals, drinks, and snacks.
A butler's pantry is a secondary kitchen space where you can prepare snacks, hide mess away to clean up later, or simply store appliances and crockery you may not have had space for.
Many of our home designs feature a butler's pantry, so you can simply move in and start stacking cookbooks, crockery, and lesser-used appliances on the pantry shelves.
For more storage tips from Shaynna, be sure to check out the video above, where she travels from room to room, offering inspiration and kitchen design advice from years of expertise.
Modern display home kitchens you can explore in-person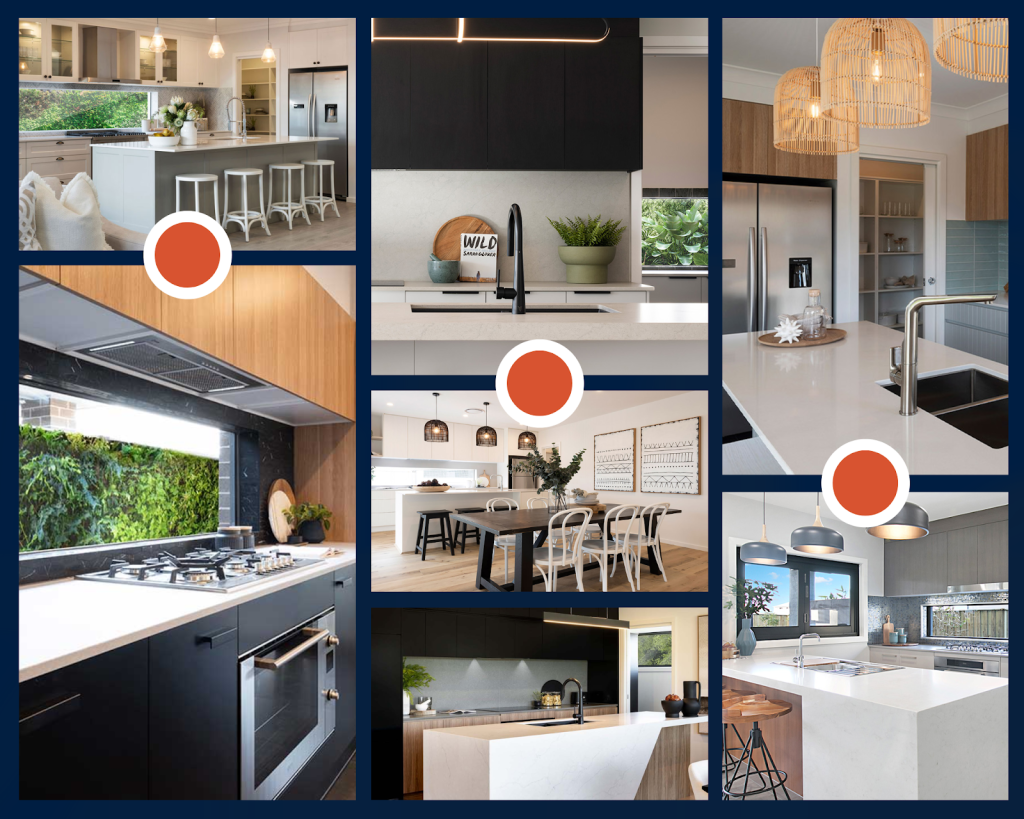 Need new kitchen ideas to inspire your new home build? We recommend visiting our stunning display home kitchens in person! From display home to display home, you will find colour palettes ranging from dark and moody to bright and refreshing; statement lighting; modern appliances from Australia's best suppliers, and home decor curated by talented interior designers.
The modern display home kitchens pictured above (left to right, top to bottom) are open to explore at the following locations:
Find a display home near you to explore some of the best new kitchen designs in Australia!
Give the heart of your home some love with Montgomery Homes
At Montgomery Homes, we love creating stunning home kitchen designs. Alongside Shaynna, we've created award-winning home designs and kitchen spaces where Australian families can spend their time laughing, chatting, and entertaining.
With countless colours, textures, and finishes, you can design a new kitchen that simultaneously meets your style and needs. Talk to our interior design specialists about the possibilities for your new home!
Explore our other blog posts
All Articles
Styling & Inspiration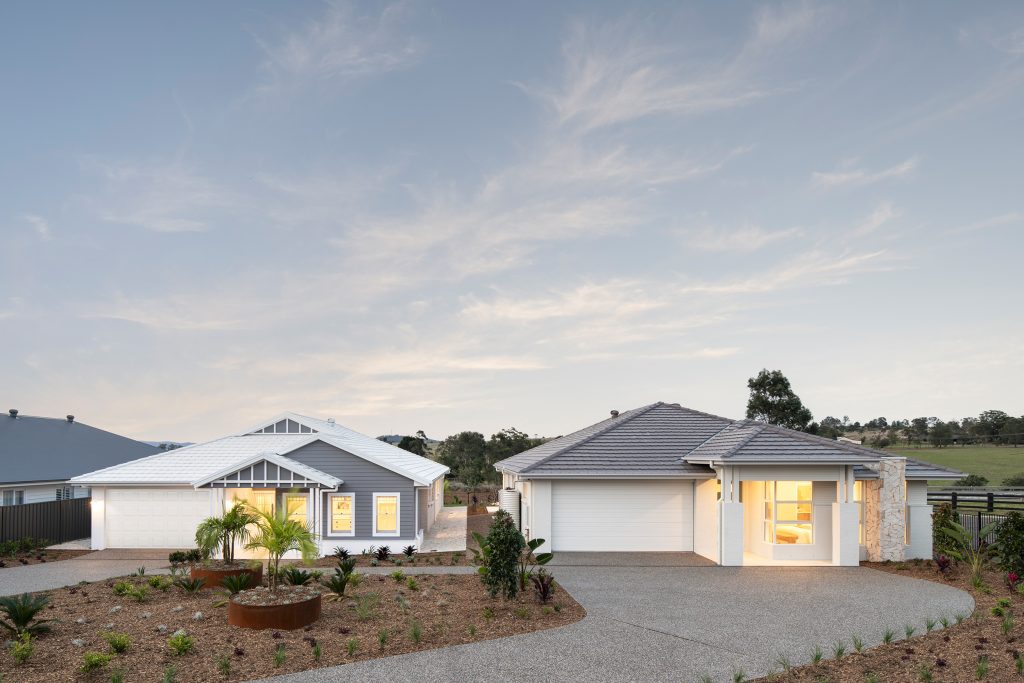 December 1, 2023
The Montgomery Homes team is excited to announce two beautiful new display homes at Hereford Hill in Lochinvar — the Airlie 222 and Avalon 2 249, styled by interior designer Shaynna Blaze! Learn more about these designs and visit us at Hereford Hill from Friday to Monday.
Join our newsletter to receive our latest promotions,
news and helpful building and design tips