The knock down rebuild process in eight simple steps
Getting tired of your current home design, but don't want to move out of your dream suburb? Or are you simply looking for more space for your family to grow? A knock down rebuild project might be the perfect solution, especially if you love the area where you live. 
A knock down rebuild project comes with a wide range of benefits, including lower costs per square metre compared to a renovation, no extra real estate or stamp duty fees, keeping the kids close to their friends, and the opportunity to make your home more eco-friendly for a greener, healthier future. 
It's a cost-effective and fun way to reinvent your home from the ground up. But what's involved in a knock down rebuild project? In this article, we walk through the knock down rebuild process from the start to the stunning, architectural finish.
#1. Our team will conduct a free site inspection 
Found your new home among our 300+ architectural home designs? Congratulations on making the first step towards your dream home! 
The next step is to book a free site inspection with the knock down rebuild specialists from Montgomery Homes. The purpose of this inspection is to ensure your existing property is accessible to our builders and suitable for construction based on your chosen home design. 
We will also take the opportunity to identify any site costs required to build on your block. Site costs tend to fall into two categories:
Site infrastructure like building permits, soil tests, temporary fencing, insurances;

Site works like levelling the block, removing rocks and trees, retaining walls, and powerlines.
If any additional site costs are required for the new build, like traffic control, we will provide a quote at this stage in the knock down rebuild process so you can make an informed decision about your new home build.
#2. It's time to review your tender
The next step in the knock down rebuild process is to attend your tender presentation appointment. This is where we showcase your selected home design and present possible inclusions to finalise your tender and quote. We will also run you through our current promotions and explain how this impacts the final cost of your home build. 
Once you have approved the tender, you will be invited to place a deposit so we can start the pre-construction phase of your new home build, and we can send your designs off to our drafting team.
#3. You can choose you internal and external colours

The fun part begins — choosing the internal and external colours and finishes! Our Interior Design Consultant will walk you through our luxurious Selections Gallery where you can interact with the materials, colours, and textures we have available for your home.
You will also have the opportunity to choose appliances, fixtures, and fittings for your new home.
#4. You can organise a quote for the demolition of your current home
Once colours have been selected and the council has approved the plans, you can now schedule the demolition of your existing home. Most builders don't organise the demolition part, so we recommend calling around and getting a few quotes from local demolition experts.
Be sure to find a licensed and insured demolition company to complete the demolition and remove all leftover materials, debris, trees, and roots. This will make the start of construction quick and simple.
An experienced demolition expert will also complete a thorough building survey, reviewing the building materials, construction method, condition, building codes in the area, and neighbouring communities. From this, your demolition team can determine the best method of demolition.
Not sure who to call? We can suggest demolition companies in Newcastle, the Hunter Region, the Central Coast, and Sydney, so you can find someone you can trust.
#5. It's time to sign your contract
Getting toward the pointy end of the preconstruction phase — signing contracts! We invite you into our head office to sign your home building contract. From here, we can schedule the construction of your new home.
#6. Schedule the demolition
Once your demolition DA has been approved, you can schedule the demolition of the existing structure. The DA should be sent directly to your demolition team so they know they have express permission from the local council to commence the project.
Remember that demolition projects can take up to four weeks to complete. 
While your existing home is being demolished, we will obtain a construction certificate for your new home.
#7. We'll start the construction of your new home
It's time to construct your home! The first step is to start the earthworks and utility connections, pour the slab, and then erect the frames of your new home.
Our builders will prepare your block for the build by excavating and compacting the site to the required levels. If the soil needs more stabilisation, we will install screw or concrete piers to support your foundation in preparation for the slab to be poured.
Once the initial earthwork has been completed, we will install connections to plumbing and electrical before pouring the slab. 
Depending on the design you have chosen, the knock down rebuild process can take between 26 and 41 weeks from the first time we cut the site. However, over time, you'll see your new home start to take shape and develop character — before you know it, we'll be handing over the keys so you can move into your home!
Common FAQs about knock down rebuilds
How long does a knock down rebuild take?


This depends on several factors, including the demolition specialist's schedule and local council approvals. Typically, the demolition will take a month, while the rebuild can span from several months to over a year. Our team will provide a detailed schedule, so you can count down the days to us handing over the keys.



How much does a knock down rebuild cost?


Knock down rebuild costs differ based on location, your chosen home design, the size of your existing home, and more. Our specialist team will provide a detailed quote, including site costs, so you'll have a clear idea of the costs involved with the knock down rebuild construction process.



Can I actually save money with a knock down rebuild?


Yes! If your current home needs significant renovations, you may be able to save money by knocking it down and starting fresh. Plus, a new build can improve the resale value of your home and be designed for better energy efficiency, which can reduce long-term costs.



How do you finance a knock down rebuild?


You can finance a knock down rebuild with a construction loan. These loans release funds in stages as the build progresses. It's crucial to choose a bank or lender that's familiar with construction loans to understand the terms.




You can learn more about construction loans in our blog

!
Do I need a demolition permit to knock down and rebuild my home?


Yes, you'll require a demolition permit to knock down an existing structure. You'll also need other permits for the rebuild, like building permits — but we'll take care of this for you.



Do I pay stamp duty on a knock down rebuild?


Stamp duty in Australia is typically paid on property transactions. If you already own the land and are only doing a knock down rebuild, you generally won't need to pay stamp duty again.



Where do you offer knock down rebuild services?


We offer knock down rebuilds in

Newcastle

,

Sydney

, and the

Central Coast

.

Contact us

to find out if we offer building services near you!

My home is heritage listed. Can I still do a knock down rebuild?


If your home is heritage-listed or in a heritage conservation area, there may be strict regulations governing any changes, including demolitions. We recommend consulting with your local council and potentially a heritage consultant before making decisions.
Ask us about our guide to the knock down rebuild process
Now you know a little more about the knock down rebuild process with Montgomery Homes, it's time to dive deeper into the details and kickstart the project!
Get in touch for more information about the entire process, or ask us about our downloadable guide where you can find all the necessary information to support your knock down rebuild project. 
Alternatively, get your project started now — contact us today for a free site inspection!
Explore our other blog posts
All Articles
Styling & Inspiration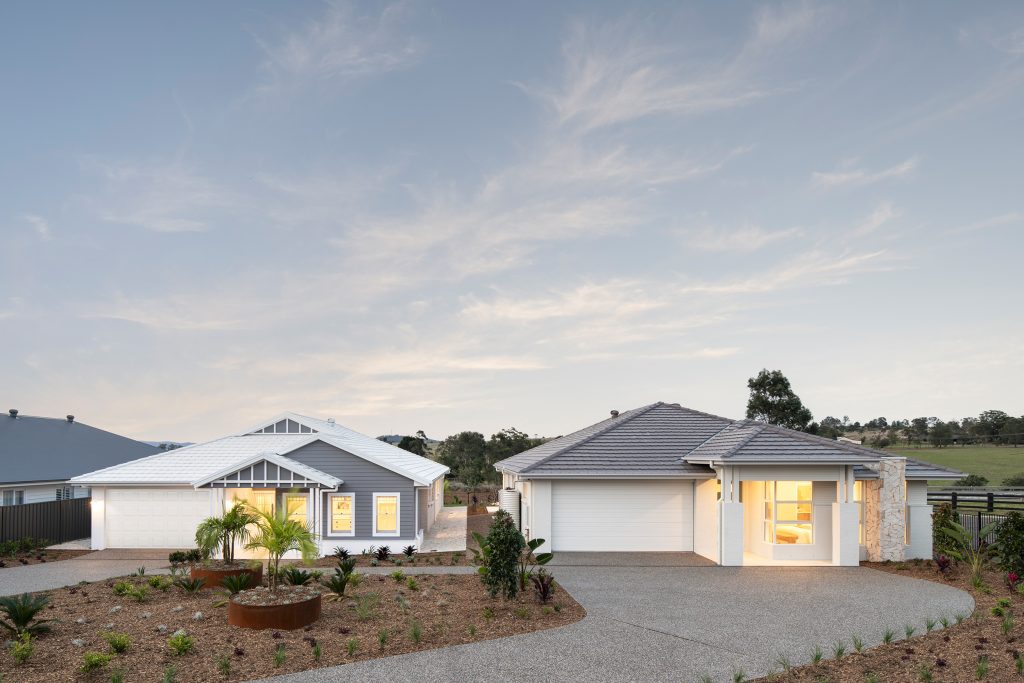 December 1, 2023
The Montgomery Homes team is excited to announce two beautiful new display homes at Hereford Hill in Lochinvar — the Airlie 222 and Avalon 2 249, styled by interior designer Shaynna Blaze! Learn more about these designs and visit us at Hereford Hill from Friday to Monday.
Join our newsletter to receive our latest promotions,
news and helpful building and design tips