Looking for a flexible home design to fit a narrow block? Look no further with our 3 bedroom Laguna 142 home design.
The Laguna 142 is a single storey design suitable for narrow blocks with a 9.35m wide frontage or more. The master bedroom is equipped with a walk-in-wardrobe and ensuite while being only a few steps away from the kitchen & living area.
The open plan living area and kitchen and offers the opportunity to add an adjoining alfresco to enhance the space. Entry to the house from the garage goes straight through the laundry so you can avoid bringing mess from dirty shoes/boots throughout the house.
This home can fit on a site with a minimum width of 9.35m making it the perfect design for any narrow block while still giving you a beautiful & spacious home.
Available in Metro, Cosmo and Executive facades.
Interested to find out more?
Standard inclusions found in every Montgomery home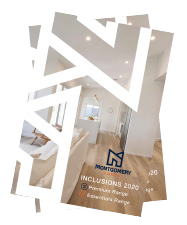 At Montgomery Homes, we include vital items as standard inclusions, which most builders call 'extras'. Featured here are just some of the highlighted standard inclusions that come with every home we build.
For detailed explanations of each item listed, please see our 2020 Inclusions Brochure
View our House & Land Packages
Find your dream home design today
Architectural home designs in Sydney, Newcastle, and the Central Coast
Montgomery Homes builds architectural home designs on all type of blocks. For more than 30 years, our team has been renowned for expertise in building on sloping sites. The innovative building techniques we have developed allow us to work with the gradient of any home site.
This means our team is equally skilled at building homes on level sites, as our mastery of sloping sites makes it straightforward to transfer our skills to a level-site build that presents fewer challenges for our expert construction team.

We understand home building can be a complex and confusing journey. That's why we've put together a list of frequently asked questions to help guide you along the way
The timeframe will depend on the size and type of house you're building as well as your local council approval process which can vary between locations. However, the construction of your home will take approximately 26 - 38 weeks from when excavation commences on your new home.
We know you want your home to look and feel unique which is why we offer flexible home designs and floor plans. While some builders limit you to certain designs and parameters, we offer the freedom to build the home you've always wanted with customisable architectural home designs suited to your lifestyle and design goals.
If you want to move the master bedroom to the back of the house or convert a home theatre into a gym, we can adapt our floorplans and bring your vision to life.
To accommodate family members and visitors, we offer both internal and external granny flat options for your new home build. 
For an external granny flat, we have five contemporary granny flat options to choose from including one or two bedrooms. If you're looking for a convenient internal granny flat, we can also incorporate a granny flat within the same residence and provide separate living spaces for multiple families living under the one roof.
At Montgomery Homes, we include essentials like flyscreens, insulation, sarking, and appliances as standard inclusions. Most builders call these "extras". 
Our standard list of inclusions will go into your new home build as an absolute minimum. Download our standard inclusions brochure. 
Generally speaking, we will be on site within four weeks of signing your contract.














Join our newsletter to receive our latest promotions, news and helpful building and design tips