How to find your tiling pattern inspiration.
Finding your tiling pattern inspiration
Building a new home is an important life milestone, and at Montgomery Homes we believe the beauty is in the detail. From herringbone tile, to brickbond, to vertical stack bond — the options are endless when it comes to finding tiling pattern inspiration for your new home.
Partnering with trusted local suppliers ensures your new home includes the highest quality finishes and features. THYNK Group are the experts when it comes to tiles and their experienced interior designers can help you select the perfect tiling pattern during your Tiling and Flooring Appointment. Read on to see four popular tile trends to consider when building your new home.
#1. Brick Bond Tiling Pattern
The Brickbond tiling pattern sees the end of each tile lined up with the centre of the tile above and below it to create staggered grout lines, just like brick laying. The look is cohesive and pleasing, and less regimented and formal than that of a strict stacked pattern. The most popular brick bond lay is horizontal, however vertical brickbond lay (running up the wall) is becoming increasingly popular. It's also a good way to add the illusion of space and height.
See Brick Bond Tiling on Display
On display at Huntlee, the Avalon 220 showcases how brick bond tiling can be utilised throughout the entire home — from the kitchen, ensuite, powder room to the laundry. Brick bond tiling works seamlessly alongside other tiling formats in certain rooms — as seen in the ensuite of the Avalon 220. With brick bond tiling across the flooring and feature wall, this tiling pattern is then offset with large square format tiles to the corresponding wall.
#2. Herringbone Tile Pattern
Perfect for when you want to draw the eye through a space, this direction of tiling pattern is achieved by laying rectangular tiles in a zig-zag pattern, normally at a 45-degree angled v shape. The herringbone tile pattern is hundreds of years old and provides an elegant way to expand a small room visually. The wide V's create movement, drawing the eye outward to create the illusion of more width. The pattern is at its best with neutral colours and in small amounts. Brighter colours and larger spaces can create too much energy and be visually confusing. Consider for a splash back or shower feature.
See Herringbone Tile Pattern on Display
Balancing classic elegance with practicality, the Brighton 229 at HomeWorld Marsden Park is the quintessential Hamptons home. A herringbone tile splashback enlivens the open-plan kitchen area in this display home, showcasing neutral colourings to add a subtle feature to the room. Complemented by Caesarstone benchtops and ILVE appliances, this kitchen seals the home as the entertainer's dream. The remaining floorplan features four bedrooms and two bathrooms, with bright light-filled living spaces creating a truly enviable living experience.
#3. Stack Bond Tiling Pattern

Stacked tiling is a basic pattern where tiles are set in a straight line to create a look that is simple and clean. Stacking tiles vertically can elongate spaces, making rooms appear taller and more spacious, especially when using slimmer tiles like subways or kit kat tiles.
It is a great way to add subtle interest to a space without going overboard. You can then afford to add other textures and patterns within the space.
See Vertical Stack Bond on Display
The Riviera 1 267 at Redbank exudes luxury and sophistication. The glamorous Hamptons facade extends internally with a striking mix of navy, white and brushed rose gold conjuring a sense of grandeur and romance throughout this five-bedroom home. Crisp white vertical stack bond tiling pattern to the laundry and kitchen splashbacks creates a consistent, controlled and spacious vibe to these high-traffic areas. Complementing the bold navy cabinetry surrounding, the vertical stack bond tiling pattern refocuses attention to design highlights such as stunning brushed gold tapware and signature pendant lighting.
See Horizontal Stack Bond on Display
Black subway tiles in horizontal stack bond patterning are a hallmark feature of the Byron 250, on display at Brush Creek, Edgeworth. Part of our 4-bedroom home design collection, the contrast of white grout to the slick black feature tiles creates an edgy and modern allure to this home. Matte black tapware finishes these two spaces, further complemented by the simplicity and control of the horizontal stack bond tiles. With bedrooms and living spaces spread across a two-storey design, the Byron 250 is ideal for modern Australian families who love to entertain.
#4. Feature Tiling Pattern
Add a splash of modern highlight to your new home with a feature tiling pattern. From fish scale tiles, to mosaic tiles, to popsicle tiles — create a lasting first impression with a feature tiled wall. Adding points of difference that will last for years to come, adding a feature tiling pattern will lift the ambience of the room and add a noticeable point of difference.
See Feature Tiling Pattern on Display
Montgomery Homes newest display home, the Cayman 287 in New Lambton has been designed and styled by brand ambassador, Shaynna Blaze. An ultra-modern Manhattan facade extends internally, including unique popsicle tiling to the laundry, powder room and walk-in pantry. Adding an edgy vibe to these spaces, the popsicle tiling further defines the contemporary and luxurious lifestyle of the Cayman 287.
Deciding which tiling pattern to select for your new home
Montgomery Homes are passionate about building homes that are quality from the inside out. Offering personalised selections appointments with specialists in their fields and utilising local trades, building your new home with Montgomery Homes gives you the assurance that your build journey will be smooth, seamless and enjoyable. Tiling selections give you the opportunity to add a slice of energy and personality to your new home, and the team at THYNK Group truly are the experts in this field.
Find out more about selecting tiles with THYNK Group during the Montgomery Homes building process.
Explore our other blog posts
All Articles
Styling & Inspiration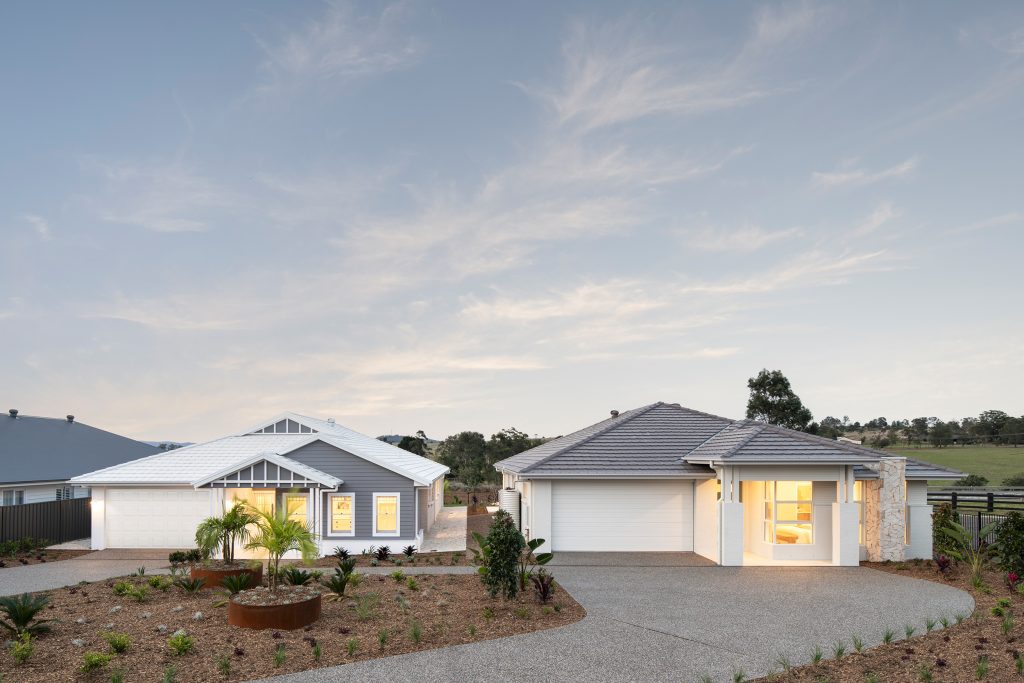 December 1, 2023
The Montgomery Homes team is excited to announce two beautiful new display homes at Hereford Hill in Lochinvar — the Airlie 222 and Avalon 2 249, styled by interior designer Shaynna Blaze! Learn more about these designs and visit us at Hereford Hill from Friday to Monday.
September 4, 2023
The team at Montgomery Homes is excited to announce four beautiful new display homes at HomeWorld Leppington! Designed by interior design specialist Shaynna Blaze, these four new home designs blend old and new trends to create something truly chic and stylish. Learn more!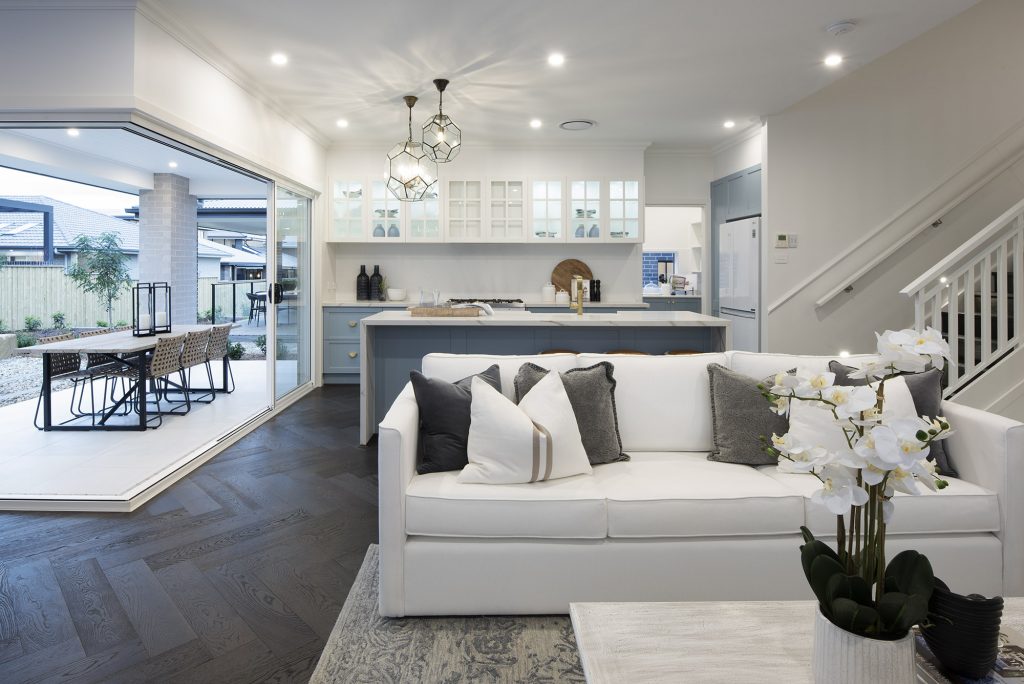 February 27, 2023
As your family grows, you may be looking for ways to maximise space in your new home build. In this article, we share three tips to make the most of every space in your beautiful new home. Read on!
Join our newsletter to receive our latest promotions,
news and helpful building and design tips