4 Split Level Home Interiors To Inspire Your Decorating
4 stunning split level home interior ideas to inspire your decorating
From years of experience designing and building split level homes throughout New South Wales, we know how stunning these home designs can be.
Thanks to the unique slope of the land, you can enhance the views from your block and create some fascinating dimensions indoors, allowing for two or three levels and spacious open-plan living. 
With so much space to work with, the question is how to plan a split level home interior. Whether you're dreaming of a split level home design or close to moving into a completed build, you're probably thinking about how you're going to decorate the space to make it your own.
We're here to help! In this article, we share some of our favourite split level home interiors from display homes throughout Sydney, Newcastle and the Central Coast so you can get inspired (and excited) for decorating your new home.
#1. Multi-dimensional open-plan spaces
One of the most endearing elements of a split level home design is the multi-dimensional view from almost anywhere in the house. In our Carolina 1 311 display home, for example, you can stand in the entry hallway and see almost every communal living space over three levels!
With this in mind, there's a lot of fun to be had with decorating your split level home interior. Before decorating, stand from a central point in your new home and take in the scenery. 
What colour scheme do you want across all three levels? Do you want them to match, or would you like colour and variety throughout the house? Would you like minimalism, or do you love the character of clutter? 
From here, integrate decorative pieces like luxurious rugs, indoor plants, contemporary lamps and lighting, and wall art to express your family's character. Don't forget photos of family and friends, too, to make your house feel more like home.
#2. A fascinating entryway for space and depth
In the same vein as the point above, the entry hallway offers a fascinating glimpse into the multi-dimensional nature of your home. From the front door, you can see multiple levels of the house and open-plan rooms like the kitchen, dining room, lounge room or upstairs rumpus room. 
However, the entry hallway is also like the "welcome mat" of your interior design — What do you want it to say about you?
To complement the depth of your split level home design, be sure to add decorative items near the front door. Consider setting up a slim entrance table where you can place your keys when you get home in the evening and decorate with indoor plants, sculptures and a lamp for additional light.
In our San Tropez 273 display home, we've also hung a large mirror on one side of the entry hallway and minimalist wall art on the other to create an interesting reflective dynamic. 
It's a simple yet stunning idea… and it might even help you save on additional wall art for the entry hallway!
#3. Set up extra entertaining areas for weekly "Friyays" with friends
With multiple levels to play with in a split level home design, you have the opportunity to create extra entertaining areas like rumpus rooms, theatre rooms or even your own personal cocktail bar!
If you love entertaining friends and family members on a regular basis, consider saving some space on level two or three for a gorgeous entertaining area with views. 
In our San Remo 273 display home (pictured above), we set up an extra sitting room on the third floor so you can sit inside on the couch for drinks and nibbles on a Friday afternoon, or sit on the verandah to enjoy the evening breeze and the stunning views from your block.
Consider investing in an outdoor lounge or table set for warm summer afternoons on the verandah and cosy couches so you can come inside as soon as the weather starts to cool off. Match the colour scheme of both indoor and outdoor entertaining areas for a seamless experience.
In our Whitehaven 238 home design, however, we've set up a rumpus room on the middle floor for those who like peace, quiet and warmth in the winter. Consider setting up a flat-screen TV, lots of pillows and warm blankets for evening movie marathons, or even just a quiet space to take a nap on a Sunday afternoon.
With all this space, the opportunities are endless!
#4. Create a uniform colour scheme for a stylish, contemporary look
Sometimes, the simplest things can make all the difference for your split level house interior — like a uniform colour scheme. For example, in our Riviera 1 267 display home, we utilised a combination of matte metallic black, regal navy blue, rose gold tapware, eye-catching ivory and deep shades of grey. 
The simple contrasting colours add a luxurious look to the space, meanwhile highlighting the multi-dimensional nature of the design.
As you can see from the alfresco area and matching matte black table setting, a simple colour scheme can make all the difference in creating interest and depth indoors.
Find extra ideas for your split level home interior inour Inspiration Gallery!
Loving the look of these split level house interiors? You can find more ideas, themes and colour schemes in our Inspiration Gallery! Here, you'll find mood boards and designs from Australia's top interior designer, Shaynna Blaze, along with ideas from our own designers in-house.
Alternatively, start the home building process with Montgomery Homes for a personal tour of our Selections Gallery and custom tips from our interior designers. Together, we can create something truly special — a stunning blank canvas for your interior decorating. 
Explore our other blog posts
All Articles
Styling & Inspiration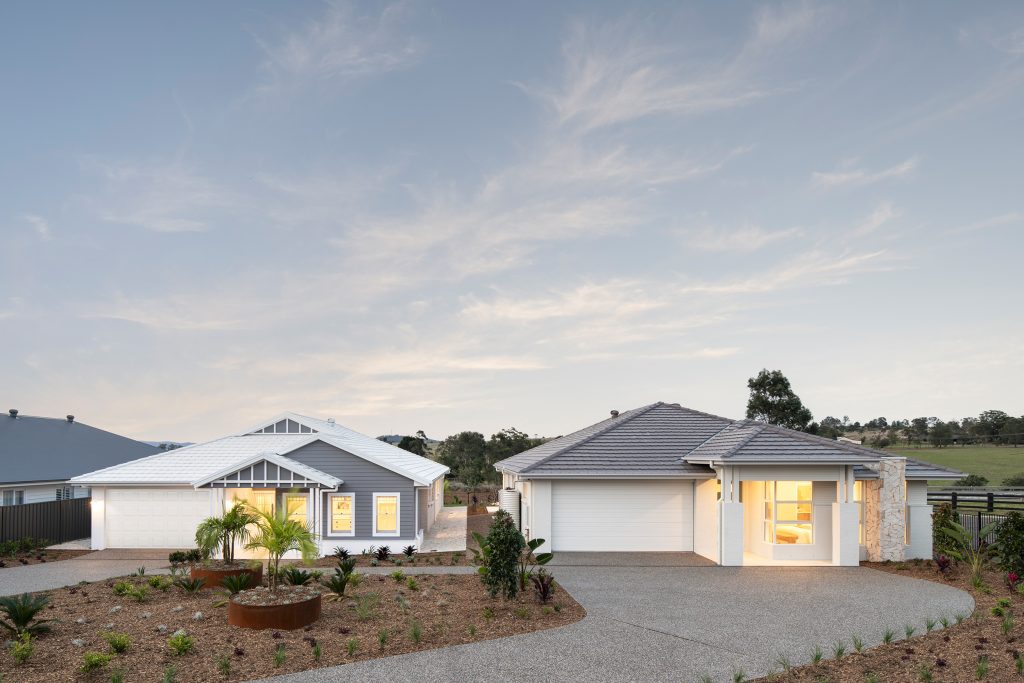 December 1, 2023
The Montgomery Homes team is excited to announce two beautiful new display homes at Hereford Hill in Lochinvar — the Airlie 222 and Avalon 2 249, styled by interior designer Shaynna Blaze! Learn more about these designs and visit us at Hereford Hill from Friday to Monday.
Join our newsletter to receive our latest promotions,
news and helpful building and design tips