Minimalist living: how to save space and nail your decor in a narrow home design
If there's one thing all interior designers know for certain, it's that minimalist living and decorating is an evergreen trend. Minimalism is rooted in the art movement of the 1960s and ever since then, minimalism has been a popular aesthetic in both interior design and architecture. 
Famous for its simplicity, neutral colour palettes and clean lines, minimalist design is largely an exercise in restraint. Space, lighting and objects all play equally important roles within the design, and you live and breathe by the phrase "less is more". 
Our brand partner, Shaynna Blaze, had this to say about minimalism within the Signature Collection's Modernist Expression theme: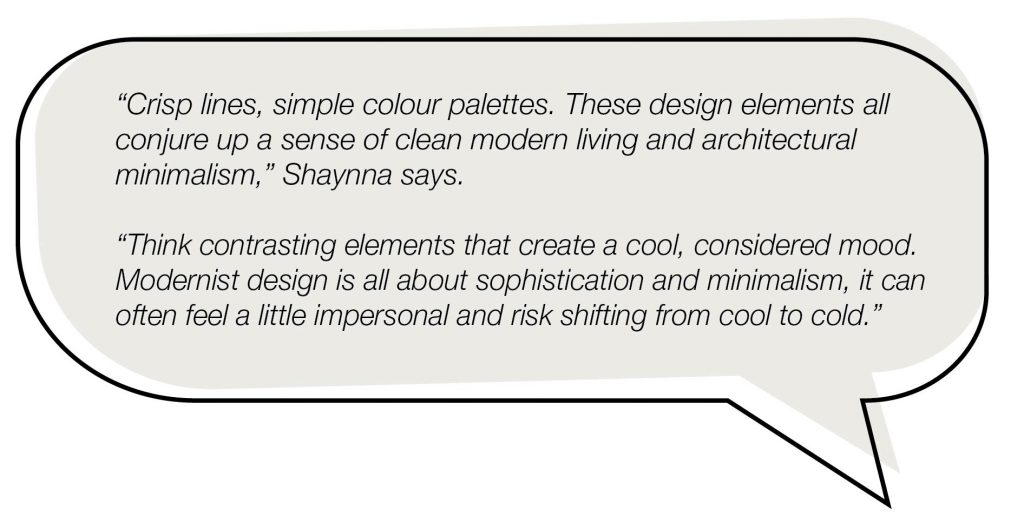 Like Shaynna, we love the look of a minimalist interior design here at Montgomery Homes. It's sleek, it's contemporary and it creates an air of cleanliness and order in an otherwise chaotic space!
With this in mind, minimalist living is perfect for our narrow home designs where you might need more storage space and less clutter to create a stunning and functional home. 
Need some inspiration to simplify your narrow home design and embrace minimalist living? Keep reading. In this article, we share minimalist decor ideas room-by-room to inspire your interior design.
#1. Contemporary kitchen designs
Regardless of the design, the kitchen is designed to bring people together. It's a place where you can have cocktails with friends on a Friday night, create incredible meals and treats, and laugh with your family as everyone hurriedly prepares for the day ahead. 
It truly is the heart of the home… so adding a little character and style can only enhance the space! 
Minimalist living is about decluttering — a tall order in the kitchen, arguably one of the messiest rooms in the house. However, there are small changes you can make to achieve a minimalist look. For example, you can opt for deep cabinets and drawers so you can store small appliances, crockery and cookbooks out of sight. 
You might also choose handleless cabinets so the cabinetry simply blends into the background. 
A well-organised butler's pantry can also be a saving grace for the usual mess found in the kitchen. Here, you can store spare crockery, tea towels, non-perishables, appliances, cookbooks and more.
It's all about keeping the countertops clear of mess and debris, and opting for modern colour palettes like black and white, navy and rose gold, or various shades of black and grey.
#2. Minimalist living room designs
Your living room is one of the cosiest and communal places in the home. In the living room, you'll typically find lots of cushions, throw blankets and clutter on the coffee table — whether it's stacks of DVDs, remote controls, candles, knick-knacks or even paperwork. 
If you want a more minimalist living room design, there's no need to get rid of anything. Instead, just think about scaling back and putting unnecessary clutter away in its rightful place, while placing knick-knacks and decor strategically.
In our Avalon 242 display home at Billy's Lookout, Teralba NSW, we've kept things simple and clean by placing decor sparingly. As you can see in the image above, we've created a minimalist atmosphere with a large neutral coloured rug and matched the furniture and fabrics to this. 
On the coffee table, we have a few simple knick-knacks and nothing else. 
Cushions? Plentiful! But by matching the pastel colours and fabrics, the cushions blend in while offering optimum comfort for watching movies, cocktails with friends and getting some work done from the comfort of the couch.
#3. Sleek bathroom designs
A lived-in home often features a disorganised, cluttered bathroom. Perhaps hair straighteners get left on the bathroom basin, toothbrushes get left out and towel colours end up mismatched. 
An easy way to create a minimalist design for your bathroom is to take advantage of storage. Think deep basin drawers and mirror cabinets — here, you can keep all your bathroom essentials while keeping the area clean and uncluttered. 
Take our Noosa 223 display home in Cameron Grove NSW, for example. Pictured above, you can see our deep basin drawers where you can store hair straighteners, shavers, dental accessories and so much more. You could even keep towels, bath mats and hand towels in the drawers!
Another way to create a minimalist design is to add a frameless shower to your bathroom. Without the frame, your shower will have a sleek look that doesn't take away from the overall design of the bathroom.
Many of our home designs come with frameless or semi-frameless shower options. Check out our inclusions and upgrades for more information!
#4. Modest bedroom designs
Finally, we take a look at the bedroom. In a minimalist home, you'll find lots of neutral colours like pastels, black and white, as well as minimal clutter throughout the room. 
However, a minimalist bedroom doesn't have to be boring. With cleverly placed wall art, lighting and cushions that match the bedspread, your bedroom will look like a minimalist's dream. 
Consider opting for a simple bed frame or a frameless bed set, so the focus is on the bedspread and cushions over the bed frame. 
Like the kitchen or bathroom, storage will help keep minimalism in check in the bedroom. The master bedrooms in our home designs come complete with a walk-in wardrobe, where you can hide away any additional clutter in the bedroom and store your clothing, shoes and accessories.
This is a surefire way to keep your bedroom free of any unnecessary clutter and secure a minimalist design.
Discover more minimalist decor ideas and designs in our Inspiration Gallery!
Planning on building with Montgomery Homes and dreaming of a minimalist interior design? Our Inspiration Gallery will help with planning your new design and how your existing furniture and belongings will fit into the scene. 
Our interior designers (including celebrity designer Shaynna Blaze) have curated a beautiful range of ideas and designs to pique your imagination and inspire you to deck out your new home.
Start planning your new home design today with Montgomery Homes!
Explore our other blog posts
All Articles
Styling & Inspiration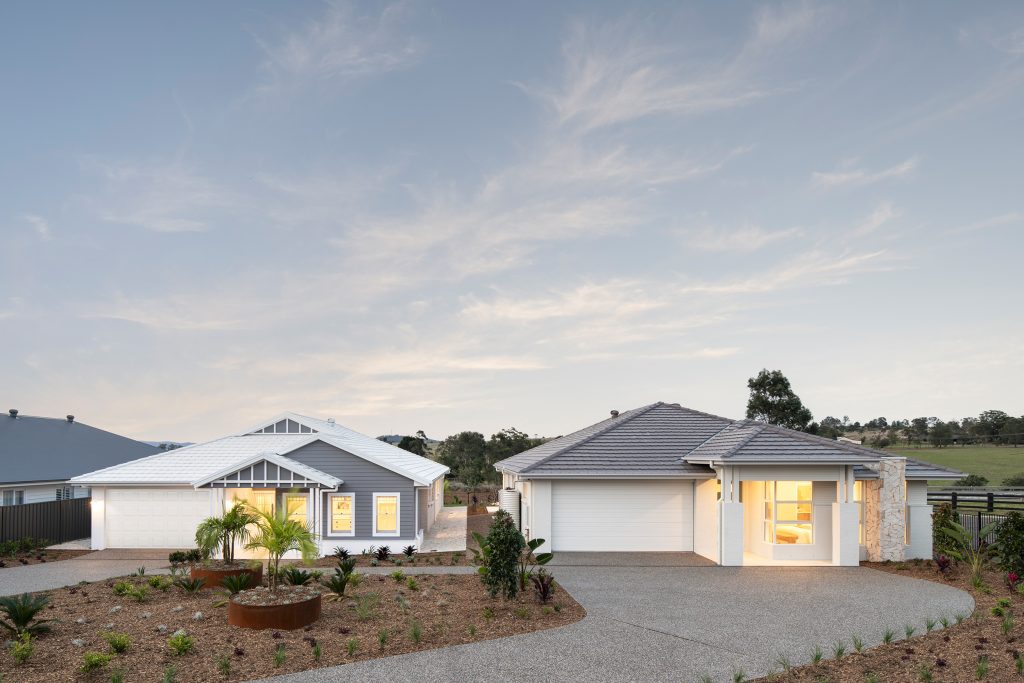 December 1, 2023
The Montgomery Homes team is excited to announce two beautiful new display homes at Hereford Hill in Lochinvar — the Airlie 222 and Avalon 2 249, styled by interior designer Shaynna Blaze! Learn more about these designs and visit us at Hereford Hill from Friday to Monday.
Join our newsletter to receive our latest promotions,
news and helpful building and design tips