The Bearers and Joists Solution to Sloping Building Sites.
Bearers and Joists: the solution to building on steep sites
The benefits of building a bearers and joists structured house with Montgomery Homes
As the sloping site specialists, Montgomery Homes approach every build individually and with the unique specifications of the block in mind. No two blocks of land are the same and it is important to maximise the potential of the site to afford homeowners the best lifestyle possible in their new home. 
What is the bearers and joists technique?
When building the foundation of your new home, there are two commonly used building techniques. One is a concrete slab and the other using a bearers and joists system. Typically, homes built on very steep sites will use a bearers and joists foundation to accommodate the drastic change in incline of the site. Using either steel or timber bearers to attach to the piers in the ground, bearers face in one direction acting as a bearer of the joists laid in the opposite direction. Montgomery Homes have over 120 sloping site home designs, each of which bearers and joist construction is suitable for.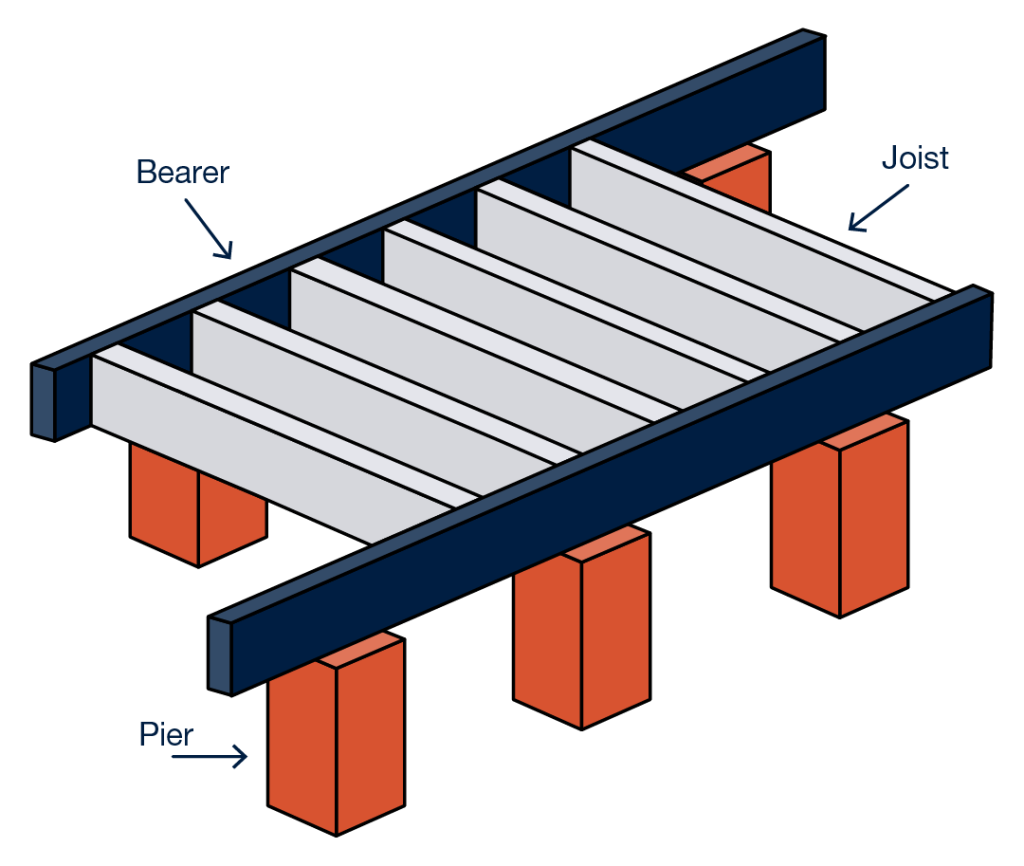 4 Benefits of a Bearers and Joists Home.
#1. Your home will complement the natural slope of the land
Considered a niche building skill, implementing the bearers and joists technique allows a home to caress the natural slope of the land, avoiding deep excavation which can disturb the existing ground levels. Once the home is complete, occupants enjoy under-home access and additional storage options throughout their home.
#2. Overall cost-effectiveness in the long-term
When considering the implementation of bearers and joists, cost is a vital consideration.
Whilst building on a bearers and joists will be more expensive upfront, it is more cost-effective overall as it helps avoid drainage issues, extensive landscaping and heavy retaining walls in the future, particularly on the boundary of your block.
#3. No impact to the exterior facade
A bearers and joists home exterior appears no different to a concrete slab home. Benefits abound from the facade – including allowing the home to sit higher on the block, creating better views, outlooks, natural breezes and ventilation. Plus, your new home will feature a less steep driveway to accommodate ease of access.
#4. Minimise potential flood damage
Australia is world-renowned for having wild and often unpredictable weather. From bushfires, to floods, to incredible storms, when it comes to planning a new home build it is important to consider these potential wild weather conditions. It is vital to take measures to reduce the risk of flooding to any home – the bearers and joists structure lifts your home off the ground and grants access for water to flow through in the event of a flood, therefore reducing potential flood damage. Also consider a bearers and joists home design for building in areas of mine subsidence.
Popular Bearers and Joists Home Designs
On display at Billy's Lookout, Teralba – the San Remo 273 is an option for bearers and joists house plans. This sideways sloping home design creates three different living areas on three levels. The upper floor hosts an open-plan living and dining area, which flows to the optional deck outside. The modern kitchen, including a walk-in pantry, conceals a private master suite with ensuite and dual walk-in robes; privacy of the master suite are key features that have been incorporated throughout the home. The lower floor hosts the generously sized rumpus, main bathroom, and three more bedrooms each with their own deep walk-in wardrobes.
The striking split-level Riviera 1 267 features a glamorous Hamptons facade, and is ideal for an uphill sloping block. This flexible floorplan includes 5 bedrooms, or 4 bedrooms and a study – as shown in the Redbank display home. The statement kitchen features a freestanding stove, navy cabinetry and rose gold tapware, alongside a luxurious walk-in pantry. The Riviera 1 267 is well suited to a growing executive family, with multiple living spaces catering to the increasing trend of multigenerational living.
Crafted to suit a downhill sloping site, the split-level Carolina 1 311 is undoubtedly majestic and one-of-a-kind. Welcomed by a grand foyer on the mid-level, high ceilings enhance the sense of openness in this four-bedroom home. Light and space come together perfectly, with the upper floor featuring an open-plan kitchen, dining and alfresco area. A contemporary Butler's Pantry hidden in the corner provides plenty of bench and storage space and completes this modern kitchen. Nestled behind the kitchen is the luxurious master bedroom – a soft haven you'll relish retiring to. The lower level hosts the remaining three bedrooms, main bathroom, laundry and spacious rumpus room with direct access to the backyard. 
Your Bearers and Joists Montgomery Home

Montgomery Homes are passionate about building homes that balance beauty with practicality, whether your land is level or sloping. With over 200 home designs available, you can be rest assured that the quality of our designs is only surpassed by the quality of our customer service.
Get in touch today to discuss your new home vision and feel at home with Montgomery Homes.
Explore our other blog posts
All Articles
Styling & Inspiration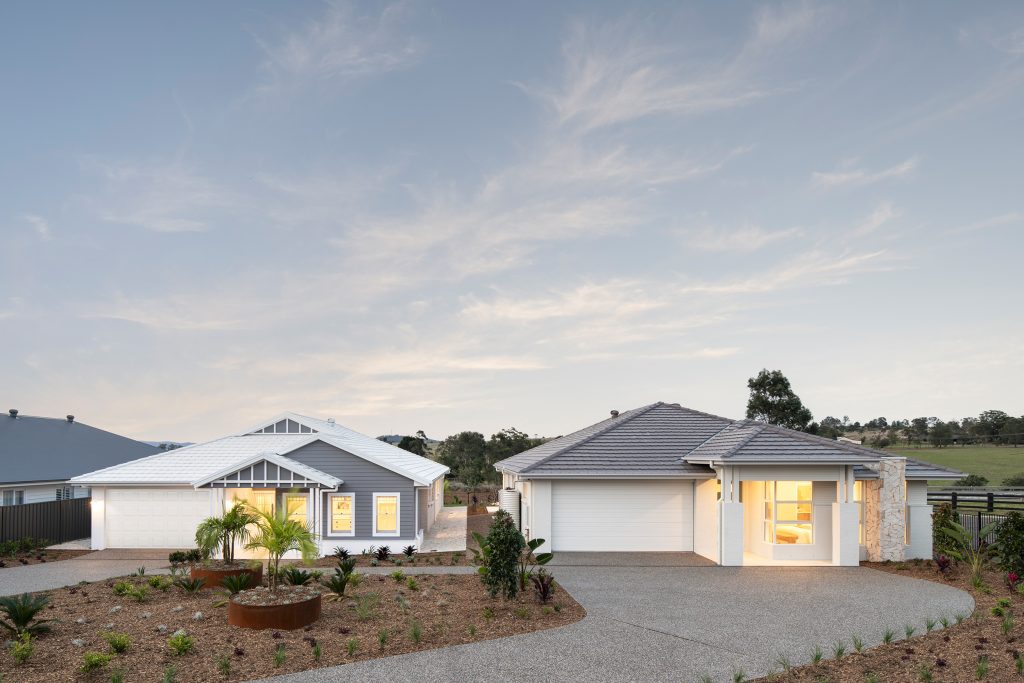 December 1, 2023
The Montgomery Homes team is excited to announce two beautiful new display homes at Hereford Hill in Lochinvar — the Airlie 222 and Avalon 2 249, styled by interior designer Shaynna Blaze! Learn more about these designs and visit us at Hereford Hill from Friday to Monday.
Join our newsletter to receive our latest promotions,
news and helpful building and design tips