Affordable home design #1: Byron 250
Our Byron 250 home design is an attractive and affordable choice for growing families. Featuring two spacious storeys, the kitchen, living and dining areas are located on the bottom floor leading to an alfresco area (if you decide to have one - it's optional!). 
For the entertainers, we have three large living areas including a home theatre and a rumpus room. Couples can relax and watch a movie while the kids rumble around in the rumpus room, or throw a soirée with cocktails, nibbles, and lots of space for socialising.
The opportunities are endless with the Byron 250! There are three modern facades to choose from and we cover the fundamentals like colour schemes and finishings, so you can build your brand new home even faster - on a budget.
Affordable modern home design #2: Laguna 142
If you're looking for houses on a budget, we recommend the Laguna 142. With three facades to choose from, the Laguna offers a unique architectural design that looks fantastic from the street — without costing a fortune.
Featuring tidy brickwork and traditional Romanesque columns at the entrance, the Laguna is most definitely a crowd pleaser!
Despite the Laguna's compact facade, there are three spacious bedrooms inside including a master bedroom with a walk-in wardrobe and ensuite. Plus, for couples who like to entertain, there's the option of having an alfresco area at the back of the house - connected to the open plan living area, an alfresco area would be perfect for parties and barbeques in summer.
The Laguna proves great things come in small packages… with an even smaller price tag.
Affordable modern house design #3: Southport 189
If you have a challenging, narrow, or shallow block, the Southport 189 is the home design for you. The minimum block width for the Southport 189 is 12.0m, while the facade itself is just 10m wide. However, don't be fooled by the narrow facade - the design is 20m in length and packed with benefits.
Inside the Southport 189, you'll find a spacious open plan living room which flows into the gourmet kitchen, dining room, and family areas. The living room also opens onto the backyard, which means get-togethers can migrate between the kitchen for drinks to the barbeque outside. 
Plus, there are four bedrooms hidden within the Southport 189, so you'll have plenty of space for guests.
Affordable home design #4: Avoca 173
Looking for a modern, minimalist home design? The Avoca 173 is one of our top contenders. The Metro facade (pictured above) features a monochrome colour scheme with dark ceiling tiles, brickwork, and driveway, while the Colorbond garage door stands out in stunning white. 
For a contemporary splash of colour, consider adding an attractive shade to the front door and column, like featured in the above facade. This mix of colour looks incredible, unique and eye catching from the street.
Alternatively, the Avoca 173 is also available in Cosmo, featuring neutral colours and masonry stonework at the entrance for a more sophisticated look.
No matter which facade you choose, you'll be blown away by the interior floor plan. Despite the narrow facade, the Avoca 173 has four large bedrooms including a master bedroom with an ensuite and an open plan kitchen with a spacious walk-in pantry - perfect for the Master Chef in your family!
Affordable modern home plan #5: Avalon 209
While the Advantage Collection eliminates the pressure of choosing colours and finishings, the Avalon 209 has five stunning facades to choose from. Our Hamptons facade (pictured above) is always a popular choice featuring bright whites and subtle shades of grey. 
Matched with a colourful garden bed and big leafy greens, the Hamptons style would look and feel like home in the suburbs or near the water.
Inside the Avalon 209 you'll find four bedrooms and two spacious living areas including a home theatre - perfect for movie nights with friends, family, or even the kids. In the kitchen, there's a contemporary butlers pantry where you can stock mountains of snacks and ingredients.
Complete with all the appliances and finishings you need, the Avalon 209 is one of our most affordable home designs.  
Talk to us about our affordable modern home designs and how we can make your dream home (or investment) achievable
An affordable home design doesn't mean you have to compromise on quality or aesthetics. The Advantage Collection  proves you can build a spacious, four bedroom home while maintaining the modern, architectural look you've been dreaming of. 
The Advantage Collection combines affordable house designs with the quintessential Montgomery Homes building experience — for more information about the The Advantage Collection building process, give us a call and speak to one of our customer service representatives. 
Alternatively, feel free to contact us online and download our The Advantage Collection Inclusions brochure — packed with colour schemes, appliances, materials, and more, you can get a feel for your new home or investment property before the build.
Explore our other blog posts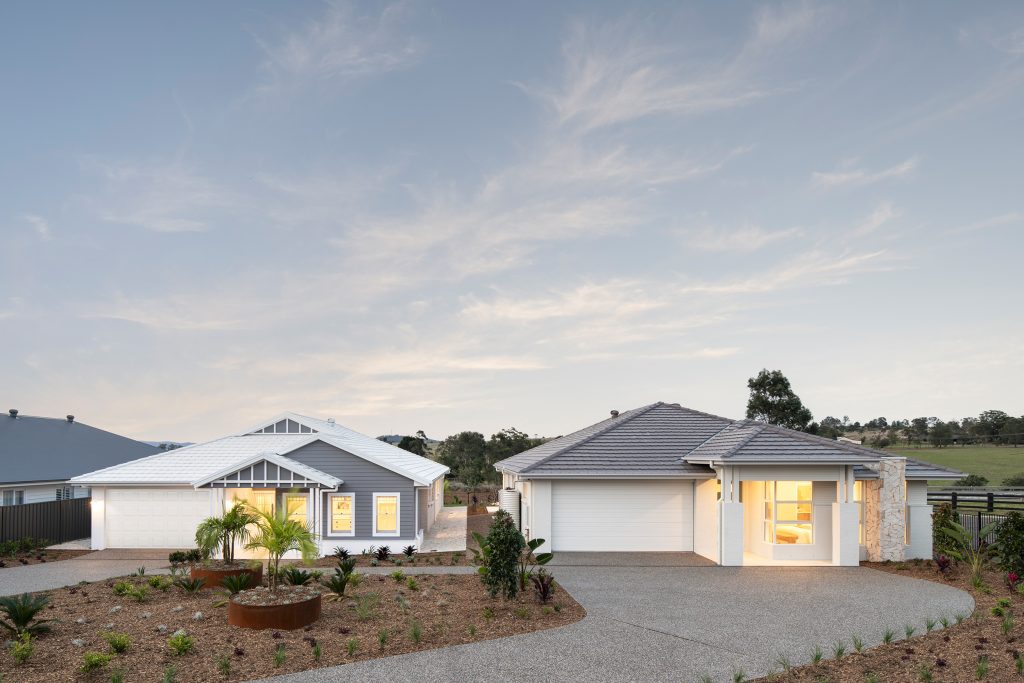 December 1, 2023
The Montgomery Homes team is excited to announce two beautiful new display homes at Hereford Hill in Lochinvar — the Airlie 222 and Avalon 2 249, styled by interior designer Shaynna Blaze! Learn more about these designs and visit us at Hereford Hill from Friday to Monday.
Join our newsletter to receive our latest promotions,
news and helpful building and design tips