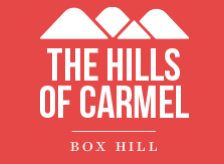 Secure house and land in Box Hill at The Hills of Carmel
Discover a strong sense of connection with the convenience and vibrancy of urban life – all within the relaxed ambience of rural living. Emerging as a location of strong development, this estate is set to include new local primary and high schools and 133 hectares of business park/employment land to cater to the growing population.
The Hills of Carmel is a perfect, vibrant community for families – enhanced with a stylish house and land package with Montgomery Homes. Design your future life at The Hills of Carmel – secure your house and land package today.
Enjoy the ideal lifestyle – combining a beautiful location and stunning home design
This stunning estate is conveniently located in Box Hill, just under 50 kilometres from the Sydney CBD. The Hills of Carmel land in Box Hill exudes natural beauty – access to an abundance of open space, numerous waterways and national parklands, plus sporting facilities and clubs and vineyards. Living in such a stunning environment will make you proud to call The Hills of Carmel home. With access to education, transport, shopping, leisure and health facilities, your budding lifestyle will be convenient and enjoyable. Improved walking and cycling paths in the vicinity will promote plenty of outdoor activity and interaction, alongside ease of access to Windsor Road and the M2.
Sales Consultant
Name:
Montgomery Homes Sydney
Local Attractions
Bike Track
Parks
Schools
Shops
Trains
House and Land for sale in The Hills of Carmel
Currently no house and land packages in The Hills of Carmel, please view our other estates.
House and Land package for first home buyers
First time home buyers Tyler and Lauren invested in their forever home with a Montgomery Homes house and land package. Looking for a home with a variety of living spaces to entertain friends and family, ample storage options and plenty of natural light made the Southport 217 design a perfect choice for them.


















Join our newsletter to receive our latest promotions, news and helpful building and design tips