Our narrow house plans are living proof you don't need to compromise on the dream to fit your block.
Narrow blocks are becoming increasingly common, especially in Sydney where space is running low. Homeowners are now facing the challenge of fitting their dream home on a small block of land - and no one likes the idea of having to change their home design to fit the block!
For this reason, narrow block home designs are in hot demand. Cleverly designed with a compact facade, narrow block home designs look neat, tidy, and in proportion to your block of land while stretching further back to allow for a spacious, open-plan design.
A narrow block doesn't have to be a challenge - in this blog, we share six contemporary narrow block home designs to prove your dream home is absolutely achievable. Read on.

10m block house designs and above
Do you have a sloping, narrow site? You'll love the Carolina 1 185, one of our most popular and in-demand narrow block home designs. Available in three different facade options, the Carolina is one of our smallest designs - perfect for budding families and first home buyers.
This narrow block home design features three bedrooms including a master bedroom on the mid-level, completely secluded from the kitchen and living areas for privacy. Making your way to the upper floor, you'll find an open plan living area and kitchen which expands over a large deck. The secondary bedrooms are located on the lower level and open up to a rumpus room. You'll never run out of space in the Carolina.
The Carolina is also ideal for sloping blocks - the narrow house plan creates a spacious atmosphere, despite the compact facade.
The Carolina 1 185 is ideal for blocks with a frontage of 11.28m wide or larger. 
Love the idea of a modern, single level home? One of our newest designs, the Avoca 210 is already becoming a popular choice amongst clients.
While the facade looks compact and neat, the interior is surprisingly spacious and roomy. With four sizable bedrooms, an open living area, and a separate home theatre room, the Avoca 210 is perfect for individuals and families who love to entertain! The master bedroom has a walk-in wardrobe and ensuite, while the secondary bedrooms are secluded.
Our narrow floor plans are designed to bring people together, while also allowing for some much-needed alone time.
The big difference with this design is the mudroom - a space between the garage and the butler's pantry. The mudroom is designed to keep mess and dirt at the front door - no more tracking mud through the house after a day out.
The Avoca 210 is suitable for level sites with a 13m frontage or more and is on display at Huntlee.

The Laguna 142 is ideal for families and individuals who love modern, open plan living. As one of our narrow block home designs, the Laguna is suitable for blocks with 9.35m wide frontage or more, but still offers a spacious open plan kitchen and living area.
You even have the opportunity to add an adjoining alfresco area to enhance and expand the space further — perfect for summer BBQs and entertaining!
This home design also features three bedrooms including a master bedroom with a walk-in wardrobe and ensuite, just steps away from the kitchen for those who love a midnight snack.
Fit your dream home on a narrow block with the Laguna!
House plans for 10m frontage and lower
If you have a growing family and a narrow block, you'll love the Coolum 266.
Complete with five bedrooms, your family will have plenty of space to live and grow over the years. On the first floor of this house plan for 10m frontages, there's also a home theatre which could easily be converted into the fifth bedroom or study.
The Coolum 266 10m frontage, 2 storey home design is stunning, innovative and perfectly fitted to the block. On the first floor, there's a large living room and a kitchen that is designed perfectly for the at-home chef! The open plan kitchen space is the highlight of this home design as it connects the living room and the dining area, making it the perfect meeting place for the family.
Plus, the extra-large alfresco that seamlessly flows from the family room is a great conversation starter for guests.
The Coolum is one of our most popular 10m narrow block house designs and it's easy to see why. A home that you will love to show off, the Coolum 266 is suited for narrow blocks with a 10.7m wide frontage or larger, or a 10.1m wide with zero lot on one side.
This narrow home design is on display at HomeWorld Leppington seven days a week.

Love the idea of a big home but have an 8m narrow block? Then the Malibu 208 is the one for you! Whether you live close to the beach or in the middle of the suburbs, the Malibu 208 oozes charm and relaxation and is a popular choice for 8m narrow block house designs.
On the lower floor of this two-storey beauty, you'll find a combined entertaining area and open plan kitchen. Just add a flat-screen TV, a stack of pillows and throw blankets, lounges and beanbags, and you'll feel right at home in the Malibu 208.
On the top level, you'll find three bedrooms including a master bedroom leading out to a covered deck. Plus, there's a large walk-in wardrobe for the man or woman who loves fashion.
The Malibu 208 is ideal for narrow blocks with an 8.3m wide frontage or more. Discover more narrow block house designs of 8m or more.

The Brighton 229 is one of our most popular 10m frontage home designs.
Cleverly designed to maximise light and flow to give a feeling of overall space, this home boasts four bedrooms, two living spaces and a separate study.
As you walk through the study, the entryway takes you down through an open plan dining and kitchen area which flows through to the alfresco. To add extra space and dimension to the living area, you can choose to add a stacker door to the alfresco area.
On the second floor, you'll find a second rumpus room where the kids can spend their afternoons. Meanwhile, parents can relax in the master bedroom featuring an ensuite and two spacious walk-in wardrobes - just add a television and a glass of wine for a cosy Friday night in.
The Brighton 229 can fit on a block with a minimum width of 10.6m or 10m with zero lot and is on display at HomeWorld Marsden Park seven days a week.

Your dream home is absolutely achievable with our narrow house plans!
Building on a narrow or challenging block has never been simpler with Montgomery Homes. We've created some smart and innovative home designs that maximise space and the size of your block.
With more than 25 stunning narrow house plans available (including the ones you discovered in this blog), you're sure to find your future home with Montgomery Homes.
Take a 3D tour, view our floor plans, and get in touch to learn more about the building process today.

Explore our other blog posts
All Articles
Blog
Building Process
Featured
Finance Tips
Home Designs
Inspiration Gallery Blog
News & Events
Selections Gallery
Selections Gallery Blog
Shaynna Blaze
Styling & Inspiration
Sustainable Living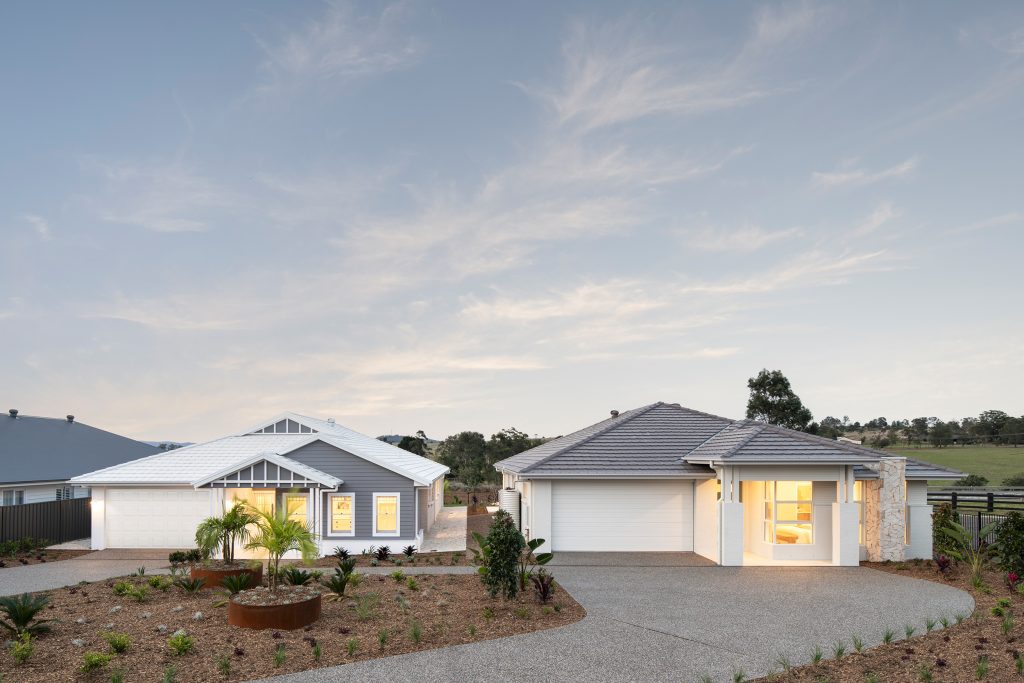 December 1, 2023
The Montgomery Homes team is excited to announce two beautiful new display homes at Hereford Hill in Lochinvar — the Airlie 222 and Avalon 2 249, styled by interior designer Shaynna Blaze! Learn more about these designs and visit us at Hereford Hill from Friday to Monday.
Join our newsletter to receive our latest promotions,
news and helpful building and design tips