Simple landscaping ideas that will help keep your garden looking beautiful all year, no matter the season:
Summer: Extend Your Alfresco Entertaining Area
It's the ultimate backyard design, perfect for summer afternoons that roll into relaxed evenings under the stars. Consider extending your alfresco area to include a manicured outdoor seating area under the shade of a magnolia tree, moments away from your other guests. Entertain family and friends with plenty of space to move – surrounded by manicured lawns, your guests will feel right at home in your adorned outdoor oasis. Depending on the design of your home, you may draw inspiration from garden ideas appropriate to one of these styles:
1. The Palm Springs Look
Refreshingly crisp with low maintenance and decorative look.
2. The Tropical Theme
Design your garden with a rich mix of bamboo and palm trees for a lush, oasis look.
3. The Minimalist Design
Make a statement with manicured hedges and steel edging within your garden.
3. The Coastal Look
Adorned in robust plants and ferns and finished with crisp white furnishings. For the ultimate coastal look, why not add an outdoor shower – a stylish spot to rinse off after a swim!
Autumn: Plant Evergreen First
You won't be alone if you find your garden looking bare during Autumn. Cold weather, harsh conditions and less sunshine hours can cause plants to wilt and deteriorate. These front yard landscaping ideas will afford you ambience year-round, plus frame your facade in rich autumnal colours.
1. Grow hedge-style plants as the basis of your garden. See the pops of autumn gold come alive against evergreen shrubs and hedges. Sustaining year-round greenery allows those autumn trees to really stand out.
2. Plant feature trees where they will shine brightest. Why not bring your front door to life with an autumnal-inspired plant – it's bound to make those colder months more golden.
3. Visit your local nursery mid-season to find out what plants will grow best in your garden in terms of climate and soil type. A few autumn favourites include the Japanese Maple, Liquidambar and Ornamental Pears. Feeling brave? Why not visit your neighbour and ask them what garden ideas and plants have thrived in their garden? Chances are they'll thrive in yours too!
Winter: Warm Up by the Firepit
Looking for landscaping ideas that will bring a spark to your home in Winter? Brighten up your backyard design with a firepit – perfect for entertaining outdoors during the colder months.  The firepit provides the ultimate centrepiece to your backyard with the surrounding paving framing the dedicated entertaining area offering a perfect spot to roast marshmallows. Plus provides an added bonus—there will be less lawn to maintain! Let the conversation flow and show off your Montgomery Home in the beauty of the night with this clever yard addition.
Spring: Bring Outside, Inside
Do you love spring flowers but sneeze at the thought of them? Take advantage of your kitchen window splashback, and adorn the adjoining outdoor fence panel with the likes of Wisteria, Star Jasmine and Banksia Rose. Pruning and fertilising ahead of spring will ensure maximum growth with the weather warming up and the sun shining longer each day. All that is left to do is tend to them with water and admire the blooms flourish all season from inside – minus the sneezes!
Are you inspired to cook with the freshest of ingredients in your new kitchen? Try planting herb and veggie seedlings under your outdoor fence panel – just one more way you can bring the outside, inside. Watch them grow from your kitchen window and wow friends and family with the aromas you bring to life in your cooking.
At Montgomery Homes, we believe the exterior needs to look just as good as the interior. A year-round garden provides a positive and lasting first impression to friends and family and will enhance the look and feel of your home.
Whether you're an avid entertainer or prefer quiet nights in, these are just a few inspiring landscaping and garden ideas to get you started. Visit one of 25 Montgomery Homes

display homes

 in NSW to explore more gardening and landscaping ideas.
Explore our other blog posts
All Articles
Styling & Inspiration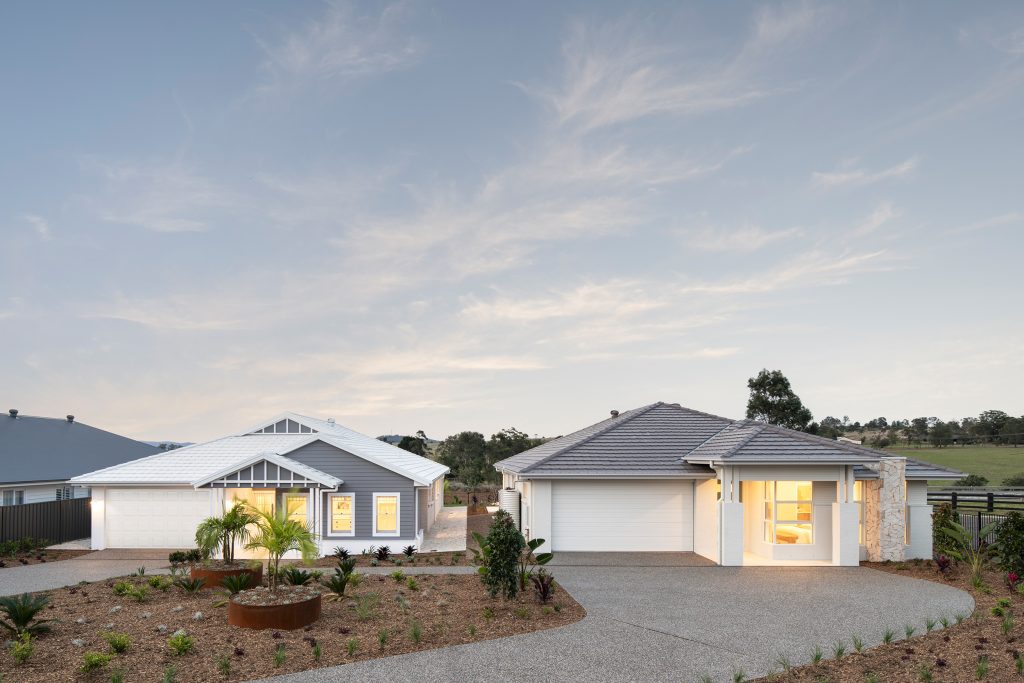 December 1, 2023
The Montgomery Homes team is excited to announce two beautiful new display homes at Hereford Hill in Lochinvar — the Airlie 222 and Avalon 2 249, styled by interior designer Shaynna Blaze! Learn more about these designs and visit us at Hereford Hill from Friday to Monday.
Join our newsletter to receive our latest promotions,
news and helpful building and design tips