4 outdoor entertaining area ideas to spruce up your next barbeque
A barbeque is the quintessential summer pastime in Australia. We love firing up the barbeque and sizzling up some steaks, sausages, potato chips, and chargrilled vegetables while friends and family members socialise together in the Great Outdoors.
If you love a traditional Aussie barbeque from winter to spring, then you need an equipped outdoor entertaining area to take your hosting skills to the next level.
Need some outdoor entertaining area ideas? Read on. In this blog, we share four design and furniture ideas to make your outdoor entertaining area look both cosy and stylish!
#1. Alfresco furniture idea: weather resistance!
To keep your outdoor entertainment area looking fresher for longer, we recommend investing in some weather resistant outdoor furniture.
While searching for alfresco furniture ideas, be sure to look for wicker, timber, concrete, and aluminium - some of the longest lasting and most weather resistant furniture materials on the market. However, if you choose timber furniture, be sure it's treated with polyurethane, varnish, or lacquer to protect it from the weather.
At our Cayman 287 display home, we have incorporated a treated natural timber and aluminium table, where you can serve up meals and drinks for friends and family to enjoy.
With an outdoor setting like this, you'll be sure to be the host with the most!
#2. Illuminate the area with solar powered pendant or wall lights
Every party needs a little illumination. When you're creating your outdoor entertainment area design, solar lighting is a must - these lights are soft, self sufficient, and don't often need their light bulbs changed. They're ideal for outdoor entertaining, no matter how often dinner parties and barbeques come along.
Some of the most stunning lights for outdoor entertaining are most definitely pendant lights. Hanging above the dining table and encased in clear glass, these atmospheric lights add illumination and style to your outdoor entertaining area.
For something a little less invasive, consider adding wall lights to the exterior of your home. With light spilling out the top, you'll have ample lighting for late night chats, snacks, and drinks, without catching the attention of your neighbours.
#3. Decorate the natural way with lots of leafy greens
An easy way to decorate your outdoor entertainment area is with a luxe garden design. Think ferns, birds of paradise, and elephant ears - the leafier the plants, the better.
This will provide the perfect all-natural backdrop for your next barbeque or dinner party. For the dining table, consider planting succulents in cute pots and line them down the centre of the table. Under the patio cover, these durable and long-lasting plants will have both ample lighting and shade to grow.
Alternatively, get a little creative with the garden on the patio: purchase an outdoor dining table with a glass top and install a long, shallow pot under the glass. Plant lots of tiny succulents and let them grow wild to fill up the pot.
See the example below for inspiration!
Your guests will love your creative outdoor entertaining area ideas! Plus, perching a glass of wine or cider over a miniature jungle will make a memorable barbeque experience.
#4. Complete the set up with an outdoor kitchen or barbeque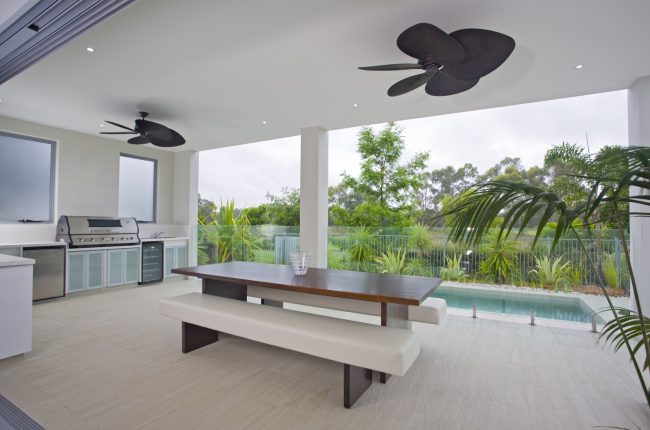 On warm summer days, all you want to do is spend some time in the sunshine - so get the crew around for a delicious feast on the patio with a fully equipped outdoor kitchen or barbeque!
Incorporating outdoor furniture setting, weather resistant couches, and a classic Aussie BBQ will complete your alfresco and entertaining area. Protected by a timber privacy screen, you can spend hours cooking up a chargrilled feast in the shade, while your guests gather around to keep you company. 
With a full outdoor kitchen, however, you will also have the option to cook roast dinners, pizzas, and so much more - the entertaining options are endless with an outdoor kitchen.
By building with Montgomery Homes, you'll be one step ahead with your outdoor entertaining area
Love the idea of entertaining in the Great Outdoors? At Montgomery Homes, all of our home designs have the option of including a luxe alfresco area for outdoor entertaining. Complete it with tiling, lighting, privacy screens, a patio cover and you'll have the perfect space for socialising with friends.
All that's needed is some weather resistant furniture, a chic garden design, and an outdoor kitchen!
During the planning process for your new home, our home building and design specialists will help you choose the tiling and finishes for your outdoor entertainment area. You'll get some stylish outdoor entertainment area ideas in our Gallery One Selections Centre and our specialists will help make your outdoor entertaining dreams a reality.
For more inspiration on alfresco area designs, check out our inspiration gallery!
Explore our other blog posts
All Articles
Styling & Inspiration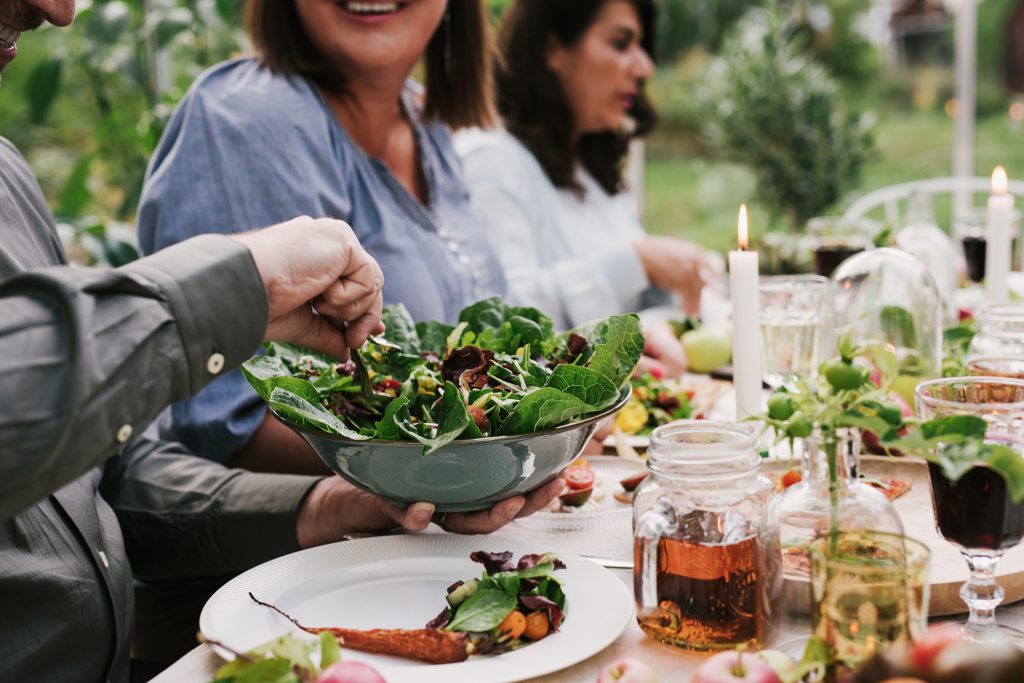 February 9, 2021
Aussies love a classic barbeque - getting out in the sunshine, sizzling up some steaks, and socialising with friends in the Great Outdoors. What's not to love? To take your next dinner party or barbeque to the next level, be sure to check out our luxe outdoor entertaining area ideas, from wicker furniture to garden designs!
Join our newsletter to receive our latest promotions,
news and helpful building and design tips