Flexible Home Designs Sydney, Newcastle, and the Central Coast Have Come to Love.
Flexible floor plans to bring your vision to life.
Having trouble finding the perfect home design? We know finding the perfect floorplan to suit your unique block can be a challenge, even more so when the floorplans are pre-set, and sometimes impossible to change.
At Montgomery Homes, we're committed to building the house you'll one day call home, which is why our home designs are flexible to suit you and your family. Whether you're looking to expand rooms, convert a media room to a guest room, or flip the design, our team can help bring your home building aspirations to life.
Browse through 200 home designs online, discover the facade and design possibilities, then get in touch with our team to learn more about our flexible floor plans. Let's work together and build the home you've always dreamed of.
We pride ourselves on our flexible home designs in Sydney, Newcastle, the Central Coast, and beyond.
With Montgomery Homes, you have freedom and flexibility to adapt our floor plans to suit the way you want to live. For example, you might want to convert one of your bedrooms into a home gym, or you might want to move the master bedroom to the back of the house for complete privacy.
No matter how you choose to live, our 200+ home designs offer practicality, flexibility and a sense of luxury, but at a project builder price. Discover our wide range of home designs and floor plans today.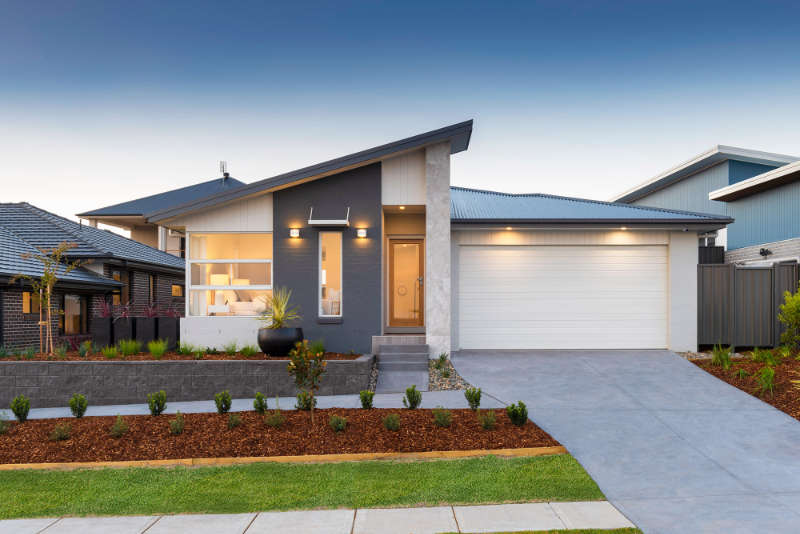 Flexible floor plans for our split level homes
Along with adapting our level home designs, we can also adapt our split level floor plans to accommodate a unique sloping or challenging block. Over the last thirty years, we've developed a reputation as the sloping site specialists, so you can rest assured your new home build is in good hands.
In our experience, a flat block of land is rarely completely level, which is why our team have developed an innovative technique to combat sloping blocks. Rather than cutting deep into the block, we work with the contour of the land and use the excess soil to create a level foundation for your new home.
Using our step-slab technique, we can create a more interesting home design while maintaining natural drainage, light, and airflow. The layout and design of your home will be open plan and atmospheric - a great talking point for guests and visitors!
Whether you're looking for a single storey, two storey, or split level home, we can offer flexible floor plans and construction for sites of all shapes, slopes, and sizes.
Discover the architectural house designs Sydney, Newcastle, and the Central Coast have come to love. Browse the collection online or visit one of our display homes today to take a tour of your future home.
Real life client experiences
Growing and Expanding with Montgomery Homes:
After building their first Montgomery Home 25 years ago, Terry and Katrina only ever dreamed of building again. But as the years went on, the couple knew they needed more space to accommodate their growing family. Learn more about their journey of finding a house to knock down and rebuild.
Meeting Their Families Needs: Sloping site
Keith and Cheryl were planning their retirement in the stunning Northern Beaches and wanted to be able to help their son and his family enjoy the same beautiful lifestyle near the beach. They seized the opportunity to secure a sloping block of land and built a split level home that easily accommodated them all. Discover how the two families were able to live independently in their brand new home.
Want to get in touch with one of our
home design consultants?
Our team can help find the best home for your family














Join our newsletter to receive our latest promotions, news and helpful building and design tips