Take A Tour Of The Riviera 1 267!
Take a tour through our Riviera 1 267 display home at Redbank
Searching for a stunning new home with lots of space and even more class? Look no further than the Riviera 1 267. Exuding elegance from the inside out, the Riviera 1 267 features five bedrooms (one can be turned into a home office — as seen in our display home), spacious living areas on multiple levels and all the luxuries you need for world-class living.
Plus, it's cleverly designed for uphill sloping blocks, so this design can even be built on more challenging sites!
Want to see what it's like? Take a virtual tour with us right here, right now — alternatively, come and visit us at 13 Yobarnie Avenue, North Richmond NSW. The Riviera 1 267 is staffed from 10 am to 5 pm seven days a week so you can take a stroll through your future home when it's most convenient to you.
Open Plan Living and Dining Room
Upon arriving at the Riviera and climbing the stairs to the middle level, you'll find a gorgeous open plan living and dining area filled with natural sunlight and airflow. Day or night, this space is nothing but class and comfort. We opted for the Hamptons colour scheme with classic blue and white alongside light blue and grey tones complemented by matte black accents.
We added curvaceous accent chairs and a contemporary modular sofa to delineate the space, juxtaposed with the angular stepped cornice — a cornerstone of classic Hamptons design.
In the statement kitchen, we've added an extra touch of luxury with a freestanding stove and rose gold tapware embedded in the island bench. To complement the scene, we opted for matte black bar stools so friends and family can gather around to socialise, have breakfast together or even just watch the magic happen at dinnertime. 
Don't forget the incredible walk-in pantry — an absolute staple in modern Australian homes. You'll never be strapped for space in the Riviera 1 267.
An Alfresco Area For Entertaining
The open plan kitchen and dining room will never be lacking in natural light as it connects directly to the alfresco area. The glass sliding doors give the space an effortless indoor/outdoor feel and when the doors are open in summer, you'll always have fresh air streaming through the entire house. 
To complement the marble-look flooring in the alfresco area, we added a stone-top table and black wicker chairs for a mix-and-match feel of materials and textures. Just add some pot plants as the centrepiece for a welcoming, comfortable atmosphere, whether you're hosting a family BBQ or reading a good book on a Sunday afternoon.
There's always room for one more in the Riviera, whether you're letting a friend stay the night or you're planning on adding one more member to the family. The Riviera has five luxurious bedrooms including a guest bedroom on the bottom floor, giving everyone some much needed privacy (this room can also be turned into a home office — see below). 
In the master bedroom (above), you'll find chevron-style cladding on the wall behind the velvet bedhead — a touch of modern art deco revival — and a walk-through wardrobe that leads to your own personal ensuite.
Versatile Home Office Space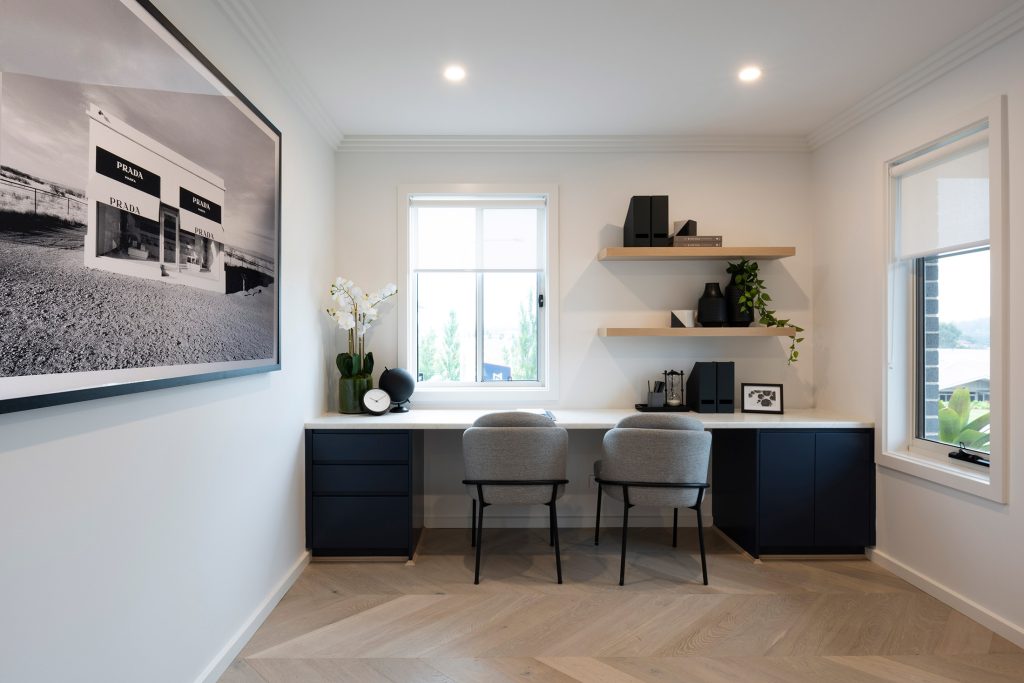 Thousands of Australians are working from home so why not add a quiet, comfortable space where you and your family can focus? We added a home office to the Riviera with floating timber shelves to match the chevron-style timber flooring — plus, we added a wall-to-wall desk so multiple members of the family can work together at once. 
Not a bad place for the kids to do their homework!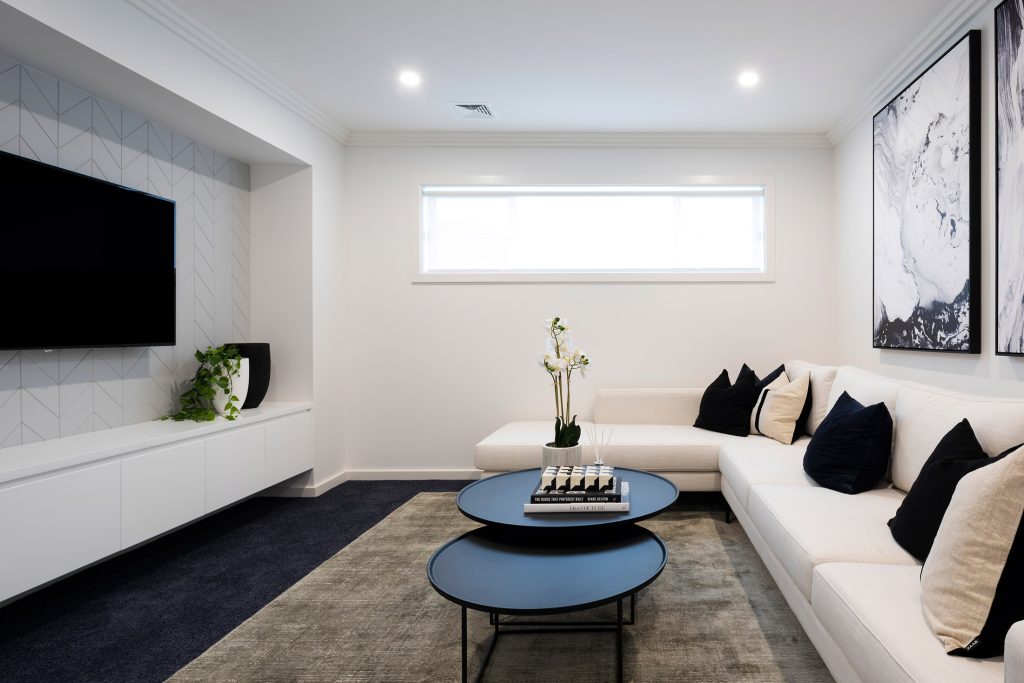 Everyone needs a place to relax and unwind after a long day which is why the Riviera has multiple living areas like the theatre room pictured above. While the kids do their own thing in another room, you can sit back and relax on the couch in your very own cinema. Grab a cup of tea, wrap yourself up in blankets and catch up on some Netflix before bed — it's the perfect way to unwind.
In the Riviera, we've mounted a flat-screen TV onto the chevron-style wall above a cabinet where you can store remote controls, tech chargers, DVDs and more. Your home theatre will be clean, organised and uncluttered while everything is still within reach.
The bathroom is all about functionality but that doesn't mean it can't be stylish, too! In the main bathroom of the Riviera, a bold freestanding bathtub takes centre stage in black against matte white wall tiles and rich blue painted walls. 
Matched with rose gold tapware and enormous circular mirrors, you'll feel like you're at a luxurious day spa while you're soaking in your very own tub.
Visit the Riviera 1 267 in Redbank and take a tour of your future home!
Love the look of the Riviera 1 267? You'll love it even more in person. Based in North Richmond, our Riviera display home sits just outside the Blue Mountains and is a one-hour drive from the Sydney CBD. Open seven days a week, you can drop in at any time to see the quality of our homes for yourself. 
Our team will provide a free brochure and answer any questions you have about the design and the building process. Your brand new home isn't too far away!
Explore our other blog posts
All Articles
Styling & Inspiration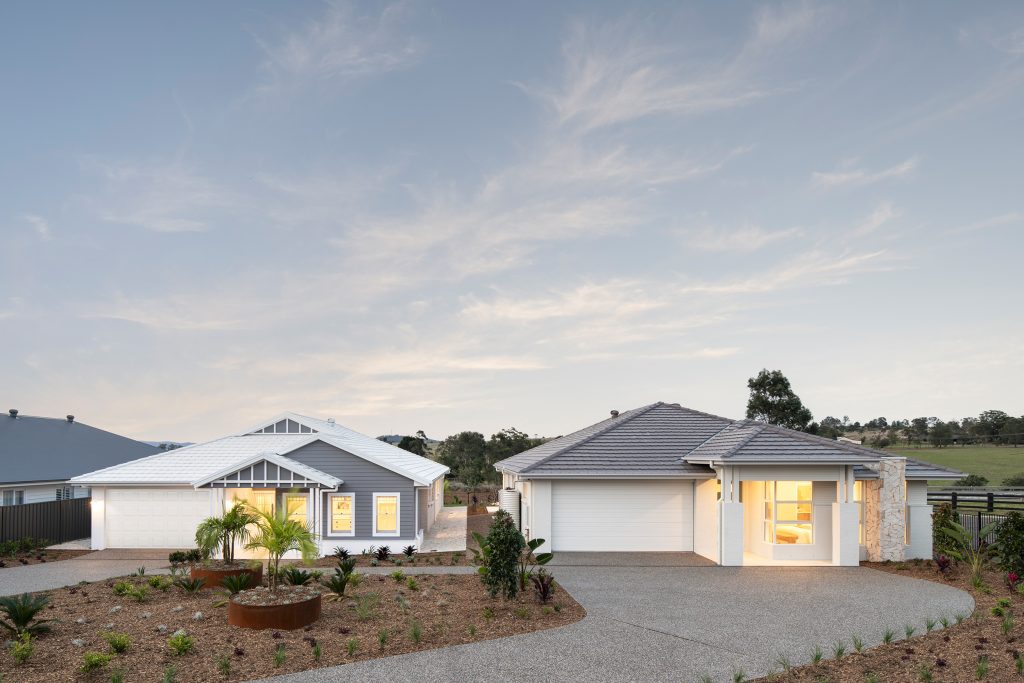 December 1, 2023
The Montgomery Homes team is excited to announce two beautiful new display homes at Hereford Hill in Lochinvar — the Airlie 222 and Avalon 2 249, styled by interior designer Shaynna Blaze! Learn more about these designs and visit us at Hereford Hill from Friday to Monday.
Join our newsletter to receive our latest promotions,
news and helpful building and design tips