Shaynna Blaze Reveals New Interior Design Schemes
Shaynna Blaze of the Block fame reveals brand new interior design schemes for Montgomery Homes
In a fast-paced world, interior designs can date quickly, but our talented brand ambassador, Shaynna Blaze of the Block and Selling Houses Australia fame, has created six new interior design schemes to make your new house feel like a modern, contemporary home.
According to Shaynna, the secret to an evergreen interior design is balancing decor and practicality.
In Shaynna's Signature Collection with Montgomery Homes, you will find interior designs that prioritise functionality and timeless style, so your design will never go out of vogue. 
Shaynna's themes can be adapted to any of our home designs, allowing you to add your own sense of style and flare to your new home. In this blog, we share a sneak peek of the six stunning new designs Shaynna has been working on, so you can see the possibilities for your new home!
One of the most popular designs we find homeowners searching for is luxury and elegance. Shaynna has created the "Boutique Hotel" themed design to meet the popular demand - featuring silk-look wallpapers and regal navy blue or teal tones, this design is sure to make you feel like the king or queen of your own personal castle.
Plus, your interior design will have a timeless (not to mention chic) vibe with ever-popular chevron patterns and tiling.
In the same vein as a "staycation" in your own personal suite, the Palm Springs design is inspired by the sunshine and laid-back atmosphere of Australia. Shaynna has created a sense of "colour and fun" for this fresh new design using colour, tiling, wallpaper, and a range of luxurious brushed gold fittings.
Rather than a desert oasis, Shaynna has introduced Australian-inspired wallpapers from artists like Florence Broadhurst and Australian Fauna. Think of a home among the gum trees with a luxe contemporary twist!
The bohemian look never goes out of style. Featuring neutral colours and all-natural textures, the Relaxed Bohemian design is all about chilled-out vibes. Shaynna kept this concept at the forefront of her mind when pulling together all the elements of a perfect design.
This design is light and flowy with lime-washed oak floors and natural cane furniture, just like the modern boho lifestyle.
Taking inspiration from the Art Deco influence of the Bauhaus era, the Modernist Expression design is characterised by its ridged lines, simple colour palettes, and geometric shapes — with one twist.
Shaynna's Modernist Expression design highlights the feathered tiles on a black background and striking white marble, creating a chic contrast to impress your guests.
In 2022, Shaynna released two exclusive new themes: Aspen Lodge and Modern Colonial! A striking addition to the Signature Collection, the Aspen Lodge interior design theme combines alpine wooden textures and an attractive suite of brushed chrome tapware and grey tiling.
This stunning, simple design is sure to impress, whether you're a modern entertainer or a growing family.
The Modern Colonial theme is regal and modern with sharp, striking black lines throughout, contrasted with relaxing earthy tones. Mixing luxury with simplicity, your guests will be mesmerised by the atmosphere of your new home.
Create a unique interior design for your home with Shaynna Blaze & Montgomery Homes
At Montgomery Homes, we want to help build a house that's quintessentially you — from the facade to the interior design. Be sure to get in touch with our team to uncover the full list of materials, features, and colours Shaynna has selected for each theme above!
Alternatively, check out our Inspiration Gallery for more interior design and decor ideas, or get in touch to start the home building process with Montgomery Homes today!
Explore our other blog posts
All Articles
Styling & Inspiration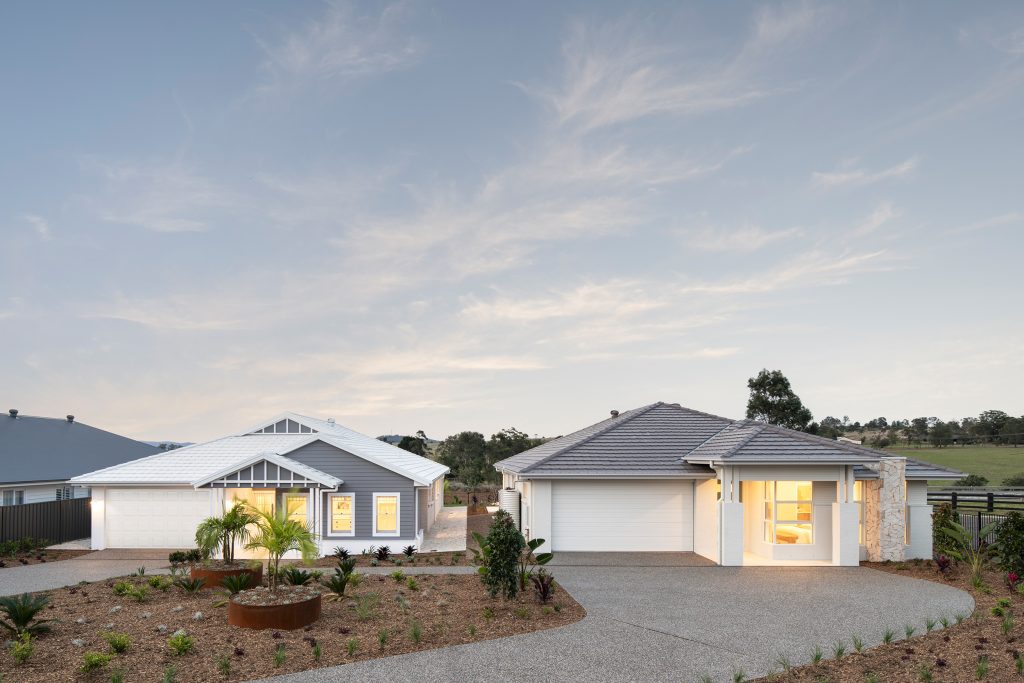 December 1, 2023
The Montgomery Homes team is excited to announce two beautiful new display homes at Hereford Hill in Lochinvar — the Airlie 222 and Avalon 2 249, styled by interior designer Shaynna Blaze! Learn more about these designs and visit us at Hereford Hill from Friday to Monday.
Join our newsletter to receive our latest promotions,
news and helpful building and design tips