Shaynna Blaze's Interior Design Trends For 2022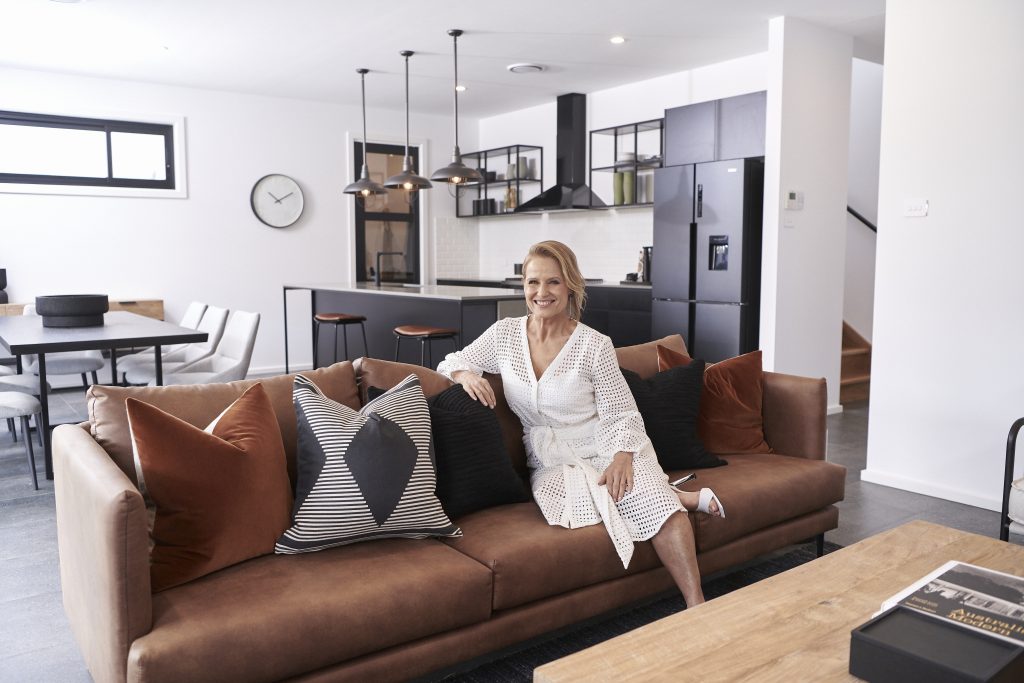 Shaynna Blaze's top 5 interior design trends for 2022
A beautiful interior design relies on the style of the times. For example, in the 1970s homeowners and interior designers were driven by nature and earthy tones like mustard, ochre, tan and brown, while decorating with white cotton, linen and "shabby chic" frills or tassels.
In the 1980s, homeowners ditched frills for refined florals, pastel colours and geometric patterns.
Fast-forward to the early 2000s where simplicity was king and homeowners were swapping vibrant colours for white cabinetry and contrasting hues, rustic "worn" look furniture and soft lighting. It was simple, clean and ever-so-2000s.
It's amazing how interior design trends change from decade to decade, let alone year to year. Back in 2020, our partner and interior design expert Shaynna Blaze accurately forecasted the upcoming trends for 2021 — luxurious navy blue palettes, industrial colours and finishes, soft curves and more.
In 2022, Shaynna says sustainability, minimalism and bold colours will be the trends on every homeowner's mind. Here, we share Shaynna's top five interior design trends for 2022 so you can start planning a decor refresh!
According to Shaynna, sustainability will be a major focus when it comes to interior design in 2022. From organic fabrics to natural light and airflow through open-plan spaces, homeowners will be looking to reduce their carbon footprint and make a difference for the good of the planet.
 "Our environment and climate change is something we can work on in our everyday lives — from the building materials we use to window placement and the natural airflow in our house, we can minimise our use of extra heating and cooling," Shaynna says. 
"On top of that, focus on looking at the soft furnishings from your carpets and rugs to the types of materials used, the foam in your furniture right down to the materials in your towels and tea-towels."
We've seen a lot of arched doorways and organic shapes in sofas in 2021, and it looks like the trend isn't going anywhere over the next couple of years. Rather than a "blast from the past", Shaynna says to look at the trend from a more creative, contemporary perspective.
"Rather than think it is a 'blast' from the '70s, think in more classic designs of Art Deco and even back to Italianate and Tuscan architecture which is a more elegant style with longevity."
"Our need for softness and texture in our furnishings, linens and even details in wallpaper helps soften harsh lines and architecture and will be an important player to give a sense of warmth and softness to the minimalist trend."
After two complicated years in Australia, simplicity comes as a refreshing change. Shaynna believes minimalism will make a comeback in 2022 — from statement lighting to simple geometric shapes and lines, homeowners will be scaling back on "busy" designs.
"Scaled-back architectural features and décor does not mean stark and boring," Shaynna says. 
"This is a trend that won't suit everybody but it will give simplicity to your life. Simplicity is something that we have all been craving coming out of a very strange two years and our homes can give us the much-needed visual space to breathe."
"There will be a big focus on impact pieces such as statement lighting pieces, hidden lighting, and strong architectural lines in roof and ceiling lines, doors and windows."
Giving a nod to the earthy colours and textures of the '70s and '80s, Shaynna says bold colours will be a popular interior design trend in 2022 as homeowners add a touch of vibrance and life to their space.
"Colours are bold and in the warm palette," Shaynna says.
"There is definitely a throwback to '70s and '80s but they are muted and organic rather than a strong primary colour. Think raspberry, ochre, terracotta and olive greens in kitchens, laminate and furniture, not just as feature walls."
#5: Multi-functional living spaces
Finally, multifunctional spaces will become more prevalent in Australian homes in 2022. Think home offices in living rooms and open-plan kitchen and dining rooms, saving space and creating two-for-one rooms.
"The home office will not be going away, so consider ways to integrate this into your home — not just as a separate space but in a spare bedroom, a sunroom or even a separate entertaining area so you are getting twice the use and function of a room," Shaynna says.
Refresh your home and interior design in 2022 with Montgomery Homes!
If your home needs a complete refresh in 2022, get in touch with Montgomery Homes in Newcastle, Sydney or the Central Coast! We have 200+ home designs to choose from and integrate Shaynna's interior design expertise in each and every home.
Whether you're looking to knock down your house and rebuild a home or start from scratch on a vacant block of land, together we can build a stunning new home for your family.
Explore our other blog posts
All Articles
Styling & Inspiration
March 1, 2022
The bathtub is a crucial consideration when designing a brand new bathroom. There are thousands of baths available on the market but in the end, it all comes down to two fundamental bath designs: freestanding baths and inset baths. Here, we share the advantages of freestanding baths vs inset baths to help you choose!
Join our newsletter to receive our latest promotions,
news and helpful building and design tips