Our Ultimate Spring Cleaning Checklist to Refresh Your Home
Our Ultimate Spring Cleaning Checklist to Refresh Your Home
Whether you're in a new build or a long-term family dwelling, spring cleaning is the perfect way to breathe new life into your home. 
A good spring clean can transform your house from cold and cluttered to vibrant, airy and alive! But with so little time and so much cleaning to do, what's the best way to tackle this year's spring clean? 
In this blog, we'll walk you through our ultimate spring cleaning checklist to get the most out of your annual deep clean. Roll up your gloves and get ready to scrub with our spring cleaning tips for Aussie homes — read on!
Whether you're a cleaning novice or a domestic goddess, spring cleaning is a yearly ritual for Aussies everywhere! But what is spring cleaning, and why should you do it? 
Spring cleaning is an annual tradition for homeowners across the world. A spring clean goes far beyond a weekly scrub or a half-yearly deep clean — it involves totally reorganising, decluttering and scrubbing your entire home from top to bottom. 
The term "spring clean" refers to the season of spring. Spring is associated with all things fresh and is the time when the world starts to reinvigorate itself after the icy-cold winter months. This makes it the perfect time to refresh your space and make your existing home design feel brand new!
What you'll need for spring cleaning
Think you're ready for this year's spring clean? We've put together a handy list of things to remember before you get started on your spring cleaning checklist.
Stock up on cleaning supplies
First, ensure you have the right cleaning supplies to cover your entire spring clean. Depending on your cleaning preferences, we recommend the following supplies: 
Grout cleaner 

Tile cleaner 

Window cleaner 

Sponges

Paper towels

Reusable gloves 

Bicarbonate soda 

Bleach 

A mop

A long duster for high places 

All-purpose cleaner 

A vacuum cleaner
Make sure your vacuum cleaner and other cleaning appliances are powered on and ready to roll.
Set aside some storage boxes
Spring cleaning tends to reveal a lot of unwanted items around the house. Put together a few different boxes for any broken, outdated or moveable items, including:
A box for donations (clothes, electronics, appliances, etc). 

A box for the rubbish (unwanted or unusable items). 

A box for storage.
Take it one room at a time
Depending on the size of your home and how regularly you clean, spring cleaning can be an overwhelming job for many Aussie homeowners. One of the best spring cleaning tips is to tackle each room separately to break up the workload. 
For example, start with the hardest rooms first — the kitchen, bedrooms and bathrooms — and clean each one separately over the course of a few days. You can also split each room over a couple of weekends to make things feel less daunting. 
We recommend spreading out your entire spring clean over the course of several weeks rather than tackling the entire project in one weekend. This way, your home will get the thorough cleaning it deserves! 
Rejuvenate your home with our expert spring cleaning tips for every room
While the basic cleaning principles are the same for most rooms, we've put together a breakdown of the key things to focus on in each area of your home. No matter the style or size of your home, our ultimate spring cleaning checklist will cover everything you need for your next spring clean.
While most people wipe down their counters, stoves and cupboards every day, spring cleaning is a great time to get down to the nitty-gritty and give your kitchen counters a fresh sparkle. 
Change your layout. Proper organisation is essential for running a safe, functional and easy-to-navigate kitchen. We recommend taking some time to reassess your current kitchen layout and move things around as needed. Spring cleaning is a great way to eliminate pesky annoyances like hard-to-reach glasses and poorly stored pots and pans.


Clean the pantry, drawers and cabinets.

Whether you're stocking up for a storm or keeping some essentials on hand, it's easy to run out of space in your pantry. Start by getting rid of any out-of-date items and donating any tins you aren't likely to use in the next year. Then, do an inventory check and see if your pantry needs a new organisation system to keep things neat and tidy.

Clean your appliances

. Cleaning your oven is a time-consuming job… which is why so many Aussies put it off until spring! While you're at it, give your microwave, toaster, kettle, dishwasher and any other appliances a good scrub inside and out.

Spring cleaning is a great chance to rearrange the inside of your fridge and create the perfect new organisational system for your family. Take this opportunity to remove everything from inside your fridge and give the shelves, surfaces, drawers, sides and seals a proper clean.

Dust and scrub your surfaces. Give your counters a fresh shine with a deep clean! Remember to dust the top of your cabinets and give them a good scrub, too.

The bathroom is where most of the germs and hidden bacteria live in our home, but it's also one of the most tedious spots to clean. Here's what you should look for when you're planning a spring clean in your bathroom. 
Polish your tiles, counters and mirrors

. Countertops, tiles and mirrors simply don't get a good enough scrubbing throughout the year. This is your chance to make those stylish tiles sparkle for months and remove any bacteria that has built up since your last deep clean.

Break out the grout cleaner

. Cleaning your grout is a time-consuming but essential job that will keep your bathroom fresher (and newer) for longer. While many people forget about their bathroom grout, you'd be surprised how clean your bathroom will look after a good grout cleaning!

Clean any hard-to-reach spots

. Bathrooms are a breeding ground for nasty bacteria and mould that can have harmful effects on you and your family's health. Check those hard-to-reach crevices and give them a good clean with a small brush (or a toothbrush if necessary). We also recommend checking inside your toilet tank and cleaning behind the back of the tank and the wall.

Remove unused or expired items

. It's easy to end up with a lot of unused skincare products, lotions, shampoos and other items throughout the year. Now's the time to get rid of those unwanted items, as well as anything that's past its used-by date!

Clean the shower drain

. No one likes cleaning their shower drain. However, it's essential to make sure your drain is flowing smoothly to prevent any unexpected pipe damage and costly repairs down the road. Plus, a clean drain means there's less of a chance of unpleasant smells clogging up your bathroom.



We spend approximately one-third of our day in the bedroom. A good spring clean is a great way to create a calm, relaxing space by removing clutter, distractions and unwanted items. 
Declutter your area

. It's hard to unwind in a bedroom full of old shoes, unread books and dirty laundry. Remove anything that's taking up too much space in your bedroom to make the room as airy and clutter-free as possible.

Clear out your wardrobe

. You know that old, unworn pair of shoes you bought a few years ago? Now's the time to get rid of it! Donate or sell your old clothes to create room for this year's fits.

Dust, dust, dust

. Dust mites are attracted to warm areas, bed frames and mattresses and can interfere with sleep patterns. Give your bedroom a thorough dusting to refresh your space and get a better night's sleep!



As the busiest room in the home, the living room is one of the hardest spots to keep clean throughout the week. Aside from dusting and wiping down your furniture, here's what you should look for when it comes to cleaning your living room this spring. 
Vacuum and dust under the furniture

. Chances are the underside of your couch or coffee table hasn't seen the light of day since last spring! Move your furniture aside and clean the areas underneath. Flip your furniture upside down and vacuum the underside of your couches and tables, too — you'll be surprised by how much dust can gather there!

Check your plugs and electronics

. The living room is typically an entertainment hub with multiple electronics plugged in at once. Take a moment to check your cables and wires for any splits or other damage. This can prevent any nasty electrical hazards down the line.

Clean your decorations

. Take your picture frames off the wall and remove any dust and grime from their surfaces — be sure to wipe the top of the frames, too!
While many new home designs feature a convenient combined kitchen and dining area, it's important to clean these overlooked areas of the home to get the most out of your spring cleaning. 
Check for furniture damage

. Scuffs, marks and dents can appear throughout the year on your dining room furniture. Check your chair and table legs for any damage and closely inspect the surface of your table for scratches.

Clean the chairs

. While most dining tables get a good wipe every few days, dining chairs are usually left out of the weekly clean. Give your chairs a proper wipe and make sure your cushions are still in good condition — you never know who might've spilt something on your favourite dining room cushion!



#6. Hallways and entryways
Hallways and entryways are two of the most forgotten areas of the home when it comes to cleaning, but they're the first thing your guests see when they enter your home. Give these high-traffic areas some much-needed love with the following tips. 
Deep clean your mats and rugs

. Entrance mats and hallway rugs are some of the least-cleaned furnishings. Now's the time to give them a thorough clean and check them for any damage, scuff marks or fraying that needs repairing.

Declutter your furniture

. Entrance tables and hallway consoles are a dumping ground for spare change, wrappers, notes and all sorts of unwanted items. Go through your furniture and remove any rubbish or unwanted items — you never know what might turn up!



Looking to revamp your home? Take the next step with a fresh home design from Montgomery Homes
Feeling inspired? While spring cleaning is a great way to rejuvenate your home, sometimes a deep clean isn't enough. 
At Montgomery Homes, we've been building stylish, modern new homes across the Hunter, Newcastle, Port Stephens and Sydney since 1989. Our expert team will deliver the knockdown rebuild of your dreams with our expertly crafted home designs and dedicated builders. 
Live on a tall incline or tricky slope? No problem. With over 30 years of experience, we've established ourselves as the region's sloped site experts and can take the hassle out of building on a narrow block, sloping site and more! 
Take a look at our affordable, high-quality home designs and get in touch with our friendly team today.
Book a consultation and discover your dream home design today!
Explore our other blog posts
All Articles
Styling & Inspiration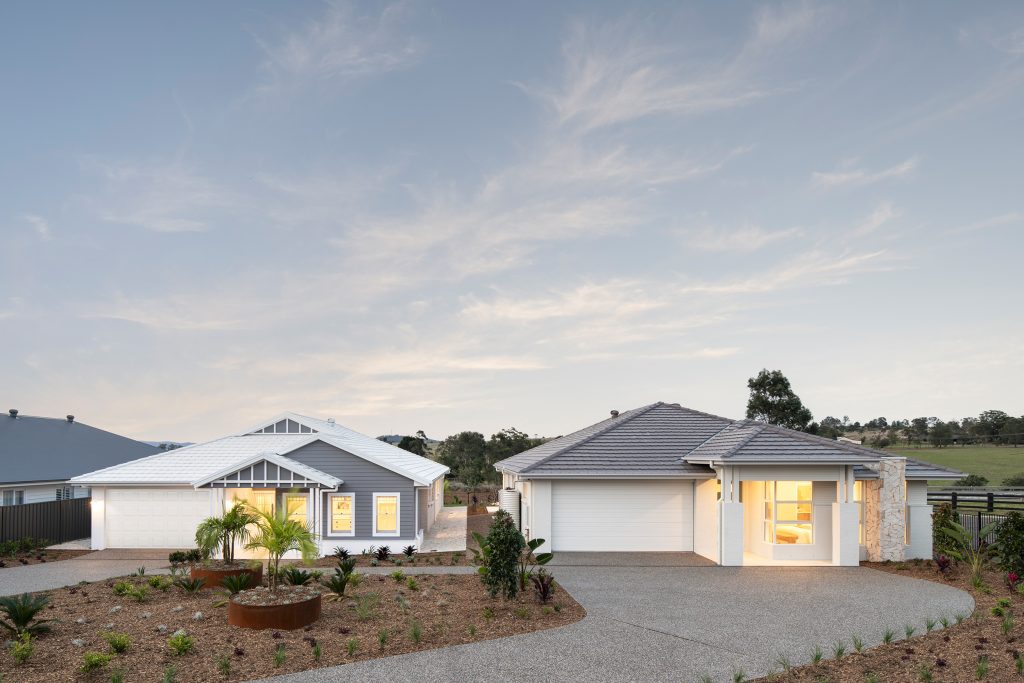 December 1, 2023
The Montgomery Homes team is excited to announce two beautiful new display homes at Hereford Hill in Lochinvar — the Airlie 222 and Avalon 2 249, styled by interior designer Shaynna Blaze! Learn more about these designs and visit us at Hereford Hill from Friday to Monday.
Join our newsletter to receive our latest promotions,
news and helpful building and design tips