3 home office designs to make working from home a breeze
Now more than ever, having a kitted-out home office is essential. In February 2021, it was reported that one in five working Australians worked at home at least one day a week, while many are working from home all day, every day. 
With this in mind, it's important to have a cosy and functional home office to keep productivity — and spirits — high. 
In almost all of our architectural home designs, we have designated study nooks where you can set up your home office and plan for success. Plus, with at least three spacious bedrooms in each of our home designs (and one-two in our granny flats), you have the opportunity to create a private space at home where you can get work done in peace and quiet.
 In this article, we share some of our stunning home office designs to inspire your next home build!
#1. Bondi 249: the social office
For those working at home who still like to be a part of the action, an office nook in the living room is a great home office design idea. In our Bondi 249 display home, for example, we have a cosy study nook in the corner of the living room with convenient shelving for stationery, paperwork and even knick-knacks to make the space your own.
Likewise, we've set up a living room study nook with an extra-wide desk, so you can have a coworker come around and work with you for the day, or share the space with your partner or housemate. 
Since the study nook is placed in the living room, you can still interact with your family members as they go about their day. You will have ample company throughout the workday, so you're never too isolated!
#2. Avalon 209: the solo studier
If you're looking for some peace and quiet while you work, you might even set up a study nook in your bedroom. This is a popular home office design for students, whether they're in primary school, high school or university. They can work on their homework and assignments in the comfort of their own personal little space.
In our Avalon 209 display home, we've set up a teenager's bedroom with a study nook. For inspiration, we have some contemporary wall art and knick-knacks to help maintain focus and motivation.
Just add a lamp for late afternoon and evening work, and you're all set!
Similarly, in our San Tropez 273 display home, we set up a solid timber desk and a cushioned chair for comfortable work and study. If you're running low on space, consider putting up floating shelves above your desk for stationery and decorative items. 
An indoor plant never goes astray — allow the plant to dangle down from the shelves and watch your mood improve!
#3. Monaco 1 211: the profesional
Working in the bedroom or living room can be distracting for some. There are lots of temptations around like the television, gaming or even taking a sneaky midday nap! If you need a designated space where you can focus and get lots of work done, you might consider setting aside a room in your new home for an office.
With all the extra space, you can add filing cabinets, printers and scanners, a whiteboard for mind-mapping, and even a little snack station with a coffee machine for a caffeine hit during the day. 
You'll have your own personal set-up just like you would at work. It will even look very professional in video calls and conferences!
In our Cayman 287 display home, we set up a designated home office complete with contemporary wall art and indoor plants for a cosy "working from home" experience. Remember to add lots of art and decor to make the space your own.
Need more inspiration for designing a home office? Check out our Inspiration Gallery today!
If you're working from home, designing a home office can be a lot of fun. If you need some extra inspiration for your workspace, be sure to check out our Inspiration Gallery for colour and theme ideas, or get the home building process started with Montgomery Homes and start designing your home office now.
We have expert interior designers on-hand who can help you create a home office design you'll want to work in every day. Contact us today!
Explore our other blog posts
All Articles
Styling & Inspiration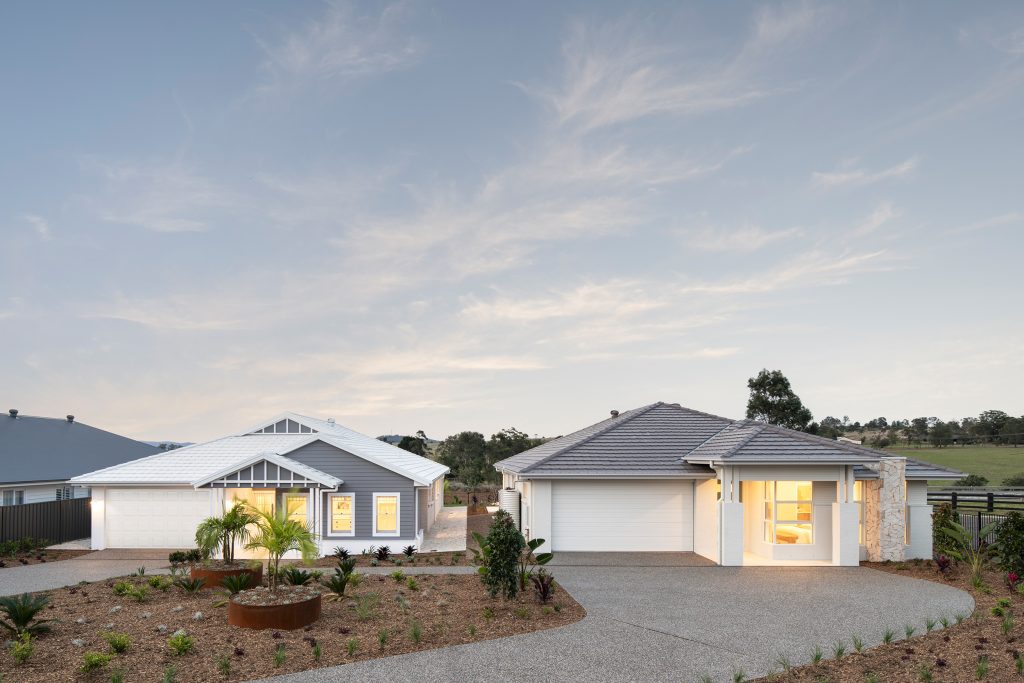 December 1, 2023
The Montgomery Homes team is excited to announce two beautiful new display homes at Hereford Hill in Lochinvar — the Airlie 222 and Avalon 2 249, styled by interior designer Shaynna Blaze! Learn more about these designs and visit us at Hereford Hill from Friday to Monday.
Join our newsletter to receive our latest promotions,
news and helpful building and design tips