Shaynna Blaze's space-saving storage ideas for small houses
Moving into a new home is a wonderful feeling. Everything is pristine and organised – at least for the first few days, anyway! Keeping your home neat, tidy, and organised doesn't have to be an ongoing challenge, so long as you've taken storage into consideration when designing your new home.
Our brand ambassador, Shaynna Blaze, knows a thing or two when it comes to saving space in a brand new home. In fact, she's well known as one of Australia's experts in smart and stylish storage!
With her extensive experience and eye for design, Shaynna has come up with some savvy storage ideas for small homes and narrow home designs in need of extra space - or even just homes that tend to get a little cluttered.
In this blog, we share some of Shaynna's clever storage ideas to help you maintain a neat, minimalist space.
Clever storage ideas for the bathroom: Face level storage
The bathroom is a place of routine and ritual, so naturally, it can easily accumulate clutter - from your ever-growing cosmetics collection to shaving equipment, toothbrushes, curling and straightening irons, and even bath bombs and soaps, it all seems to make its way onto the bathroom basin sooner or later.
To keep your bathroom looking neat and tidy, we've incorporated some of Shaynna's wall storage ideas like wall-mounted shaving cabinets.
These storage options are designed to keep everyday products like your toothbrush, moisturiser, and medications stored away, but also easily accessible throughout the day.
In the shower, a tiled recess or shower ledge can be a stylish and practical place to store all your shower gels, shampoos, and bathroom essentials. Alternatively, add a timber caddy to the top of your bath where you can store your essentials during the day… or a glass of wine and a book for those cosy Friday nights in!
Clever storage ideas for the bedroom: Walk-in wardrobes
A walk-in wardrobe in every bedroom allows for more space to store items like clothing, shoes, accessories, sports gear, toys, and so much more. Most of our home designs come with walk-in robes in every bedroom for additional storage space, like the Avalon 2 209 (pictured above).
Add decorative and durable shelving to your walk-in wardrobe to create a stylish space to organise and store your belongings.
The added benefit: it's not a bad spot to hide presents from the kids when it's getting close to their birthdays!
Clever storage ideas for the kids rooms: Floating shelves
Floating shelves are one of Shaynna's favourite wall storage ideas. Sleek and minimalist, floating or wall-mounted shelves can hold just about anything in your child's bedroom from books to arts and crafts, toys, odd shaped items, and so much more.
Floating shelves can also be wonderfully multi-purpose, doubling as a clothing rack - add a few hooks to the edge of your floating shelves and hang clothing in a stylish, tidy manner.
Plus, as your little one grows into their tween and teen years, they can take over the space and express their individuality by storing knick knacks, photos of their friends, textbooks from school, indoor plants, and even twinkle lights on their floating shelves for a chilled-out atmosphere.
Clever storage ideas for the kitchen: Butlers pantries & pull out drawers
Like the bathroom, the kitchen can become one of the messiest and most cluttered rooms in anyone's home. From pots and pans to cutlery, herbs and spices, tea towels, cleaning supplies, cook books, and dining sets, there's always something happening in the kitchen!
One of our favourite kitchen storage ideas for small houses are large pull-out drawers as opposed to lots of cupboards. Did you know you can achieve up to 50% more storage space in the kitchen from a drawer than a cupboard?
Large pull-out drawers can store pots and pans in one spot close to your stove, make cooking quick and simple while also keeping your kitchen neat and tidy.
Another clever storage idea for the kitchen is an additional butlers pantry. This is where you'll find additional bench space, shelves, and cupboards, as well as a place to hide mess when need be.
Clever storage ideas: Mudroom
The mudroom is fast becoming a must-have for the modern Australian home. Its intended use is to keep dirt and mess at the front door, so there's less clean up throughout the rest of the house.
As well as keeping your home spotless and clean, the mudroom is a dedicated space where you can store wet clothes, muddy shoes, handbags, briefcases, and school bags on a rainy day.
Shoes off at the mudroom door, folks!
Whether you're looking for storage ideas for small houses or a way to maintain your new home, we can help!
When you walk through one of our stunning display homes, you'll see we've taken on Shaynna's clever storage ideas and made our displays look clean and minimalist. From spacious butlers pantries to mudrooms and contemporary kitchen and bathroom storage, you'll be well prepared to keep an organised home from day one.
During the planning process with Montgomery Homes, you'll have the chance to view the storage options for your new home, as well as optional alfresco areas and additional bedrooms or spaces to work.
Together, we'll determine what kind of storage you and your family need before we start the building process. It's all about planning, planning, planning - so have a think about these clever storage ideas for small houses and see how you can implement them into your very own home design.
Explore our other blog posts
All Articles
Styling & Inspiration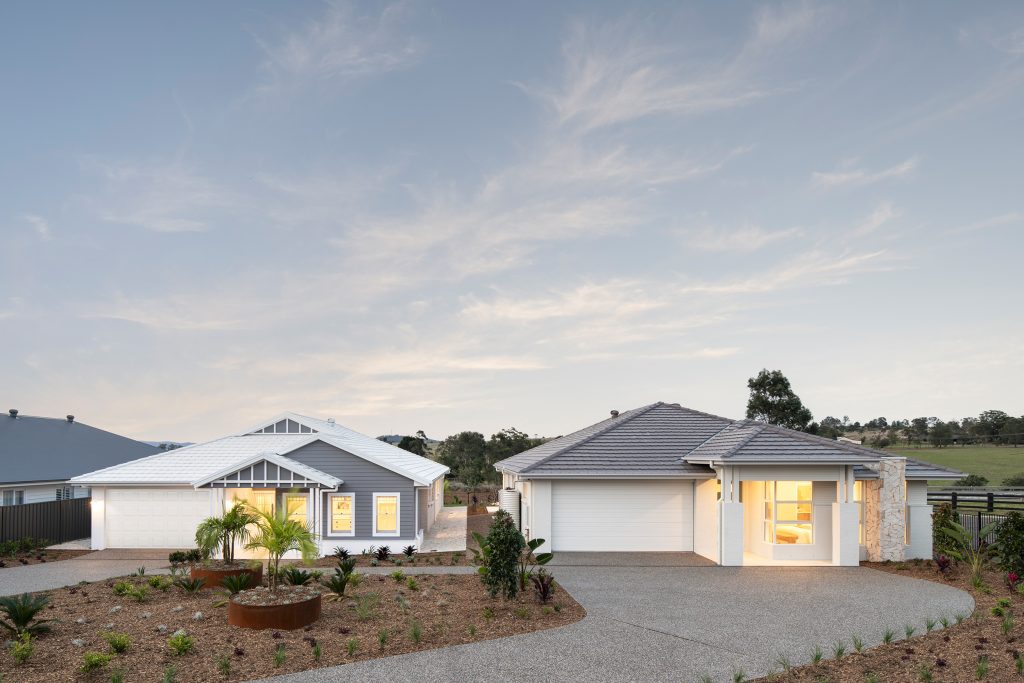 December 1, 2023
The Montgomery Homes team is excited to announce two beautiful new display homes at Hereford Hill in Lochinvar — the Airlie 222 and Avalon 2 249, styled by interior designer Shaynna Blaze! Learn more about these designs and visit us at Hereford Hill from Friday to Monday.
Join our newsletter to receive our latest promotions,
news and helpful building and design tips