5 Tips to Achieve the Designer Look in Your Home with Shaynna Blaze.
How to Achieve the Designer Look in Your Home with Shaynna Blaze.
Renowned interior designer and Montgomery Homes brand ambassador Shaynna Blaze, is the expert when it comes to curating the Designer Look in your home. According to Shaynna, "achieving the Designer Look comes down to finding the seamless balance of on-trend styles with an injection of your individual personality".
Part of the Shaynna Blaze collection, the 'Modernist' themed  Cayman 287 is an exemplary display of her five tips to achieving the Designer Look. 
Tip #1: Take advantage of natural light
According to Shaynna Blaze, "natural light instantly brings warmth and connection to any space" — and the Cayman 287 is no exception to this. From the sliding doors in the master bedroom, to the stunning corner window in the rumpus room — this home design exceedingly demonstrates how light transforms the atmosphere of a room.
The ultimate architectural feature, the Cayman 287 also features Velux skylights to the upper level rumpus room which provide cascading light throughout the day.
Lately, we have all spent more time at home than ever — and having a suitable office setup has become essential. Not only does the Cayman 287 offer the dual set-up, but the large front-facing window ensures your day remains bright, productive and successful.
Tip #2: Add a splash of your personality

Your new home is where you will dwell for months and years ahead, so it is important that it reflects you, your family and your individual tastes. Thoughtfully select the colours, textures and finishes throughout to add a splash of your personality.
A feature wall presents vast opportunity by drawing individual attention and sparking interest to a room. Tailoring feature wall elements to the room type adds further dimension to your new home. This is demonstrated in the Cayman 287, with patterned wallpaper in the kid's bedrooms, VJ paneling to the rumpus room and a bold block colour to the main bedroom.
Looking for a sleek, modern look for your new home? Contemporary square set ceilings seal a space as luxurious and sophisticated. Part of the Montgomery Homes Diamond Collection, square set ceilings feature throughout the Cayman 287.
Tip #3: Create a statement kitchen

It is arguably the most important zone of a family home — the kitchen and living area is well-loved and is where you'll likely spend a lot of time with friends and family. It is where precious memories are made, homework is undertaken and the Friday night cricket streams.
Owing to the time spent here, consider adding statement pieces to wow your guests and create points of interest whilst still preserving the contemporary and functional aspects of your kitchen. The beauty of the Cayman 287 is the seamless open-plan design — so whether you are cooking, eating, relaxing or entertaining, everyone can be part of the vibe.
In the Cayman 287, a luxe angled island stone bench is supported by sleek 2-pack joinery and contemporary stone colours to really make a statement.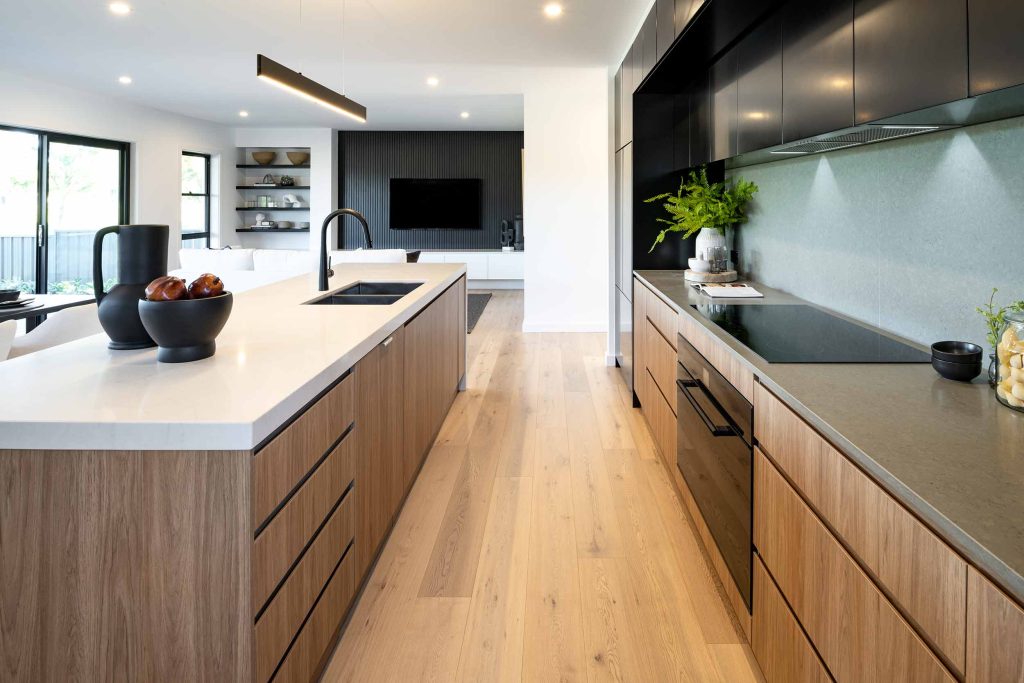 Tip #4: Consider full height tiling to the bathrooms
A favourite feature part of the Montgomery Homes Diamond Collection – full height tiling – has become popular for modern home designs. There is nothing quite like having your very own spa oasis, and "floor-to-ceiling tiling instantly evokes a sense of grandeur and sophistication", according to Shaynna Blaze. Interior design elements also present an opportunity to add an edgy vibe. Consider featuring modern shaped tiling or bold coloured tiles. The traditional Herringbone bathroom tiling pattern in the Cayman 287 is amplified through the striking contrast of crisp white tiles with matte black tapware. Plus, tiles are easier to keep clean, so you won't spend hours scrubbing your bathroom!
When you build with Montgomery Homes, you receive the highest quality fixtures and finishes. THYNK Group are the experts when it comes to tiling, and their products continue to form inspiring, thoughtful and luxurious spaces for Montgomery Homes. As part of your Selections Journey, you will attend a 1:1 appointment at THYNK to select the flooring and tiles for your new home.
Tip #5: Make a statement with an extra-large front door
There are so many elements that contribute to a striking facade — including materials, colours and textures.
Create the ultimate VIP entry point with an extra-large front door that fosters the sense of grandeur continuing throughout your home. You'll be impressing your guests from the moment they arrive! 
Building your dream new home with Montgomery Homes
When it comes time to plan and design your home, Shaynna Blaze's five interior designer tips will ensure it is cutting edge. Plus, with Montgomery Homes' floorplans and features that balance beauty with practicality, it will truly be a space you will feel at home in.
Get in touch with our passionate and dedicated team today, and start building the home of your dreams.
Looking for more inspiration?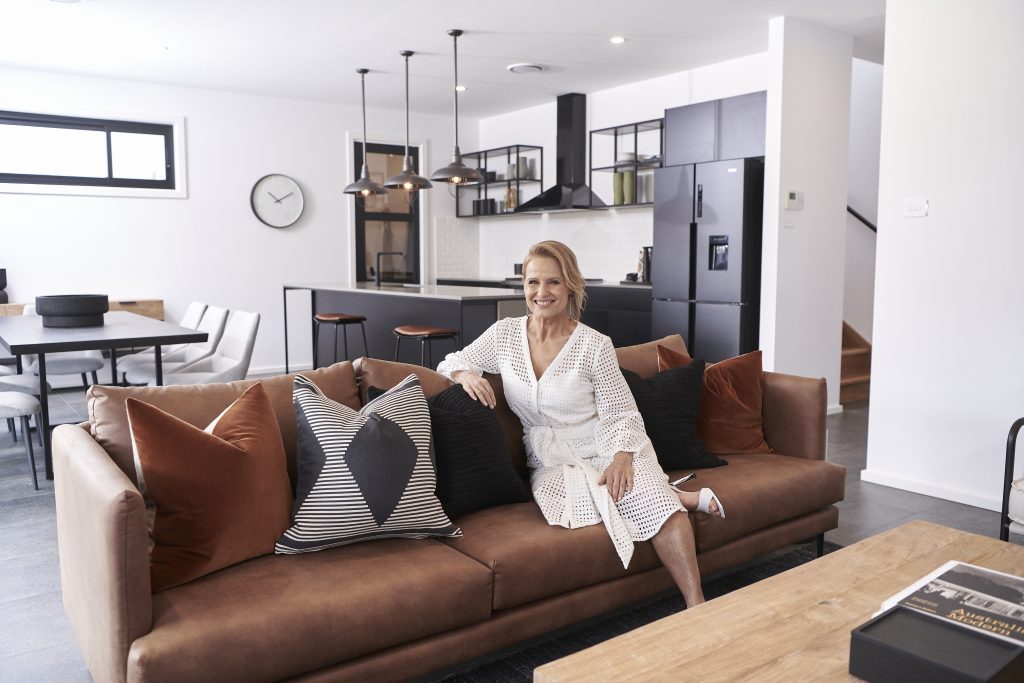 Explore our other blog posts
All Articles
Styling & Inspiration
March 1, 2022
The bathtub is a crucial consideration when designing a brand new bathroom. There are thousands of baths available on the market but in the end, it all comes down to two fundamental bath designs: freestanding baths and inset baths. Here, we share the advantages of freestanding baths vs inset baths to help you choose!
Join our newsletter to receive our latest promotions,
news and helpful building and design tips